Description
Please join us for our 18th annual Family Valentine Dinner Theater Experience. This year's event, "A Blue Ridge Mountain Bazaar" will not disappoint. Enjoy a live stage production, a carnival style "bazaar" with games and activities, a bake sale, and a full vegetarian meal!
The Live Stage Drama Production:
"A Blue Ridge Mountain Bazaar" is set the 1930s during the great depression. The story follows the Walton family as they navigate life and all the surprises it has to offer. The oldest son of the family, struggling with his Physics grade, invites a child genius home for the weekend to help him study. The genius has never experienced family life and has absolutely no idea of how to interact with people or how to have fun. As the family prepares for a church bazaar, they take the genius under their wing and treat him as one of their own. However, personalities begin to clash and everyone is left wondering what they have gotten themselves into with this young genius. Enjoy the laughter and heartwarming values of the family as they show the genius what it means to have a sense of humor and to live life to the fullest.

Our 18th annual broadway-style stage production features live actors and professional-style stage lighting/sound for a drama lasting approximately 90 minutes.
The Menu:
Yancy's Fried Chicken (vegetarian)

Mashed Potatoes and Gravy

Green Beans

Green Salad and Dressing

Olivia's Homemade Sliced Bread with Butter

Olivia's Homemade Apple Butter

The Baldwin family "Recipe" (our special non-alcoholic punch)

Ice Cream in a Cone
What to Expect:
An experience! We pride ourselves on crafting an evening where you don't only sit and watch, but actively participate.

When you arrive you will be seated at tables for eight on rows 1-3, depending on your ticket. Some seats face the stage and others have their back to the stage. Seating in general admission is first come first served. Seating in the priority section is assigned and will guarantee you the best view of the stage!

The Bazaar: During intermission of the live stage drama, guests will be invited to participate in the bazaar by playing games, eating a home cooked country dinner, and purchasing sweets from our bake sale.

Each guest will receive 10 complimentary food and game tickets.

Cake, fudge, and apple butter will be available for purchase at the bake sale.
Seating Options:
General Admission: First-come-first-served seating in the non-priority section (blue section)

Priority Seating: Reserved seating in the priority area (with the best view of the stage guaranteed), a jar of Olivia's homemade apple butter to take home, unlimited "recipe" in a glass jar served tableside, and carnival appetizers (popcorn and peanuts).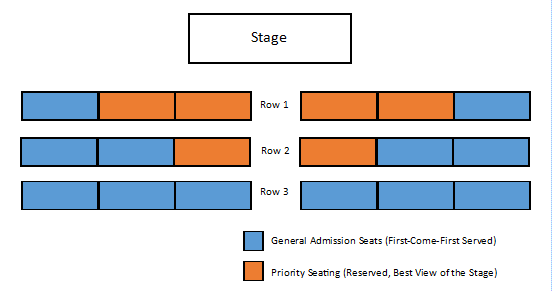 This Beaver Brothers Production is proudly sponsored by the Bentonville Beavers Pathfinder Club, a ministry of the Bentonville Seventh-day Adventist Church.