Description
A Birthday Party For Humane Immigrant Rights
Friday, October 18th | $10 | DOOR @ 8PM - SHOW @ 8:30PM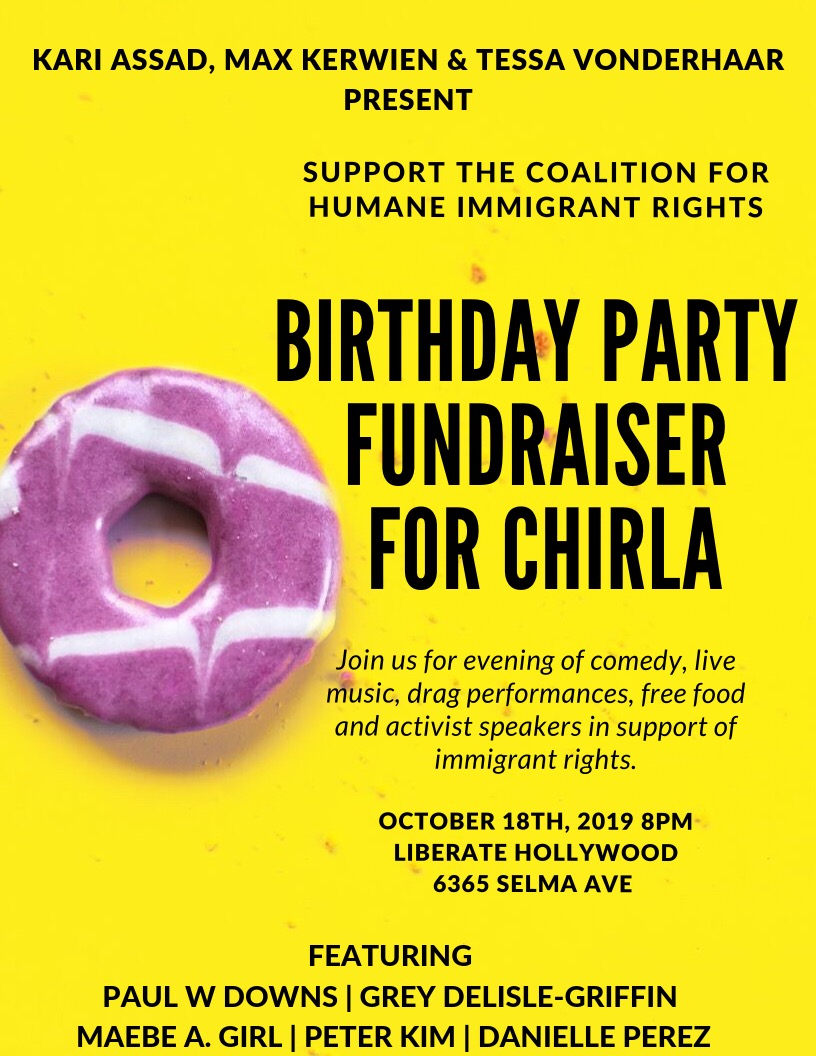 Join us for an evening of comedy, live music, drag performances, free food and activist speakers in support of immigrant rights.
Kari Assad has a unique biting look on society. Having lived all over the United States and being the simple mix of Mexican, Lebanese, French and German- she has a crap ton to talk about! She's been seen on Marcella Arguello's Women Crush Wednesdays at the Hollywood Improv, Put Your Hands Together with Cameron Esposito and Rhea Butcher at UCB Franklin, Good Heroin with Comedy Central's Matt Ingebretson, and opened for Bill Posley's Off Broadway One Man Show: "The Day I Became Black". She was a Finalist at the M.I. Westside's Showdown in Santa Monica, played the DC Comedy Festival, and 10,000 Laughs Festival in Minneapolis, MN. She recently created a themed stand up variety show, "Kari Assad's Quinceanera". It's a comedy show celebrating multiculturalism and played to packed houses at the Comedy Central Stage and the Ice House in Pasadena.
Kari Assad also has a BFA in Acting from Emerson College in Boston. She is represented by Almond Talent Agency, and starred in Laruel Vail's award winning short, "What Metal Girls Are Into".
Tessa is a Los Angeles based actor, director, singer. She'd like any well-behaved Midwestern who training classically in theatre, received a BFA in Musical Theatre, then got the hell outta there. Training and performing at Second City Hollywood, she got her start directing and writing comedy. You may have seen her acting in front of the camera on Showtime's Shameless, ABC's The Middle, seen her in films such as Followed (Timur Bekmambetov), or heard her voicing a character in Netflix's Motown Magic.
Max Kerwien is a standup comedian and award winning poet originally from Seattle. His autobiographical and dry humor has won over audiences all around the country. He is best known for his book, "Poems to Ruin Dinner with", and the fact that he is legally 5'5. Kerwien performs regularly in clubs and venues all around Los Angeles.