A Benefit for Girls Rock Dallas featuring Amanda Palmer

Thursday, October 3, 2013 from 6:30 PM to 10:00 PM (PDT)
Event Details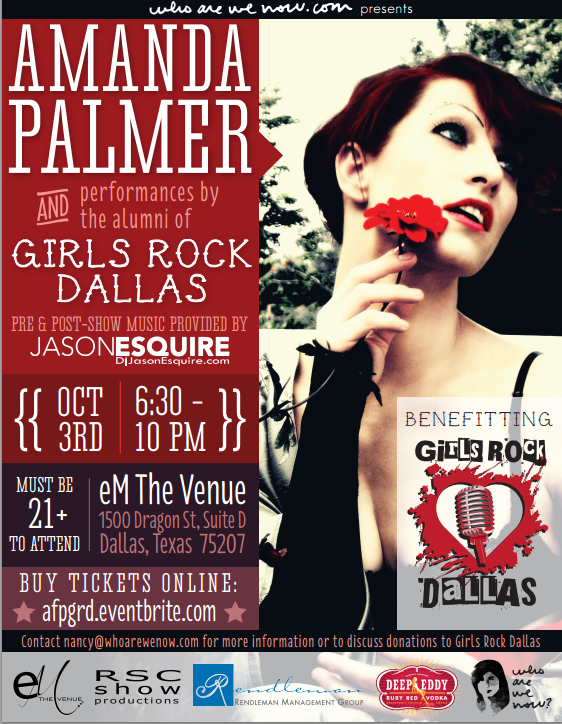 Come see the one and only Amanda Palmer perform with alumni of Girls Rock Dallas. Deep Eddy Vodka will be there with their new grapefruit cocktails and DJ Esquire will be hosting a dance party following the concert. There will be silent auction items to bid on and all proceeds from ticket sales will go to Girls Rock Dallas!
PLEASE NOTE: You must be 21 or older to attend.
Doors at 6:30 PM
Performances begin at 7 PM
DJ Esquire spins at 9 PM
 ------------------------------------------------------------------------------------------------
Amanda Palmer
Provocative, irreverent, controversial and wildly creative, Amanda Palmer is a fearless singer, songwriter, playwright, blogger and an audaciously expressive pianist who simultaneously embraces – and explodes – traditional frameworks of music, theater and art.
Amanda first came to prominence as one half of the internationally acclaimed punk cabaret duo The Dresden Dolls. In 2008, she released her debut solo album, Who Killed Amanda Palmer, produced by Ben Folds and accompanied by a fine art photography book featuring text by esteemed author Neil Gaiman (who Palmer has since married). After parting ways with her record label in 2010, she self-released two EPs: Amanda Palmer Performs The Popular Hits of Radiohead On Her Magical Ukelele and Amanda Palmer Goes Down Under, along with a musical theater-esque Evelyn Evelyn album and tour with Jason Webley.
Amanda is widely known as "The Social Media Queen of Rock-N-Roll" for her constant and disarmingly intimate engagement with her fans via her blog, Tumblr, and Twitter (800,000+ followers), and has been at the vanguard of using both "direct to fan" and "pay what you want" (patronage) business models to build and run her business. In May of 2012 she made international news when she raised nearly $1.2 million pre-selling her new album, Theatre is Evil, along with related merchandise and "experiences" via Kickstarter. Theatre is Evil went on to debut in the "Billboard Top 10" when it was released on Sept. 11, 2012, and has been released in over 20 countries on her own label, 8ft records.
Amanda  Palmer was invited to present a "TED Talk" at TED's 2013 Conference. To date her Talk, "The Art of Asking", has been viewed more than 4 million times worldwide.
Girls Rock Dallas is an organization dedicated to empowering girls and women through the use of music education to promote self-esteem and confidence by providing the opportunity to learn and express their musical creativity.

Girls Rock Dallas offers music instruction, as well as, a variety of life-skill workshops in an all-female oriented atmosphere. Our primary goal is to empower girls through music education and creativity, in a safe community for the girls, thereby cultivating higher self-esteem and confidence.

Girls Rock Camp Alliance (GRCA) provides resources and networking opportunities for its affiliate camps, and promotes the establishment of like-minded institutions worldwide. All members of the GRCA share similar missions, values, and ideas about how to run a successful girls rock camp.
Girls Rock Dallas strives to embody the core values of GRCA. They are:

We value the power of music as a means to create personal and social change;
We value efforts that actively expand opportunities for girls and women;
We value positive approaches to fighting sexism;
We value integrity, honesty, and respect;
We value appropriate sharing of resources, cooperation, and collaboration;
We value using our collective voice to further our mission;
We value diversity.

For more information on the Girls Rock Camp Alliance: http://www.girlsrockcamp.org/supporters/grca
Please visit the Girls Rock Dallas website at http://girlsrockdallas.org
Who Are We Now
"

I work with women of all ages and one of the things that I am passionate about is that we share the truth of our modern experience,  with all its goods and  bads. There's so much feminine wisdom out there but our culture seeks it out when our backs are against the wall or when our hearts are broken. Then it's reactive advice and judgement. 

This site sounds like a wonderful proactive collaborative voice that can start that sharing as part of a new way to be women.
" -Jessica, Contributor to Who Are We Now
Lauching in October 2013, Who Are We Now is designed to be a place for women to share their experiences, opinions and musings on what it means to be a modern woman. With
 a weekly collection of essays/photos/artistic works connected by subject or theme, o
ne of the biggest goals of the project is to expose the experiences of the "modern woman" to as many other women as possible. While the internet has been a huge and valuable resource with connecting voices worldwide, there is still a veil over all of us- maybe we could label it "standards of womanhood" - that clouds true discussions and the sharing of individual female experiences. There are still so many "expectations" placed on womanhood today. Who Are We Now hopes to lift that veil a little bit. 
Who Are We Now was founded and is edited by Nancy Upton Amely, who achieved international acclaim for her previous artistic project "That's Not Our Demographic", which was featured on The Today Show, Wolf Blitzer, as well as many other news outlets and was featured in Time, Fairlady, The Huffington Post, Jezebel.com, AMICA, The Daily Beast, The Village Voice, The New York Times and many others. You can view that project at www.extrawiggleroom.tumblr.com.
Please learn more about this new and exciting project by visiting www.whoarewenow.com
For questions about the website, contact nancy@whoarewenow.com
To submit your artistic work, contact submissions@whoarewenow.com
For press inquiries, contact press@whoarewenow.com
When & Where

eM The Venue
1500 Dragon Street
Dallas, TX 75207


Thursday, October 3, 2013 from 6:30 PM to 10:00 PM (PDT)
Add to my calendar