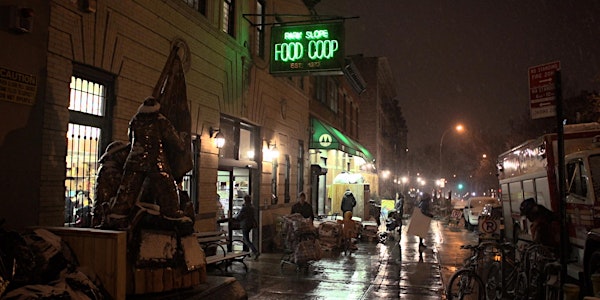 A Behind the Scenes look at New York's Park Slope Food Co-op
FOOD COOP takes us deep into the belly of Brooklyn's Park Slope Food Coop, one of America's oldest cooperative food supermarkets.
Refund Policy
Contact the organizer to request a refund.
Eventbrite's fee is nonrefundable.
About this event
If you want to shop at the Park Slope Food Co-op in Brooklyn, you also have to work there. The worker-member model allows the co-op to save 75% on labor costs, enabling them to sell quality food 20-40% cheaper than traditional grocers. Many of its 16,000 members consider themselves lucky to be members. How does the food co-op do it? This is an amazing behind-the-scenes look that allows the viewer to see the co-op in action: how they handle members missing 2:45 min work shifts every 6 weeks, theft, and other challenges, along with how members view their store.
Your ticket allows you to view FOOD COOP over a 3 day period from Sunday Nov. 13 until Tuesday, Nov. 15, as well as a webinar on Monday, Nov. 14, a panel discussion about the film and the food co-op/solidarity economy movement. The filmmaker, Tom Boothe, will participate in the Zoom webinar on Monday, Nov. 14 at 8 pm ET to discuss what he learned from making the film, differences and similarities, and how the Cooperative La Louve in Paris, which is based on Park Slope, is working out.
Also on the panel to discuss the film, the unique model and food co-ops and cooperation in general: Alan Berger, a 22 year PSFC member; Elizabeth Jesdale, a union rep at Hunger Mountain Co-op in Montpelier, VT; Erin Dale Mcclellan of the Fertile Ground Food Cooperative in Raleigh, NC; Suzette Snow-Cobb of the Neighboring Food Co-op Association; and Ben Sandel of Columinate, a consulting cooperative that helps food cooperatives and other types of cooperatives get started. The discussion will be moderated by Laurie Wayne, US director of the Open Food Network, a nonprofit that offers open source software to support local food systems everywhere.
Tickets are $5 to $50. Please select the option appropriate to your budget or your plans (such as a watch party). All proceeds go to help the GEO Collective continue covering the cooperative and solidarity economy movements.
Note your timezone: The Zoom webinar takes place on November 14 at 5 pm PT / 6 pm MT / 7 pm CT / 8 pm ET. Join us for what is sure to be an enlightening discussion.
In addition to English, you may watch this film in Spanish, French or Italian.
This event is co-sponsored by the Cooperative Development Foundation.