A Beautiful Tapestry Virtual Book Launch
About this Event
Virtual Book Launch
Join Marilyn, Tracy and Goldie on Zoom for the launch of 'A Beautiful Tapestry' on the 12th of November 2020 at 7.30pm.
Grab a drink and some nibbles, sit back and relax and let's have some fun together!
A Beautiful Tapestry
Full of amusing anecdotes, stories of lives changed through the MBM music and conference ministry, amazing answers to prayer, and of course adventures with their guide and hearing dogs, this is a joyous celebration of how God has used two ladies to share his love to a broken world.
Being blind, Marilyn's childhood was one of increasing isolation, yet with God's help she went on to use her gift as a musician and songwriter to gain recognition as a Christian artist and start Marilyn Baker Ministries. Tracy also suffered a difficult childhood through deafness and low self-esteem. Yet from these most unlikely of origins, God brought these two remarkable ladies together in the most hilarious fashion and gave them a joint vision to work together to share his love with others.
Through their work in prisons, concerts, retreats, conferences and prayer ministry, they have seen many lives transformed by the power of God's love. Many of those testimonies are included in this book, showing that God is indeed weaving a beautiful tapestry in all our lives. Each individual strand of yarn isn't much in itself, but when woven together an amazing picture emerges as he uses us in our weakness to show the beauty of his love to others.
Includes an 8 page photo insert.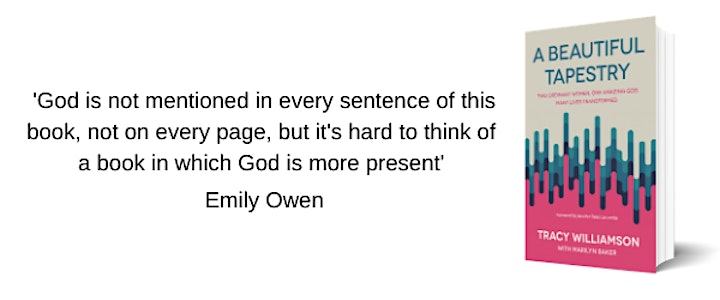 About Tracy Williamson
Tracy Williamson has worked with singer/songwriter Marilyn Baker since 1986 and they have travelled widely together in Britain and abroad ministering in churches, conferences and retreats. Tracy who is deaf and partially sighted following encephalitis at 2, is becoming increasingly recognised for her gift of hearing the Father's heart with prophetic words and pictures. Tracy is passionate to help others discover the joy of personally hearing God's voice and speaks on many topics to do with growing into intimacy with God. Tracy has published a number of other books including The Father's Kiss (Authentic Media 2018) and A Desert Transformed (River Publishing 2019)
About Marilyn Baker
Marilyn became blind soon after birth, but soon demonstrated a gift for music, excelling in the oboe. After leaving school she studied at the Royal College of Music and became a peripatetic music teacher in 5 schools in Watford, Herts. Marilyn became a Christian as a teenager following the loss of her grandmother and began to discover the power of His love to bring deep inner wholeness. After being filled with the Holy Spirit, Marilyn began writing anointed songs in her 20's, releasing her first album He Gives Joy in 1979. Her songs were written out of her deep desire to help others discover God's amazing love for themselves. In 1982 she took the step of going full time into Christian music ministry, becoming one of Britain's most popular and well-loved singer-songwriters. During the past 40 + years Marilyn has travelled around Britain and many other nations and in 2019 released her latest albums Joy of my Heart (Fox) and Hallelujah Christmas (Fox)
Marilyn and Tracy share a home together in Kent with Tracy's Hearing dog, Goldie and love to lead conferences, retreats, church and online events that will draw people deeper into God's father love.