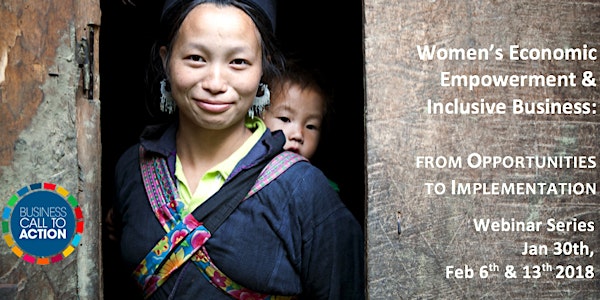 A BCtA Webinar Series: Women's Economic Empowerment and Inclusive Business
Description
WHAT CAN BUSINESS DO FOR WOMEN AND WHAT CAN WOMEN DO FOR BUSINESS:
A Perspective from and for the Base of the Pyramid to Enhance Economic Opportunities for Women and Accelerate the Realization of the SDGs.
1st Webinar: Tuesday 30th Jan 2018, 4-5pm Istanbul time (GMT+3)
2nd Webinar: Tuesday 6th Feb 2018, 4-5pm Istanbul time (GMT+3)
3rd Webinar: Tuesday 13th Feb 2018, 4-5pm Istanbul time (GMT+3)
We are excited to announce BCtA's new webinar series featuring presentations and discussions with key experts who have helped to empower women at the Base of the Pyramid (BOP) market through their research, products or services development, policy or advocacy work.
This is a unique chance to engage on both conceptual and practical issues around women's economic empowerment for the BOP market.
The initiative is built on the recognition that there is a documented business case for the private sector to actively engage women as consumers, producers, suppliers, distributors of goods and services or employees. Women's empowerment is a prerequisite, as much as it is an outcome, for achieving all the SDGs.
Our webinars will demonstrate that businesses can be profitable and contribute to a company's overall objectives while also helping to serve the interests of women at the BOP.
Webinar discussions will feed into an insight report that will provide a comprehensive knowledge base to better understand the needs of BOP women at the BOP, thus informing and improving future programme and product design.
---
1ST WEBINAR | Women's Economic Empowerment: the (Inclusive) Business Case

Aditi Mohapatra, Director, Women's Empowerment at BSR
Anna Falth, Global Programme Manager, Empower Women at UN Women
Katy Lindquist, Communications Executive at AFRIpads
Moderated by Paula Pelaez, Head of Business Call to Action
2ND WEBINAR | Women's Economic Empowerment: Navigating Enablers and Constraints

Georgia Taylor, Technical Director at WISE Development
Nicole Voillat, Group Sustainability Director at Bata Brands
Mashook Mujib Chowdhury, Deputy Manager, Sustainability, at DBL Group
Moderated by Carmen Lopez-Clavero, Programme Manager Specialist, Private Sector and Economic Development at Sida
3RD WEBINAR | Women's Economic Empowerment: Measuring Inclusive Businesses Impact

Dr Catherine Dolan, Reader in Anthropology at SOAS, University of London, Visiting Scholar at Saïd Business School
Diana Gutierrez, Global Programme Manager, Gender Equality Seal for Private Sector Global at UNDP
Anuj Mehra, Managing Director at Mahindra Rural Housing Finance Limited, India
Vava Angwenyi, Founder, Vava Coffee LTD, Kenya
Moderated by Nazila Vali, Knowledge and Partnerships Lead, Business Call to Action at UNDP
You will have the opportunity to share questions and comments when registering, during the webinar itself, and immediately following via a post-event feedback form.
We hope you can join us!
OUTREACH SUPPORT PARTNER: BUSINESS FIGHTS POVERTY
Follow us and BFP on Twitter for the latest news and information about the webinars:
BCtA: @BCtAInitiative
Business Fights Poverty: @FightPoverty