A Ballad for Harlem Conversation: Artist Modupeola Fadugba
Description
A Ballad for Harlem Conversations explore themes, people, and places found in the latest exhibition on view at the Schomburg Center. Join us for a conversation with artist Modupeola Fadugba discussing her work dreams from the deep end (2018) featuring Harlem Honeys and Bears, an all Black synchronized, senior swim team and a screening of the short documentary "Dreams from the Deep End" exploring her process and members of the team. Fadugba will be joined in the discussion by Luther Gales, a member of Harlem Honeys and Bears.
Get to the Schomburg Center early to view the exhibition and join the conversation.
About the Artist
Togo-born, Nigerian artist Modupeola Fadugba's multi-media practice encompasses painting, drawing, and socially engaged installation, which address ideas of identity, social justice, and game theory in order to navigate cultural hierarchies. Furthermore, as an avid and lifelong swimmer, Modupeola has a profound personal af nity for the pool and its capacity to foster health, creativity, and con dence. It thus remains a potent recurring motif throughout her diverse bodies of work. (http://www.modupeola.com/)
About the Exhibition
A Ballad for Harlem examines several strands of Black placemaking in the 20th century, offering views of residents and institutions committed to community, innovation, education, fervent political engagement, cultural affirmation, global perspectives, and creativity. Exhibition highlights include the Brotherhood of Sleeping Car Porters, the Speakers Corner, items from the recent acquisitions of artist and activists Ruby Dee and Ossie Davis and author Ann Petry, artwork by contemporary Nigeria-based artist Modupeola Fadugba featuring Harlem Honeys and Bears, Harlem's daughter and tennis champion Althea Gibson, sculptures by Augusta Savage, and street scene photography of 1930s Harlem. Over the century that the Schomburg Center has borne witness to Harlem's evolution, A Ballad for Harlem offers contemplation now in the midst of gentrification as new comers and long-time residents navigate the liminal space--a transition between what was and what is to come.
Please contact us immediately for American Sign Language (ASL) interpretation. Requests can be made by calling 212-340-0951 or 212-340-0909, or e-mail accessibility@nypl.org.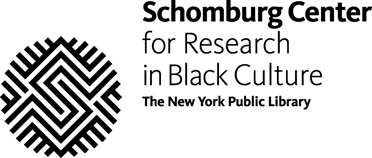 FIRST COME, FIRST SEATED
Events are free and open to all, but due to space constraints registration is requested. We generally overbook to ensure a full house. Registered guests are given priority check-in 15 to 30 minutes before start time. After the event starts all registered seats are released regardless of registration, so we recommend that you arrive early.

GUESTS
Please note that holding seats in the Langston Hughes Auditorium is strictly prohibited and there is no food or drinks allowed anywhere in the Schomburg Center.
AUDIO/VIDEO RECORDING
Programs are photographed and recorded by the Schomburg Center. Attending this event indicates your consent to being filmed/photographed and your consent to the use of your recorded image for any all purposes of the New York Public Library.
PRESS
Please send all press inquiries (photo, video, interviews, audio-recording, etc) at least 24-hours before the day of the program to Amy Geduldig at amygeduldig@nypl.org.

Please note that professional photography and video recordings are prohibited without expressed consent.