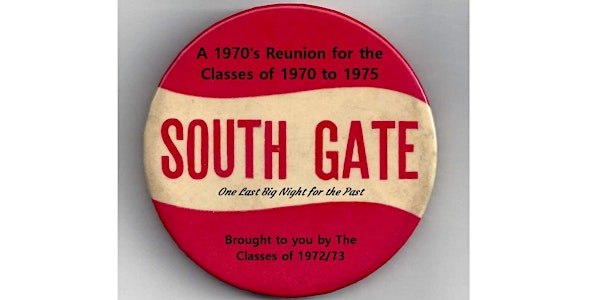 A 1970's Reunion for the Classes of 1970 to 1975
"One Night for the Past" -- A 1970's Reunion for South Gate High - 50ish years!
By SGHS Reunion Committee -- Classes of 1970-1975
Date and time
Saturday, September 24, 2022 · 6 - 11:59pm PDT
Location
Long Beach Marriott 4700 Airport Plaza Drive Long Beach, CA 90815
Refund Policy
Contact the organizer to request a refund.
Eventbrite's fee is nonrefundable.
About this event
"One Night for the Past"
Lots of things have happened since the 1970's. These 50ish years have seen so many changes in our world and in our lives. Let's gather together for one last formal reunion. It is time to see each other, to laugh, cry, flirt, talk, compare wrinkles, reminisce, and set aside politics for an evening of seeing and being seen. Time to carpe diem while we still can!
We have our venue Long Beach Marriott Grand Ballroom and scored 2019 prices!
We will have a sit down dinner plus lots of OUR music and dance.
Capacity is limited, so please avoid disappointment by buying your tickets soon!
Yes, other South Gate High alumni are welcome to join us.
Terms and Conditions
We will, of course, be subject to all health and safety restrictions that may apply at the time of the event.
Tickets are nonrefundable. However you could sell / give / transfer them to others.
Hotel Information
*** SPECIAL PRICING - SOLD OUT *** For those coming from outside of the area, we have locked down an amazing rate for the Long Beach Marriott of $189 (current rate for this year $246) for both the event night Saturday and the night before Friday. So if you are coming from a distance you have the opportunity to arrive on Friday and get the fantastic rate. We have a block of rooms and suggest you lock your room down ASAP. Once this block is gone, we hope to get another, but you never know.
Room refunds are subject to Marriott's policy.
For more information
The following people have volunteered to help us with the respective classes. Please contact them for more information:
1970 - Chris Huerta Riehman: genegal52@gmail.com
1971 - Ken Duron: kduron1@att.net
1972 - Tricia Tims Jensen: triciaaka@aol.com
1973 - Ken Eads: keads5519@gmail.com
1974 - Denise Davis Rohr: deniserohr@verizon.net
1975 - Roger Aielli: sportsfan2004@cox.net
We're putting together the powerpoint photos for this reunion night. Please email 60's and 70's photos to: Ken Eads keads5519@gmail.com. Include the names of the people in the photos and the approximate year the photo was taken so we can have a caption.
Song requests for the reunion night. Please email them to: SGreunionsongs@yahoo.com. We are building a Spotify playlist.
We will keep updated information here and on our dedicated 50th Reunion website: www.sghs50threunion.com
In the words of the Beach Boys:
Well I've been thinking 'bout,
All the places we've surfed and danced and,
All the faces we've missed so let's get,
Back together and do it again.