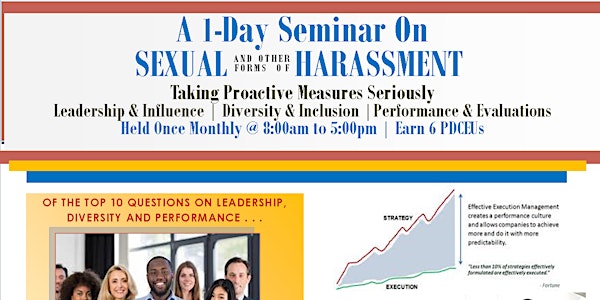 A 1-Day Workshop For Leadership On Sexual & Other Forms of Harassment
When and where
Location
Royal Palm Office Park Center 950 S. Pine Island Road Plantation, FL 33324
Description
What They Are Saying About The Workshops:
"About Ms. Reid-Grannum . . if you have ever sat through one of her classes, you can relate. She trains with enthusiasm, common sense and deductive reasoning approaches, and you remember every word she utters. The day went by so fast and we covered a lot. She emphasized that leadership needs to . . . . Read Complete Testimonials [--Suzanne Perry, CEO Professional and Lifestyle Organization Management, Pompano Beach, FL]
---
There are always exceptions to the rules of conduct, but seldom do people/workers intentionally violate the rules of conduct when it relates to sexual harassment -- at least this is only our opinion. At the end of the investigation, we sometimes learn that there were mistakes made, and had there been more concrete training on the subject matter, those mistakes could have been averted, if not completely avoided. From experience that mistake can be extremely costly simply due to negligent training. Not every one understands the pragmatic training requirements that can avert and/minimiz such mistakes. Unfortunately, all too often, most decisions-makers, leadership are in denial that they have a thorough understanding of what is and is not sexual harassment -- a costly denial modality.
We do.
Organizations should start training programs wherein the leadership is first in attendance, then the subordinates when rolling-out training initiatives. Not the other way around.
The Kaizen concept and principles places emphasis on continuous improvement and learning. One avenue to include the concepts of Kaizen would be geared toward attending seminars such as these, while creating ways and means to continually encourage growth and esteem in the organization. -- [Read more . . .]