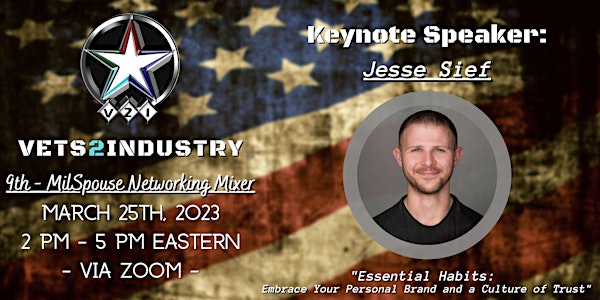 9th VETS2INDUSTRY Milspouse Mixer (open to veterans and service members)
Network from the comfort of your couch!
Date and time
Saturday, March 25 · 11am - 2pm PDT
About this event
Who is this for?
Military spouses, VETERANS, service members Business professionals in any industry, Gold Star Family Members, Caregivers, and Work Age Dependent Children
Brought to you by:
Due to COVID-19 this special event is being hosted virtually by VETS2INDUSTRY. The Founder Brian Arrington, along with our guest speaker hope this little bit of social reprieve that we can bring you during this time of uncertainty, can help ease any suffering and bring some much needed enjoyment if only for a few hours in your life.
We hope you and your families remain safe, secure, and with a warm embrace, We Love You All!
#vets2industry #v2ievents #v2i_jobs
How are we going to do it?
Using the power of the Digital Age and the ZOOM interface, there will be 25 minute speed networking rounds per group and then virtually rotate to the next room after the 10 minute intermission. The breakout rooms will be OPEN NETWORKING rooms and completely RANDOMIZED for the entire event.
Each room will begin with introductions of your 30-second elevator speech. Come prepared and dressed appropriately for a networking event. Business Casual is Appropriate.
Contact a VETS2INDUSTRY volunteer if you need advice on what to wear and we will assist.
Email events@vets2industry.org and make sure your spam filter is OFF for this email address or you will miss the crucial Post-survey.
The first 30-minutes will include welcome address by a Brian Arrington, Intro of Keynote Speaker, and Rules of Engagement. Then the recruiters are introduced. After that is the start of the breakout groups.