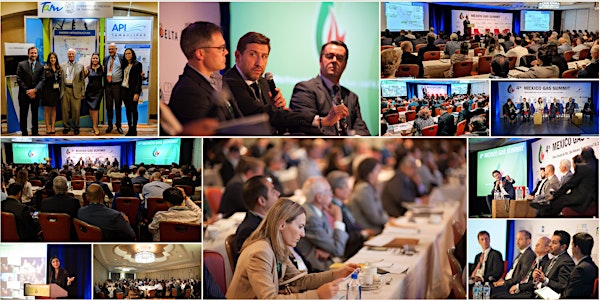 9th Mexico Gas Summit 2023 - San Antonio
Gulf Coast onshore development, midstream infrastructure, natural gas commercialization, energy Infrastructure and transportation logistics
When and where
Location
St Anthony Hotel - Marriott Property 300 East Travis Street San Antonio, TX 78205
About this event
1 day 7 hours

Mobile eTicket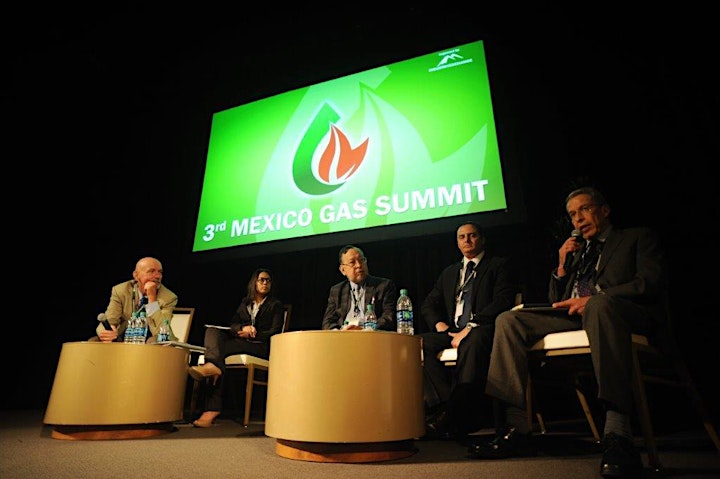 Register before February 20, 2023 and save US$1,000! space is limited
The 9th Mexico Gas Summit (www.mexicogassummit.com) is a two day oil and gas event on June 6-7, 2023 that brings together internationally recognized industry speakers, investors, government officials, and C level executives from the energy, infrastructure, transportation and logistics, and related industries. The geographic scope for the event will cover Mexico as a region with a strong focus on the opportunities and challenges associated Gulf Coast onshore exploration and production, gas commercialization, midstream infrastructure and recent opening of the refined fuels market. Gain extremely valuable industry insight as well as develop strategic relationships necessary to increase your probabilities of success and mitigate the risks involved in this evolving market opportunity.
Past speakers include:
Warren Levy, CEO, Jaguar E&P
Hector Moreira, Commissioner, Comisión Nacional de Hidrocarburos - CNH
Fernando Tovar, CEO, Fermaca
Antonieta Gomez, Head of the Energy Commission, State of Tamaulipas, Mexico
Oscar Del Cueto, Presidente, Kansas City Southern
Miguel Santiago Reyes, Director General, CFEnergía
Bob Perez, VP Region Leader, Baker Hughes
Ernesto Cisneros, Strategic Planning & Business Development, PetroBal
Eva Ribera, Vicepresidente Business Development, ENGIE
Santiago García, CEO, Santa Fe Gas
Rubén Minutti Zanatta, Cónsul General de México, San Antonio, Texas
Duncan Wood, VP Strategy, Woodrow Wilson Center
Nerea Chacartegui, General Director, ENAGAS México
Alejandro Padilla, Director of Economy & Research, BANORTE
Corey Ayers, Vice President Gas Supply & LNG Marketing, Mexico Pacific Limited - MPL
Ignacio Castro Foulkes, Director Commercial Transactions, Invenergy
Geoff Street, Director Natural Gas Origination at Tenaska Marketing Ventures
Alejandro Doria, President, Bulkmatic
Todd Brussel, Managing Director, Whitehall & Company
Luis Olivera, EVP Commercial, Ferromex
Rocío Cárdenas, Sr. Director of Development, SEMPRA Infraestructura
Kurt Knight, Director of Business Development, Enbridge
Alfonso Martin, Director Latam Develpoment Commodities, Bank of America Merryll Lynch
Roberto Gutiérrez, Country Manager, Verdad Exploración
Caio Zapata, CEO, ENESTAS
Jorge Carbajal, General Director, Terminal del Centro de México
Felipe Vilá, Director General, Fondo de Fondos
Francisco Acuña, Presidente del Consejo, Gobierno del Estado de Sonora
Christopher Lenton, Senior Editor Mexico, Natural Gas Intelligence – NGI
Jose Maria Lujambio, Partner and Energy Practice Director, Cacheaux Cavazos & Newton
Rajan Vig, Founder, INDIMEX
James Fowler, Editor Mexico Energy, ICIS
Among others…
Some of the companies and organizations that have participated in our annual event include: 
SENER, CENAGAS, CRE, CNH, PEMEX,  Comisión Federal de Electricidad – CFEnergia, Tonalli Energia, Port of Corpus Christi, Energy Transfer Partners, Howard Energy, TransCanada, Sierra Oil and Gas, Grupo Alfa, Perseus Energy, Jaguar Exploración y Producción, Occidental Petroleum – OXY, California Resources Corporation, The Bank of Tokyo-Mitsubishi UFJ, EnCap Flatrock Midstream, Fondo Mexicano del Petroleo, GIMSA - Grupo Industrial Monclova, Enagas, Texas State Department, BP Energy, Kinder Morgan, Repsol, Whitewater Midstream, Grupo Orsan, Prana Gas, Clúster Minero Petrolero de Coahuila, Comisión de Energía de Tamaulipas, Rio Grande E&P, Export Import Bank of the United States, Grupo Diavaz, Fermaca, GE, Howard Energy Partners, IFC – World Bank, Grupo Industrial Saltillo, ABS Group, TD Williamson, Agencia Nacional de Seguridad Industrial y de Protección al Medio Ambiente del Sector Hidrocarburos – ASEA, Nacional Financiera Investment Bank – NAFIN, Koch Energy Services, NETMex NextEra Energy, BGES, Port of Brownsville, Praxair Mexico, Grupo Mexico Energía, PPG México, Pipeline, Pipe Line Development Co. – PLIDCO, CYDSA, Enbridge, Linde Engineering North America Inc., RGfx Initiatives, Applied LNG, Citibanamex, New Mexico Gas Company, Tech Energy Control, White & Case, Martin & Drought, Crestwood, Marsh, Mirage Energy, Cetco Energy Services, Haynes and Boone, Tubacero, CCN, Tecma, Artha, Banco Interacciones, Trinity Rail, KfW IPEX-Bank GmbH, Cross Country Infrastructure Services, Constellation Brands, CONAGAS, Omega Steel Company, Northland Power Inc, Pentagon Energy, Latitude Technologies, Fondo de Fondos, Vaquero Midstream, Pacific Summit Energy, ICIS Mexico Energy, AINDA, Nera Consulting, Bulkmatic de Mexico, Mexico Institute at Woodrow Wilson International Center and more.