Location
Lock 3 Park
200 South Main Street
Akron, OH 44308
1000s Unite to Celebrate Local Community at Elevate Akron's 9th Yoga Festival
About this event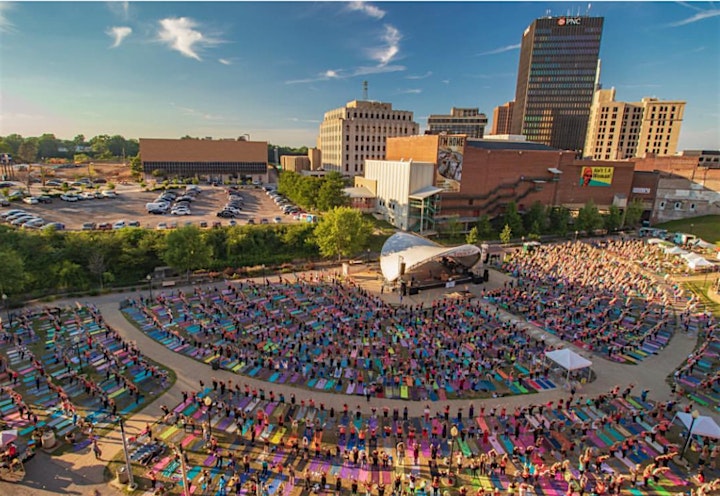 Head to the heart of downtown Akron, OH on September 8 from 4:30-8:30p.m. to celebrate the 9th signature yoga festival. Connect with nearly 2000 wellness-minded people, volunteers, local businesses, nonprofits, food trucks and artists at Lock 3 Park, 200 Main Street. This community gathering promises the same outdoor fun as in past years!
Enjoy an all-levels outdoor yoga class at 7PM led by our Executive Director, Kevin James Karas M.A, E-RYT 500 and live music by the Elevate Akron Orchestra.
Listen to live musical ensembles all night from the Elevate Akron Orchestra composed of local musicians
Grab a delicious bite to eat and a cool drink from local food trucks.
Connect with local community by enjoying fun activities with wellness-minded businesses, nonprofits, & shop artisan vendors.
Participate in the Elevate Akron Passport filled with a plethora of discounts from our sponsors and network with local businesses to win some amazing prizes in the raffle!
Relax in the healing tent with $10 donation-based massage and reiki.
Support the cause by purchasing a Limited Edition 9th Elevate Akron Tank Top ($30), Raffle Tickets ($3-$30), or Elevate Water Bottle ($5).
Main Stage Schedule
4:30pm - Gates open ~ Arrive, Place Your Yoga Mat & Socialize
4:30-7:00pm - Live Musical Ensemble from the Elevate Akron Orchestra & Special Musical Guests.
7:00-8:30pm - All Levels Yoga Class by Kevin James Karas & Live Music by the Elevate Akron Orchestra.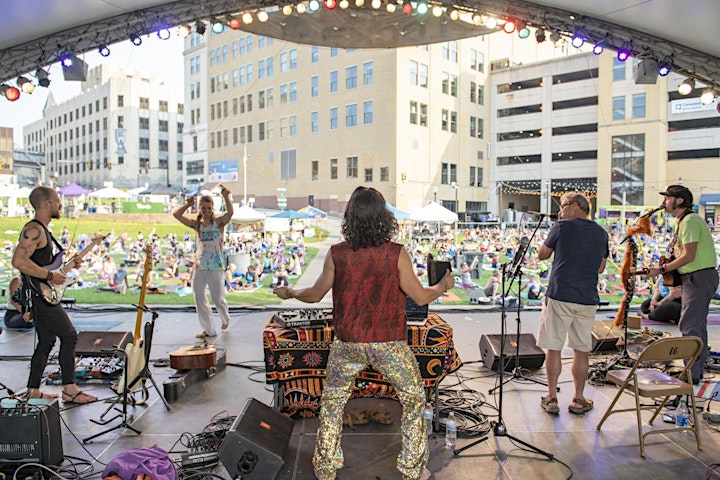 Ticket Information
Early Bird Tickets ($10) were available April 1-30, 2022. Tier 1 ($15) tickets were available May 1-31. Tier 2 tickets ($20) are available June 1-September 8, 2022. Event Day tickets ($25) are available online or at the gate (cash, card, paypal & venmo accepted). Please note, that if a tier sells out, the next tier will become available. Tickets include:
Elevate Akron Wristband
Access to THE community celebration of the summer!
Digital program guide and passport with $100s of dollars worth of value.
1 Raffle Ticket to win exciting prizes ($3 value)
Memories to last a lifetime.
Purchase your ticket today!
Please note: If our cost makes this event inaccessible to you, please email kevin@elevateakron.com by August 25 and we will provide access if tickets are still available. Also, the event goes on rain or shine and tickets are nonrefundable.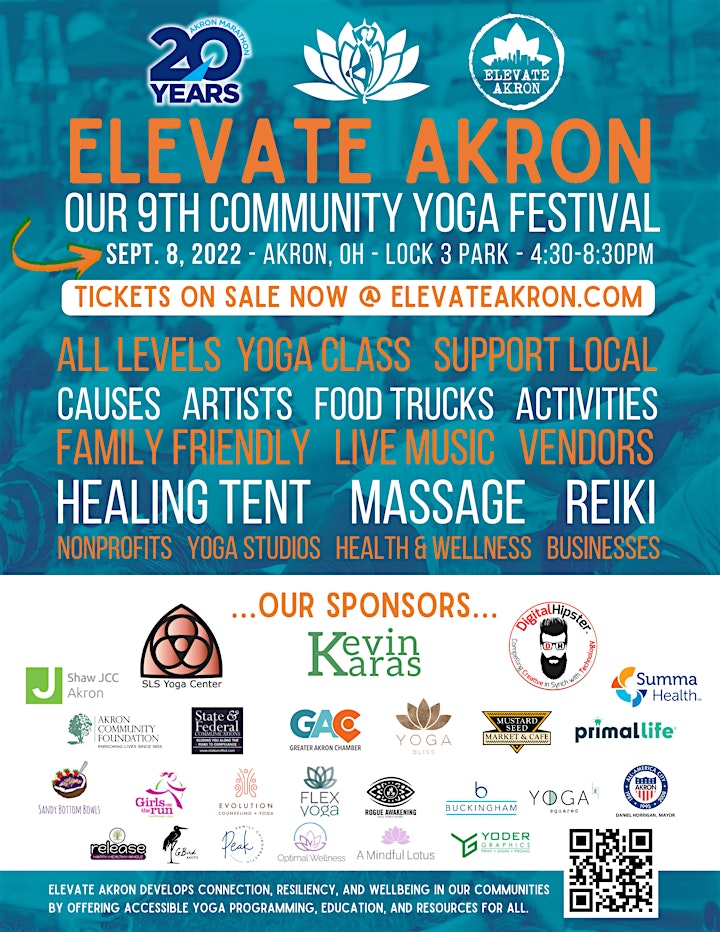 Purchase Your Limited Edition Tanks
A limited number of shirts will be available for purchase starting April 1, 2022 for $25.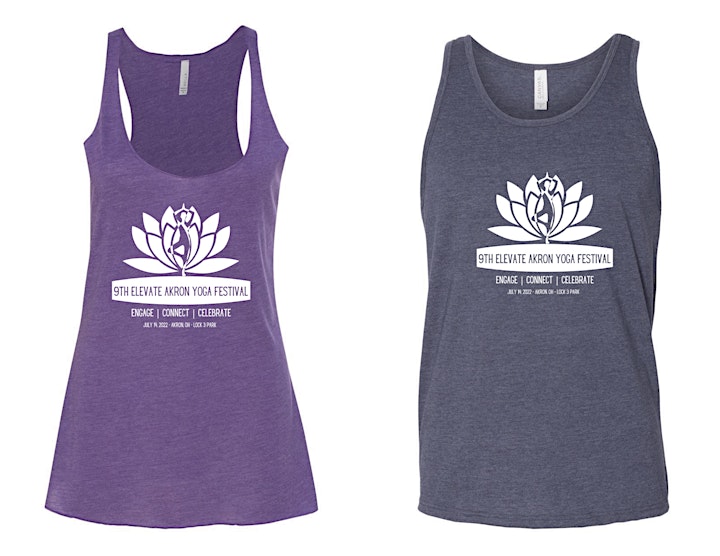 Parking & Rules
Parking Information - Very conveniently, there are about 600 spots available in the O'Neils (State St.) Parking Deck attached to Lock 3 Park and many more in the surrounding lots.
Rules and Regulations - We will adhere to the most current safety protocols as promoted by the CDC, Governor, City of Akron and Lock 3.
Don't forget, we know it will be a beautiful, hot summer day but Elevate Akron Yoga Festival goes on Rain or Shine!
Tickets are nonrefundable.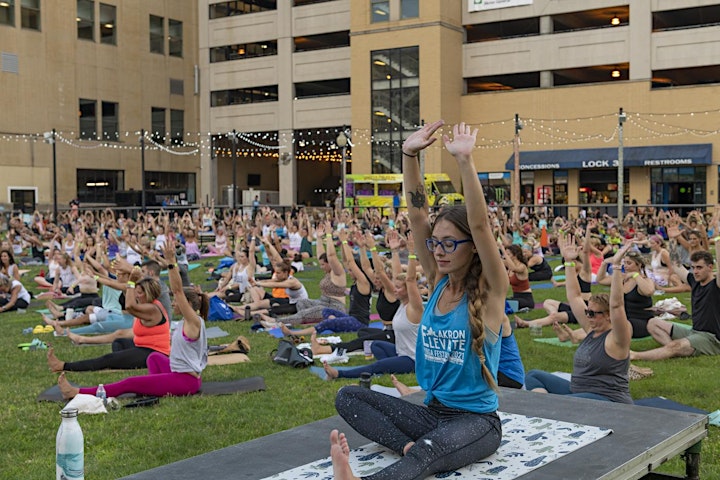 About Elevate Akron
Mission: Elevate Akron develops connection, resiliency, and well being in our communities by offering accessible yoga programming, education, and resources for all.
Vision: Our vision is to elevate our communities by hosting premier yoga festivals and events, making yoga education and programming more accessible, and improving workplace wellness through yoga and mindfulness programming.
Volunteer Run Organization - Elevate Akron is a volunteer-driven 501(c) 3 public charity founded in 2015 that has partnered with over 200 local businesses and 250 volunteers devoting 1000s of hours to impact 16,500+ people. From event week volunteers who serve 3.5+ hours, to community volunteers who serve as leaders and support in the months leading up to and following the event, and core volunteers who serve year-round. We have a role for you! Sign up today!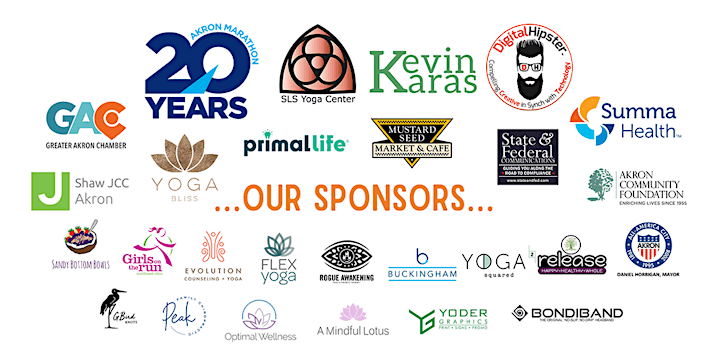 Thank You To Our Sponsor, Partners & Donors!
Check out our sponsors and vendors tents on event-day for unforgettable fun activities, prizes, giveaways and meaningful connections to last a life-time.
TITLE SPONSOR
Akron Marathon
PRESENTING SPONSORS
Kevin Karas | SLS Yoga/Meditation Center | DigitalHipster Inc.
SUPPORTING SPONSORS
Shaw JCC of Akron | Summa Health | The Mustard Seed Market & Café | Primal Life Organics | State and Federal Communications | Yoga Bliss | Akron Community Foundation | Greater Akron Chamber of Commerce
ELEVATING SPONSORS
Yoga Squared | Release Yoga | Sandy Bottom Bowls | Peak Family Chiropractic | Rogue Awakening | A Mindful Lotus | Yoder Graphics | Flex Yoga | Girls On The Run Northeast Ohio | Buckingham, Doolittle & Burroughs Law | Evolution Counseling and Yoga | Studio 108 | Optimal Wellness | GBird Knots
VENDORS
Boo Bear's Brew | Distillata | Squash The Beef | Wholly Frijoles | N.E. Wear | Portage Path Behavioral Health | Queer Mystic | My Turquise Kitten | Studio Oxygen Yoga & Fitness | PeaceCore Studios | CycleBar Hudson | Akron Henna Art | SHINE Akron | Prestige Medal Displays | Summit County Children's Services | YogiStoned | Sacred Grove Studio | Fly N Flow Yoga | Bondiband | In Time Yoga + Wellness Studio LLC | Full Scale Fitness | McDowell Cancer Center Cleveland Clinic Akron General | The Bohemian Mama | Modern Vitality | Venus in Aquirius Apothica LLC | Wild, Peaceful & Free | Falls Yoga and Barre