Location
Hilton Garden Inn Sioux Falls Downtown
201 East 8th Street
Sioux Falls, SD 57103
Join us on September 23, 2021 for the 9th Annual Wings & Waves Gala that will be hosted at the Hilton Garden Inn Sioux Falls Downtown.
About this event
It's time to get bidding!
The online auction is now live. Check out WingsWaves21.GiveSmart.com now or text the word WingsWaves21 to the number 76278 on your mobile device to get registered to bid. It takes less than 60 seconds to set-up your account and start bidding on over 45 packages online.
You can access our online auction on your laptop, desktop, or mobile device now!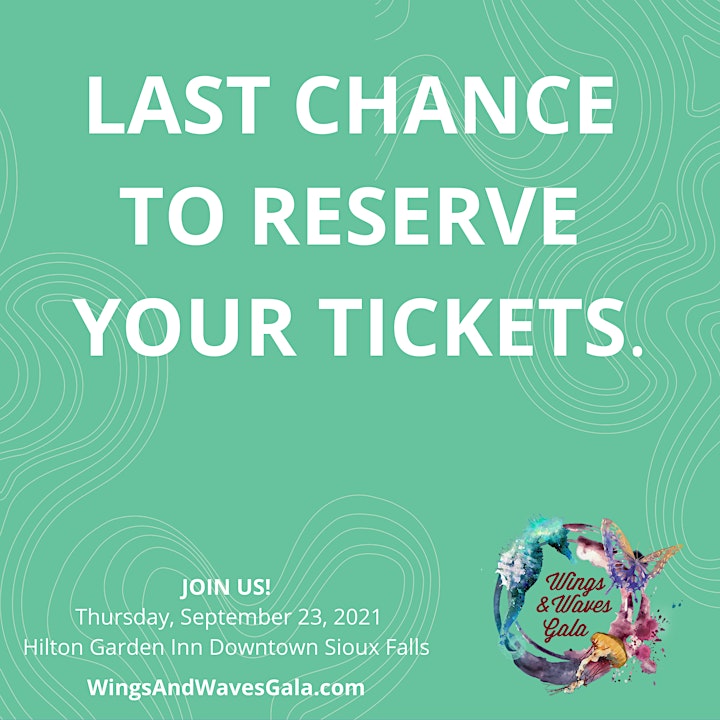 The 9th Annual Wings & Waves Gala is an evening to celebrate the success of the Butterfly House & Aquarium and the community that has helped create opportunities for the education and inspiration of the next generation of environmental stewards.
The schedule of events that evening at the gala will be as follows:
5:30 PM - 6:30 PM | Guest Check-in + Social + Silent Auction
6:30 PM - 7:00 PM | Dinner
7:00 PM - 8:00 PM | Program + Live Auction + Closing
8:00 PM | Auction Check Out
Funds raised at the event will be used towards:
the new expansion and development of the Dakota Aquarium & Butterfly House
the new cooling system for the butterfly conservatory
educational outreach through our Ocean in Motion traveling aquarium
The Wings & Waves Gala provides an opportunity to connect and network with business leaders, influential community members, plus staff and volunteers of the Butterfly House & Aquarium. The evening will feature dinner, desserts, opportunities to bid on unique auction items, and a chance to engage with exhibits from the Butterfly House & Aquarium at the Hilton Garden Inn Downtown Sioux Falls.
For details about sponsorship opportunities, connect with Audrey at audrey@sdaquarium.org or by calling 605.334.9466.