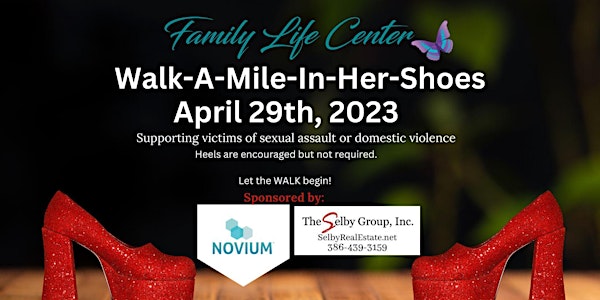 9th Annual Walk-A-Mile-In-Her-Shoes
"Walk A Mile In Her Shoes" is returning to Flagler! Grab your heels and join us as we walk to bring awareness about domestic/sexual violence
Date and time
Starts on Saturday, April 29 · 9am EDT
Location
Veterans Park 101 North Oceanshore Boulevard Flagler Beach, FL 32136
About this event
It's that time of year again, when we Walk-a-Mile-in-Her-Shoes down A1A to raise awareness about sexual assault, domestic violence, and dating violence in our community and increase resources to support critical survivor programs and services through your state certified sexual assault / domestic violence organization, Family Life Center.
Aptly named, Walk-A-Mile-In-Her-Shoes is an experience that promotes a lot of education, self-reflection, and change. There is an old saying: " You can't understand another person's experience until you've walked a mile in their shoes". To get people listening, talking and learning, Family Life Center is hosting the 9th annual Walk a Mile in Her Shoes®.
It's not easy walking in these shoes, but it's impressive to see such a visually stunning public statement of listening, allyship, and commitment. It's an engaging event that gets the community talking about sex and gender biases, gender identity, and gender relations.
So strap on stilettos (or blingy flip flops or sneakers, if you prefer) and walk to show solidarity with survivors of sexual assault / domestic violence in Flagler County. 
Registration begins at 8:00 am; and the walk starts at 9:00 am.
Register as an individual participant and encourage your friends, family members, and colleagues to walk the walk with you!
For additional information, please visit www.FamilyLifeCenterFlagler.org, or contact: Shinece at (386) 437-7747 ext. 405
Frequently asked questions
Do I have to wear High Heels to participate?
Is there a maximum number of team members?
About the organizer
The mission of the Family Life Center is to provide essential supportive services to individuals and families to end Domestic Violence and Sexual Violence in Flagler County.
Our guiding principles of diversity, advocacy, teamwork, empowerment, sustainability, effective communication and active participation help shape the delivery of services to victims while simultaneously realizing our agency vision: to lead the community in ending the perpetration of Domestic Violence and Sexual Violence throughout Flagler County. 
24 Hour Crisis Helpline: (386) 437-3505  (Voice/TDD/TTY)
A copy of the official registration and financial information for Flagler Ecumenical Social Service Center, Inc. dba Family Life Center, a Florida-based nonprofit corporation (registration no. Ch2037), may be obtained from the Division of Consumer Services by calling toll free 1-800-help-fla (435-7352) within the state or visiting their website ww.floridaconsumerhelp.com.  Registration does not imply endorsement, approval, or recommendation by the state.
In accordance with federal law and U.S. Department of Justice policy, this organization is prohibited from discriminating on the basis of race, color, national origin, religion, sex, age, or disability. To file a complaint of discrimination, write the Florida Department of Legal Affairs, Federal Discrimination Complaint Coordinator, PL-01 The Capitol, Tallahassee, Florida, 32399-1050, or call 850-414-3300, or write Office For Civil Rights, Office Of Justice Programs, U.S. Department of Justice, 810 7th Street, NW, Washington, DC 20531 or call 202-307-0690 (Voice) or 202-307-2027(TDD/TTY). Individuals who are hearing impaired or have speech disabilities may also contact OCR through the Federal Relay Service at 800-877-8339 (TTY), 877-877-8982 (Speech), or 800-845-6136 (Spanish).