9th Annual UC San Diego Postdoc Association (PDA) Vendor Show: Vendor Registration

Thursday, August 15, 2019 from 10:00 AM to 2:00 PM (PDT)
Event Details
** Note: Registration extended to Aug 6th at 12:00 pm! **
**Register quickly to reserve your space!**
Dear Vendors,
Thank you for your interest in the 9th Annual UC San Diego Postdoc Association (PDA) Vendor Show scheduled for Thursday, August 15, 2019, 10am – 2pm! 
Advertise your company and products at one of the largest Vendor Shows held on the UCSD campus, which attracts postdocs and other research personnel from across the area. We also welcome sponsorships and donations of items for our raffle prizes! This event is our primary fundraiser for the year, allowing us to continue our many career development and social programs. 
Please carefully read the details below for all your registration options. You will need to select your table type, and may need to indicate parking, electricity, and sponsorship options.
Deadlines
Registration is open until July 25th, 2019. We strongly recommend signing up early so that you get your choice of tables and payment options. If you are intersted in paying by checks, the checks must be postmarked by August 1st, 2019.  
Tables
Package Options

Economy

($700)

Economy Plus

($800)

Premium

($1000)

One Table at Vendor Show

X

X

X

Name on Show Vendor List

X

X

X

Individual Signage for Table

X

X

X

Location of Table at Show

Assigned

Choice based on availability

Priority choice

Electrical Outlet Access

Not provided

Available for $50 per outlet

1 Outlet Included

Priority Stamp (increases traffic) for attendee lunch

 

 

X

Discount opportunity: $100 discount per table for booking for more than one table. The discount will be returned to you as a rebate after the event.
 
If one table (6' x 30'') isn't enough, you have the option to purchase additional tables at a discounted rate.  Please note that no table cloths will be provided, feel free to bring your own company branded table cloths.
Payment
You may pay by Credit Card (preferred) or Check (Please register by July 25th for either option). Make checks payable to UC Regents and should be postmarked by August 1, 2019. Please send checks to the following address: 
UC San Diego
Attn: Heather Dillon
9500 Gilman Drive #0043
La Jolla, CA 92093-0043
*Please use a single check and estimate the total based on the ticket prices listed for credit card payments.* Be sure to account for parking, preferred sponsorship package, etc.
Please note: sales are non-refundable, unless a replacement vendor can be found.  
Electricity
If you require electricity, you have the option of only ONE electricity outlet per table. Please note that there are a limited number of electricity outlets. If you require multiple outlets, please reach out to us for arrangements.
Parking Pass
Parking at the University is extremely limited, we strongly recommend you to purchase a Parking Pass. Self parking is available at the Gilman Structure, this will cost $3 per hour and can be paid at the parking structure. Some of our sponsor benefits include parking passes at the lot right next to the Stein lawn. Take advantage of this opportunity to minimize your planning on the day of the event! 
Please note that passes must be purchased on Eventbrite by August 9 to be reserved.
Sponsor Options
If you would like to make a donation to the UC San Diego Postdoc Association, please enter the amount of your donation in one of the Sponsorship "donation" options above. Please contact ucsdpdavendorshow@gmail.com if you have a raffle prize item you would like to donate in addition to or in lieu of sponsorship.
Sponsorship levels:
Benefits

Bronze

($1500)

Silver

($3000)

Gold

($5000)

Table Included

1 Premium

1 Premium

1 Premium

Acknowledgement on PDA Website (post)

X

X

X

Logo on "Thank You" Board at Vendor Show

X

X

X

Logo Printed on Vendor Show Handout (the day of)

X

X

X

Acknowledgement in Post-Show Media Releases

X

X

X

Logo/Name on Pre-event Communication Material (e.g., Eventbrite)

X

X

X

Complimentary Parking for 1 Car *

In Gilman Parking Structure Visitor Parking

Reserved Parking Spot in Lot P602

Social Media Tagging and Acknowledgement (pre and post)

 

X

X

Distribution of 1 Company Flyer at Registration Table

 

 

X

First choice of table location

 

 

X
 * Due to logistics in organizing parking passes, sponsor parking privilege will only be available to sponsors who complete the payment deadline by July 25th 2019.
Thank you for your collaboration, and we look forward to working with you to ensure a successful Vendor Show! If you require any further information, please do not hesitate to contact us at: ucsdpdavendorshow@gmail.com

Looking forward to seeing you there! 
Vendor Show Committee
UCSD Postdoctoral Association
Email: ucsdpdavendorshow@gmail.com
Website: www.pda.ucsd.edu
Facebook: www.facebook.com/UCSDpda
Please note: sales are non-refundable, unless a replacement vendor can be found.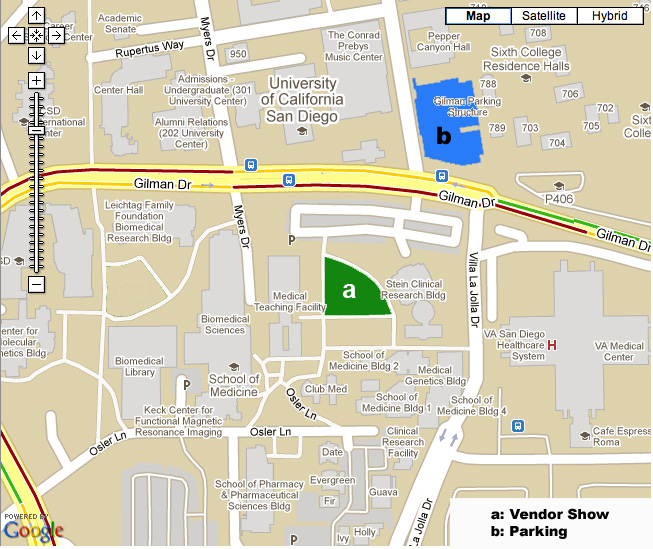 Have questions about 9th Annual UC San Diego Postdoc Association (PDA) Vendor Show: Vendor Registration?
Contact UC San Diego PDA
When & Where

UC San Diego
Stein Lawn (Between Stein, Telemedicine & Medical Teaching Building)
9500 Gilman Drive
La Jolla, CA 92093


Thursday, August 15, 2019 from 10:00 AM to 2:00 PM (PDT)
Add to my calendar
Organizer
The UC San Diego Postdoctoral Association (PDA) is an officially recognized Academic Advisory Group concerned with the quality of the postdoctoral experience at UC San Diego. The mission of the PDA is to enhance the postdoctoral experience by expanding professional development workshops, organizing social events, and facilitating networking opportunities. 
Please note that there is no cost to join the PDA, and we are not affilitated with the postdoc union. Interested in joining? Contact us today!