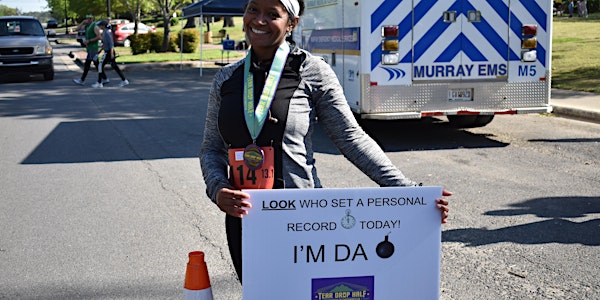 9th Annual Tear Drop Half Marathon, 10K & 5K
Run down Fort Mountain towards your PR!
When and where
Location
Chatsworth City Park 400 N 2nd Ave Chatsworth, GA 30705
About this event
Event Information
Lace up your sneakers, lean forward and get ready for the 8th Annual Tear Drop Half Marathon! If you're looking for a fast and scenic half marathon, 10K or 5K then join us on Sunday, April 23, 2023!
All distances will start on top of Fort Mountain at an elevation near 3000 feet and finish in Chatsworth, Georgia, for an over 2000-foot drop for the Half Marathon. All courses (13.1, 10K, 5K) are USAT&F certified for those participants that are looking to set a personal record or for a qualifying time at a race elsewhere. Chatsworth is 80 miles from Atlanta, 40 miles from Chattanooga and 10 miles from Dalton.The race courses are on all paved roads and features 7 miles of 5-10% grade downhill for the 13.1, 5 miles downhill for the 10K and 2 miles for the 5K (which should improve your time :40- 1:20 per mile!) and then a flat to rolling finish. Again this year the Half Marathon will run an out and back on top of the mountain, which runners will encounter several climbs (it's not all downhill). The scenic route through the Cohutta Wilderness Area and finishes in scenic City Park welcomes racers of all abilities.In addition to the half marathon 10K & 5K, there will be plenty of extras for the runners! Beautiful CUSTOM medals for all event finishers and every participant will receive a T-Shirt.
There are no refunds or transfers but you can change distances if you'd like by logging into your account and selecting the event that you want to switch to and pay the difference if needed.
2021 pictures here!
2019 pictures here!
2018 pictures here!
2017 pictures here!
Some running stats:
67% of 2021 participants set a PR! (Personal Record)
The event supports the Murray Arts Council. A majority of race day volunteers will be there in support of this organization!
Murray Arts Council was established in the summer of 2012.  We are located in Downtown Chatsworth and provide art exhibits, theatrical performances, concerts and classes to expand art awareness in Murray County.  Recently, Murray County was chosen along with seven other communities in NW Georgia and SE Tennessee to participate in a Thriving Communities grant program sponsored by the Lyndhurst Foundation to fund a program that combines art and culture to enhance the vitality of our community. For all event details and more information, visit www.iwelife.com
ONLINE REGISTRATION CLOSES AT THURSDAY 7:00 PM April 20, 2023
Runners will receive both a gun time and chip or net time. Overall awards are based on gun times. Age group awards are based on chip or net time.All participants will receive a shirt, medal and a finisher picture. Must be registered by 4/1/23 to guarantee a t-shirt, otherwise while supplies last. Safety: Bicycles, skateboards, baby strollers/joggers, roller skates, and animals are not allowed in the race. Headphones are strongly discouraged. 
Packet Pick-up/Registration Saturday 4/22/2023 2-5pm Sunday 4/23/23 5:45-7:00am(half), 6:30-7:20(10K), 7-7:30am (5K&1-Mile) City Park 401 N. 2nd Ave Chatsworth GA
Race Timing The race will utilize MyLaps timing chips that are be affixed to each racer's number bib. Each runner will also receive a bib number to be worn during the race. Make sure you wear the # you are assigned!
There are no refunds or transfers allowed.
For updates and info please visit: http://www.teardrophalf.com/
FAQs
Why the name Tear Drop?
We wanted to include both the historical and geographical interests of the area. The historical start of the Trail of Tears, the Trail of Tears historic route intersects our course, and geographically Fort Mountain, where the race starts in the Cohutta Wilderness, which has a 2400' prominence above Chatsworth! Thus combining both features into the name Tear Drop. We had much discussion about the name of the event with Chatsworth community leaders, which obviously supported the name and also the event in general to showcase and bring people into the area. We even reached out to the Georgia Chapter of the Trail of Tears for guidance for the name, which they accepted, and to be beneficiary but they declined to be a partner on our event. We're conscience of the name being misconstrued as exploitative but one of our goals for the event was to showcase the area and hopefully have an economic impact as well. Calling it the Chatsworth Half we felt would have ignored the area's history. The Fort Mountain Marathon and Half Marathon is currently in use for a trail race organization and runs through the trails of Fort Mountain State Park.
Does it run on paved roads?
Yes. All paved roads! Other downhill races run on forest services roads, which have loose gravel and large rocks from can be tricky to navigate safely. We secure 1 northbound lane of Hwy 52 and your only concern, while admiring the beauty as you descend, is not to run off the road.
Is it all downhill?
Not quite but mostly: 8 downhill miles for the half, 5 downhill miles for the 10K and 2 downhill miles for the 5K. Specifically the 13.1 distance from the start line to the finish line is 9.4 miles (but not all is downhill) and we've added about 4 miles of rolling hills at the top to reach the certified distance, with also less than a mile to the finish. The 10K and 5K both start off all downhill until the last mile, which is flat to rolling.
Is it safe?
This is our 9th year and we've not had any safety issues. We work with both Murray County Sheriffs Department and Chatsworth Police Department to secure the roads for pedestrian traffic. We have a permit from Georgia Department of Transportation that allows our use of 1-lane (GA Hwy 52) from which to run on. Vehicle traffic is allowed on eastbound (against the race) and are slowed down by cones and deputies. Only authorized vehicles are allowed on our designated lane. This year we've taken greater measures to ensure vehicles are not permitted on the race side of the road and should an errant vehicle come onto our lane they will be turned around and removed from the course.
Are there ID or minimum age requirements to enter the event?
Yes, because of the distances and running on a state highway but we will make exceptions based upon parent or guardian consent and the child's experience on a 1-off basis. Email info@iwelife.com for details. ID's required for beer consumption
What are my transportation/parking options for getting to and from the event?
All runners are required to park at the finish (City Park) and bused to their event specific location, different for each distance.
What can I bring into the event?
A pull over or light jacket while waiting for race to start. It's chilly on the mountain. We'll have a collection area for return after the race at the finish.
What's the refund policy?
There are no refunds.
Can I update my registration information?
Yes. You can switch events if you choose and pay the difference if there's one or free if it's less. Log-in to your account to make changes.
Is my registration fee or ticket transferable?
No
_______________________________________________________________________________
2022 medal/shirt below. Stay tuned for 2023!