| | |
| --- | --- |
| 9th Annual Regis University CSI Program, October 17th & 18th (2014) | |
Event Details
Friday, Oct. 17th  6:30-9:00pm & Saturday, Oct. 18th  8:45am-5:00pm
The 9th Annual CSI Program will be held at the Lowell campus (Denver, CO), courtesy of the Department of Criminology, Regis University.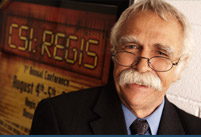 This annual event, planned by faculty and staff of the Criminology Department will showcase presentations, demonstrations, and resources from discipline experts and experienced practitioners in the fields of criminology and crime scene investigations.  This program is a unique and educational opportunity available to professionals, students and interested citizens . . . for FREE!!
This year's central themes focus on Cyber Crime and Digital Forensics
Registration is strongly encouraged.  Walk-ins and additional guests are welcome as long as space is available.  Portions of this year's event will be available to an online audience.  Friday's keynote presentation from 6:30-9pm and Saturday's final symposium from 3:30-5pm will be live-streamed.  The final symposium will also be interactive, allowing the online audience to participate in the discussion.  Register to participate ONLINE if you would like to receive more information.
Friday, October 17th
The doors to the Mountain View room will open for seating at 6:00 PM.  Light hors d'oeuvres and desserts will be served in the Claver Hall atrium prior to the keynote presentation. 
6:30 PM:  Welcome Adress and KEYNOTE PRESENTATION**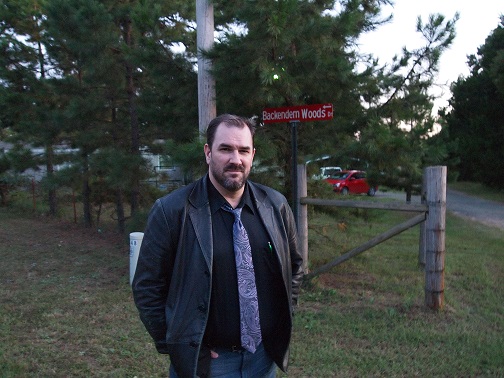 Brent Turvey, Criminal profiling expert and noted author, presents:  Criminal Profiling, Victimology, and Digital Evidence: The Collection of Social Media Activity as Evidence.
Join us for discussion and learn about how digital evidence sources related victims are effectively used in the criminal investigation and criminal profiling process. 
Saturday, October 18th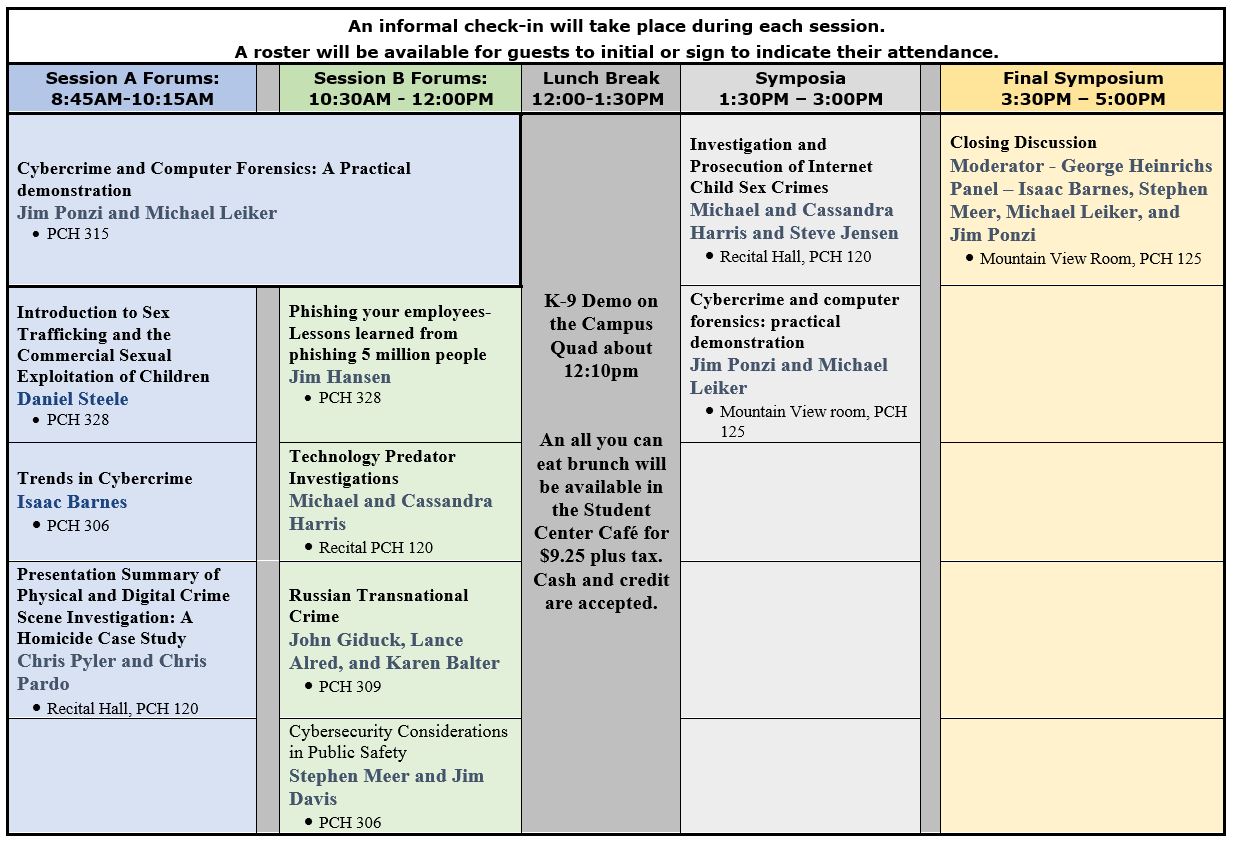 (Click here for a PDF of Saturday's schedule)
Saturday contains two sessions in the morning, beginning at 8:45am and 10:30am with multiple forums each session. Attendees attend one forum from each morning session.
At 12:00pm, Officers from the Denver Police Department K-9 Unit will introduce their canine partner through an exciting demonstration attendees might only see on T.V. The demonstration will take place on the Lowell campus Quad, in front of the Student Center. 
Immediately following the K-9 demonstration, an all-you-can-eat brunch featuring fresh, local foods will be available for purchase in the Student Center for $9.25 (plus tax).  Cash and credit are accepted.  The Claver Hall Cafe will also have select items for individual sale and there are many great restaurants located near the campus (44th, 38th, and 32nd & Lowell).   
The afternoon will contain two sessions of moderated symposia. Attendees can register for one of two symposia taking place at 1:30pm (Symposium A & B), as well as the larger final symposium** and closing discussion at 3:30pm for a total of two sessions in the afternoon. 
Click here for a PDF of the full event program.
Click here to view an image of the campus parking and CSI program map.
The classic CSI T-shirts will be available for sale on Friday night and Saturday!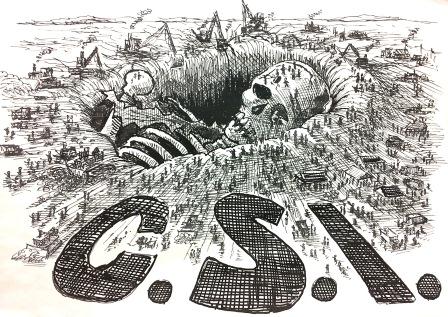 CSI T-shirts will be available in white or red with black ink, displaying the captivating sketch graphic above enlarged on the backside and reduced in size on the front side. The cost per shirt is $20.  A portion of proceeds will go towards the Thin Blue Line Scholarship Fund for Regis Criminology students. Sizes range from S-3XL. Quantities are limited. Cash only.  
*By attending the CSI program, your student application fee will be waived when you apply to any College for Professional Studies program.  Mention your attendance to your Enrollment Counselor.
If you are not already on the Criminology Event distribution list and are interested in being added, please contact Melissa Piper (mspiper@regis.edu).
---
FAQs
Are there ID requirements or an age limit to enter the event?
No, however, the content of this event may be very graphic in nature and is intended for mature audiences only.  Attendee discretion is advised. 
What can/can't I bring to the event?
Only service animals are allowed.  Videotaping and pictures are highly discouraged.  Please contact event organizer for additional information regarding Personal Expression Release Form. 
Will food be available during the event?
An all-you-can-eat brunch featuring fresh, local foods will be available in the Student Center for $9.25 (plus tax).  The Claver Hall Cafe will have select items for sale.  You are welcome to bring your own items, and there are also many great restaurants located near the campus (44th, 38th, and 32nd & Lowell).
Can I update my registration information?
Yes, you can update your registration information up until the day of the event.
What does ** mean next to the session listing?
Sessions indicated with a double asterisk will be live-streamed to an online audience.  In accordance with FERPA, Regis University students should take note of this when choosing to register for these sessions.
Do I have to bring my printed ticket to the event?
No, it is not required.
The name on the registration/ticket doesn't match the attendee.  Is that okay?
Yes, it is okay if the registration name doesn't match the name of the attendee.  In this case, the attendee should sign in if they wish to be contacted about future events in the Criminology Department.
Can I get a certificate of attendance?
Yes, you may request a certificate of attendance following the program by emailing mspiper@regis.edu.  Please provide the name of each session you are requesting a certificate for and a full name as you would like it to appear on the certificate.
Where can I contact the organizer with any questions?
Please contact the Criminology Administrative Assistant at mspiper@regis.edu with any questions.
Where

St. Peter Claver Hall, S.J., Lowell Campus, Regis University
5200 Lowell Blvd
Denver, CO 80221


Organizer
Hosted by Regis University, College of Contemporary Liberal Studies - Department of Criminology
Contact Deb Halley (dhalley@regis.edu / 303.964.6010) with any questions concerning this event. 
9th Annual Regis University CSI Program, October 17th & 18th (2014)