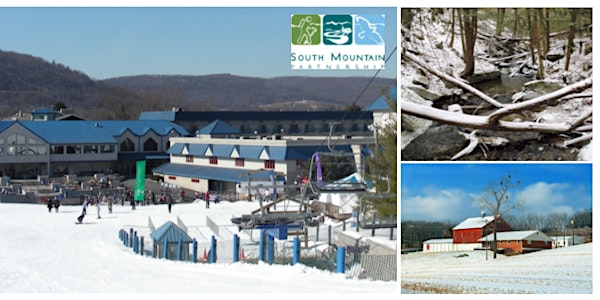 9th Annual "Power of the Partnership" Celebration
The annual "Power of the Partnership" Celebration is a breakfast meeting to celebrate our accomplishments and preview what is to come.
When and where
Location
Highland Lodge, Liberty Mountain Resort 78 Country Club Trail Fairfield, PA 17320
About this event

Thank you to sponsors of the 9th Annual "Power of the Partnership" Celebration! Investing in the South Mountain landscape benefits us all. We could not accomplish our goals without the support of generous partners.
Join over 130 of the region's top conservation, planning, recreation, tourism, government, education, and revitalization leaders for our Annual Celebration. Help us to welcome Secretary Dunn of the Pennsylvania Department of Conservation and Natural Resources and Secretary Redding of the Pennsylvania Department of Agriculture.
Secretary Dunn oversees Pennsylvania's state parks and forests, information about ecological and geological resources, and establishment of community partnerships that benefit water quality, trails, greenways, local parks and recreation, regional heritage parks, open space, and natural areas. Secretary Redding oversees Pennsylvania's sustainable and safe supply of food and agricultural products – from the farm to the table – and programs that steward the land and Pennsylvania's natural resources. The department promotes the viability of farms, protects consumers, and safeguards the health of people, plants, animals and the environment.
Highland Lodge
Liberty Mountain Resort
AGENDA
Breakfast Buffet and Informal Networking from 7:30 to 8:30am
Welcome and Opening Remarks (8:30am)
Adams County Commissioners
Secretary Dunn, PA Department of Conservation and Natural Resources
Secretary Redding, PA Department of Agriculture
Profiles of Action
Place Based Development is Taking Shape in Adams County
Harlan Lawson, Adams County Department of Planning
Robin Fitzpatrick, Adams County Economic Alliance
Norris Flowers, Destination Gettysburg (invited)
Sarah Kipp, Land Conservancy of Adams County
-Break-
"If you want to go fast, go alone. If you want to go far, go together." 2019 in Review
Katie Hess, Director of the South Mountain Partnership
2019 South Mountain Mini-Grant Awards
Spirit of South Mountain Award
Closing Remarks
End (10:30am)