New York Asian Burlesque Festival Opening Party!
About this event
Calamity Chang & Thirsty Girl Present
The 9th Annual
New York Asian Burlesque Festival
Opening Party!
September 16th 2021,
7pm-10pm
@ Crystal Lake Brooklyn
The New York Asian Burlesque Festival is not only the biggest Asian burlesque event on the international calendar, it is the only one of its kind, and brings the finest of Asian burlesque and cabaret artists from all over the world to New York City for a night of spectacular performance!
Join us at Williamsburg hot spot, Crystal Lake on Thursday, September 16th for the opening party of The 9th Annual New York Asian Burlesque Festival, and mix and mingle with this year's cast and enjoy pop up performances by Evelyn Vinyl (Nashville), Phoenix A'Blaze (San Diego), Bessie Snow (LA), Plus DJ Momotaro spins for the dance floor!
7pm-10pm
Crystal Lake
647 Grand Street
Brooklyn, NY 11211
Limited capacity!
Tickets $15
www.asianburlesquefest.com
*********
We are deeply saddened, disturbed and outraged about the increase in Asian hate crimes over the last year, and in light of that are donating a portion of our proceeds are being donated to Red Canary Song which is the only grassroots Chinese massage parlor worker coalition in the U.S.
There are over 9000 workplaces like these across the country with no political representation or access to labor rights or collective organizing. Anti-trafficking NGO's that claim to speak for migrants in sex trades promote increased policing and immigration control, which harms rather than helps migrant sex workers
We encourage you to consider supporting www.redcanarysong.net, www.napawf.org, and/or www.stopaapihate.org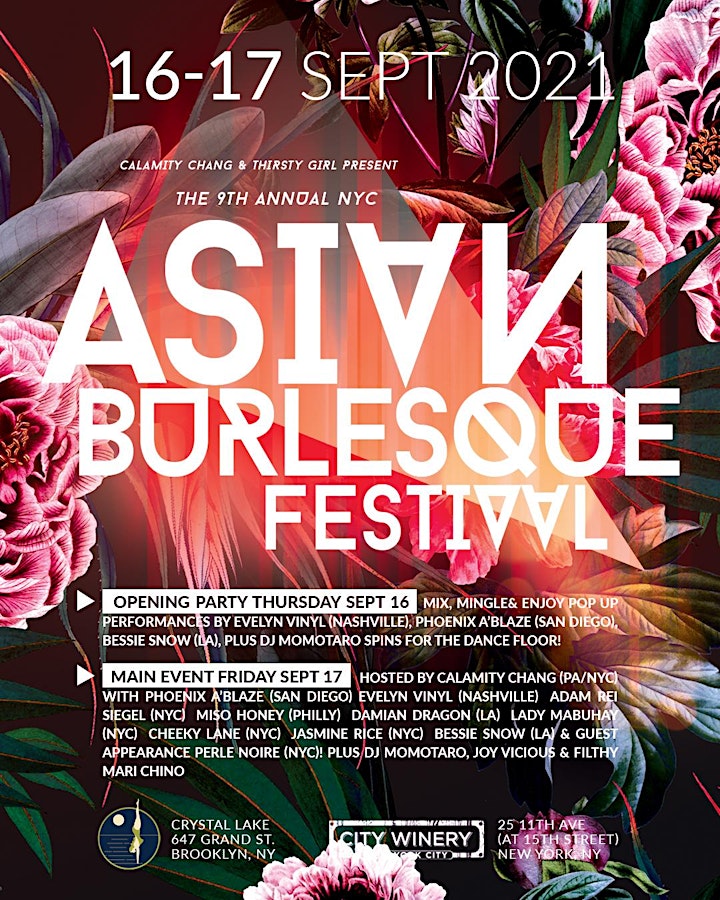 Organizer of 9th Annual New York Asian Burlesque Festival Opening Party!