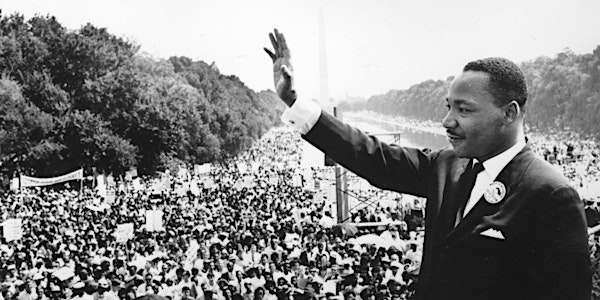 9th Annual Martin Luther King Jr. Interfaith Day of Service
When and where
Location
Brandeis University 415 South Street Waltham, MA 02453
Refund Policy
Contact the organizer to request a refund.
Description
9th Annual Martin Luther King Jr. Interfaith Day of Service
Monday, January 21, 2019, 9am – 1pm
Levin Ballroom & Usdan Student Center
Brandeis University
415 South St., Waltham, MA 02453
Co-Sponsored by Brandeis University's Chaplaincy Office, Department of Community Services, International Center for Ethics, Justice and Public Life, Intercultural Center, Waltham Group, Myra Kraft Transitional Year Program, Brandeis University Library and CMM
All are welcome, no cost, but donations welcomed.
This year's theme: "Continuous Giving"
Featuring guest speaker: Kevin Peterson, The New Democracy Coalition
Come honor and learn from the life of Rev. Dr. Martin Luther King Jr. (1929-1968), pack meals for food pantries & congregations that serve the homeless community and participate in social justice discussions with Brandeis clubs and local non-profits.
Workshops for the day include: Chaplains on Way – Spiritual Companioning, Prejudice or Empathy with CMM's IFYI Program Director Shelton Oakley Hersey, Habitat for Humanity, Community Day Center of Waltham, with activities for younger kids too.
Schedule:
9-9:30am: Registration and MLK Speeches Levin Ballroom
9:30-10:00am: Opening Gathering Levin Ballroom
10:00am-11:05am: Blue Session: Meal Packing Project & Educational Justice Fair Usdan
Workshop times: 10:00-10:30am; 10:30-11:00am or 10:00 to 11am
11:05-12:10pm: Red Session: Meal Packing Project and Educational Justice Fair Usdan
Workshop times: 11:05am-11:35am; 11:35-12:05pm or 11:05 to 12:05
12:15-1pm: Closing Gathering Levin Ballroom
About our speaker: New Democracy Coalition was founded by Kevin Peterson in Boston, Massachusetts in 2001.
Kevin C. Peterson is founder and executive director of The New Democracy Coalition, a non-partisan and non-profit organization that focuses on civic engagement in Massachusetts and across the United States. The New Democracy Coalition is in residence at the College for Public and Community Service at University of Massachusetts, Boston.
Mr. Peterson studied philosophy and politics at Boston University and is currently a Senior Fellow at the Center for Collaborative Leadership at the University of Massachusetts in Boston. He has also served as a senior researcher at the William Monroe Trotter Institute in Boston. Mr. Peterson has served as a Fellow at the Massachusetts Institute of Technology in the Urban Studies Department in Cambridge, Massachusetts.
He has lectured across the U.S. and in the continent of Africa, including the countries of Mali, Senegal and Morocco.
Among numerous awards, Mr. Peterson has been cited by the U.S. Congress and the Massachusetts House of Representatives. The Boston City Council has declared a day in his honor. He is the recipient of the Urban League of Eastern Massachusetts 2012 Molly Moon Award for his work on statewide Redistricting. And has been recognized for the developing of youth programming such as The Democracy Lab and Votecorps.
Actor and humanitarian Danny Glover has praised the New Democracy Coalition for its "important and unique work." He has appeared in national media, including Nightline, Time Magazine and the New York Times.
Mr. Peterson writes a regular column in Boston Herald on politics and city affairs. He is a guest blogger black social and civic culture for Basic Black, WGBH, Boston.
He lives in the Meeting House Hill section of Dorchester, in Boston, Massachusetts.