Event Information
Location
Harlem
Marcus Garvey Park Amphitheater
New York, NY 10035
Unite with your East, Central, and West Harlem neighbors for a fun, educational celebration of reading and writing in our community!
About this event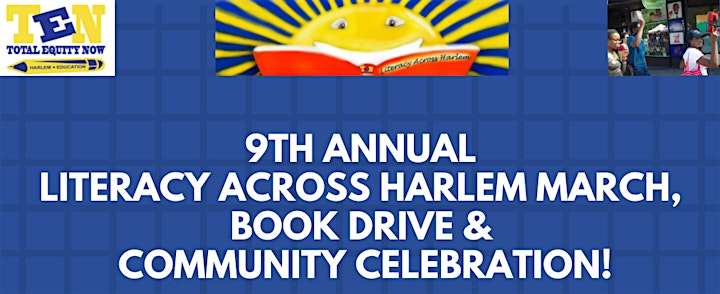 TOTAL EQUITY NOW invites West, Central and East Harlem to the
9th Annual Literacy Across Harlem March, Book Drive & Community Celebration!
Saturday, October 2, 2021
12:30 p.m. – 4:00 p.m.
FREE! (PREREGISTRATION REQUIRED)
EVENT SCHEDULE
12:30 p.m. – 3:00 p.m. RALLY FOR READING! Start at your choice of two legendary community-based institutions, El Museo del Barrio (1230 5th Avenue between 104th and 105th Streets) OR Sister's Uptown Bookstore & Cultural Center (1942 Amsterdam Avenue at 156th Street).
BE INFORMED AND INSPIRED on a 1.5-hour guided tour past important reading-related landmarks. Get to know your community from an exciting, empowering new perspective, and collaborate with fellow marchers to engage neighbors along the way to Marcus Garvey Park!
#ROCKTHOSEREADS--carry reading materials proudly and publicly--by bringing a favorite book (or the book you're currently reading) AND a gift-quality children's or young-adult book to donate to a homeless shelter in Harlem.
3:00 p.m. - 4:00 p.m. - Arrive and BUILD COMMUNITY in the heart of Harlem at the Marcus Garvey Park Amphitheater (Mount Morris Park West at West 122nd Street) through interactive, intergenerational reading activities. Celebrate Harlem's identity as a world-renowned hub of reading and writing!
CHAMPIONS OF READING AND REPRESENTATION
Total Equity Now dedicates each Literacy Across Harlem March to the memory of two Harlem literacy superstars, Walter Dean Myers and Pura Belpré!
Walter Dean Myers (1937-2014), who grew up in Harlem and went on to write more than 100 books for children and young adults, dedicated his life to making sure Black and Brown young people saw themselves, our families, our communities, and our cultural and ethnic backgrounds reflected in literature.
Pura Belpré (1899-1982), amazing storyteller, puppeteer, author, and the New York Public Library's first Latina librarian, worked tirelessly and creatively to ensure that the shelves and programming of Harlem's public library branches celebrated the rich tales and traditions of Black and Brown people.
IMPORTANT: By participating in this event, you consent to the public-safety, photo/video/audio-release, and liability waiver-and-release agreements outlined below. Please read them carefully before registering. Thank you!
PUBLIC SAFETY: At this time, given the unpredictable future of the pandemic and the possibility that some community members may not be fully vaccinated, you will be required to wear face coverings and practice social distancing throughout the event. Our team will continue to monitor health advisories between now and the event, and will let you know if we need to adjust the safety policy for any reason.
LIABILITY WAIVER AND RELEASE: By participating in this event (or allowing your child to participate in this event), you hereby release and forever discharge and hold harmless Total Equity Now and its representatives ("the Released Parties") from any and all liability, claims, damages, and demands of whatever kind or nature, either in law or in equity, which arise or may hereafter arise from your (or your child's) participation in this event. You understand that this release discharges the Released Parties from any liability or claim that you may have against the Released Parties with respect to any bodily injury, personal injury, illness, death or property damage that may result from your (or your child's) participation in this event, whether caused by the negligence of the Released Parties or otherwise.
PHOTO/VIDEO/AUDIO CONSENT: You understand that you may be photographed, video recorded, and/or audio recorded during your participation in this event. You give Total Equity Now permission to use the resulting photographs, video recordings, and audio recordings, in any medium—including, but not limited to, newsletters, websites, social media, and books—whether now or hereafter known or developed. You also give Total Equity Now your permission to grant other entities permission to use the photographs and the video and audio recordings.
QUESTIONS? Feel free to drop us a line at rockthosereads@gmail.com.
Date and time
Location
Harlem
Marcus Garvey Park Amphitheater
New York, NY 10035
Organizer of 9th Annual Literacy Across Harlem March, Book Drive & Community Celebration
Total Equity Now (TEN) is a grassroots, volunteer-driven organization engaging community members as active participants and decision makers in advancing educational excellence and equity by facilitating information sharing, community organizing, academic enrichment, leadership development, and policy research.