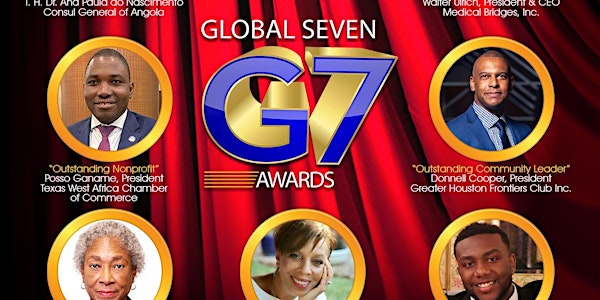 9th Annual Global 7 Awards by HITDC 2022
The 9thAnnual G7 Awards will be held on Thursday, October 26th, 2022
When and where
Location
The Ballroom at Bayou Place, 500 Texas Ave 500 Texas Ave. Houston, TX 77002
Refund Policy
Contact the organizer to request a refund.
Eventbrite's fee is nonrefundable.
About this event
EVENT OVERVIEW
Purpose: The 9thAnnual G7 Awards will be held on Thursday, October 26th, 2022 at the Ballroom at Bayou Place, for the purpose of celebrating International business and academic achievement. Seven (7) Houston area International businesses that make our city a unique player on the world stage will be recognized at the award presentation.
TITLE SPONSOR: As the title sponsor of the 2022 Global 7 Awards presentation, your company will receive the following benefits:
Rights & Access
• Rights to the Global 7 Awards for marketing purposes
• Access to attendee contact information for follow-up communication purposes (communication must be pre-approved by HITDC)
Promotional Channels
• Placement on www.houstontrade.org
• All event-related, pre- & post-event promotion will reflect your company as the title sponsor of the 2021 G7 Award Presentation
• Company logo on all email invitations
Onsite/During G7 Award Presentation Benefit
• Recognition in all printed materials at event
• Logo in event presentation
• Ability to provide gift bags/branded items to attendees
• 1 Full page full color Ad in IF Magazine
• 10 tickets to the Awards Dinner & Silent Auction
SPONSOR PACKAGE PRICE = $25,000
WORLD SPONSOR: World sponsor will receive the following benefits G7 Awards Presentation & Silent Auction
• Recognition as a sponsor
• Premier signage at G7 Awards Presentation
• Ability to provide gift bags/branded items to attendees
• ½ Page full color Advertisement in IF Magazine
• Recognition in all printed material
• 10 tickets to the Awards Dinner & Silent Auction
SPONSOR PACKAGE PRICE =$15,000
CONTINENTAL SPONSOR: Continental sponsor will receive the following benefits: G7 Awards Presentation & Silent Auction
• Recognition as a sponsor
• Premier signage at G7 Awards Presentation
• Logo in event presentation
• Recognition in all printed material
• 5 tickets to dinner and reception
SPONSOR PACKAGE PRICE = $10,000
NATIONAL SPONSOR: Sponsor will receive the following benefits: G7 Awards Presentation & Silent Auction
• Recognition as a sponsor
• Premier website placement
• Logo in event presentation
• Recognition in all printed material
• 2 tickets to dinner and reception
SPONSOR PACKAGE PRICE = $5,000
STUDENT SCHOLARSHIP SPONSOR: Student level sponsor will receive the following benefits:
G7 Awards Presentation & Silent Auction
• Recognition as a sponsor for international student scholarship
• Logo in event presentation
• 2 tickets
SPONSOR PACKAGE PRICE = $2,000
TABLE SALES = $1,750 PER TABLE
: Houston International Trade Development Council (a 501(c) 3 non-profit organization) and return to 11110 Bellaire Blvd. Ste. 222, Houston, TX 77072 with attention to Mr. Val Thompson
TITLE SPONSOR Package - $25,000
WORLD SPONSOR Package - $15,000
CONTINENTAL SPONSOR Package - $10,000
NATIONAL SPONSOR Package - $5,000
STUDENT SPONSORSHIP SPONSOR Package - $2,000
PLEASE EMAIL YOUR COMPLETED FORM TO:
Val Thompson at vthompson@houstontrade.org
• Contact Us for Additional Ticket Purchases
Houston International Trade Development Council
11110 Bellaire, Suite 222
Houston, TX 77072