Sales Have Ended
Registrations are closed
Pre-registration for Dig In! has closed. You may register onsite; go the Dig In check-in desk outside the main entrance to Marbles Kids Museum between 8:15-8:45 am to register on Sat., March 10 if you would like to attend. We may not be able to accommodate special meal requests.
Sales Have Ended
Registrations are closed
Pre-registration for Dig In! has closed. You may register onsite; go the Dig In check-in desk outside the main entrance to Marbles Kids Museum between 8:15-8:45 am to register on Sat., March 10 if you would like to attend. We may not be able to accommodate special meal requests.
Description
DIG IN!
Nourishing Community: How Community Gardens and Urban Ag Support a Healthy Wake County
Join Advocates for Health in Action (AHA) and partner Marbles Kids Museum for Dig In! to explore how urban agriculture, community gardens, and edible gardens in schools and child care settings grow a healthier Wake County. Learn how and commit to how you will contribute to healthier communities in Wake County through edible gardens and urban ag. Gain inspiration from our Pecha Kucha style stories to kick off the day, participate in workshops, network with others, learn from educational booths, and hear from keynoter Katie Stagliano, founder of Katie's Krops, about how each of us makes a difference in nourishing our community. Here's a snapshot of the day, and the full agenda follows below:
8:15 am-1:00 pm: Check-in, Workshops, Keynote and Lunch
10:30 am-1:30 pm: Educational Booths & Sun Sprouts Garden Fun

---
WHO SHOULD COME?
Anyone who cares about their community, and particularly about everyone in our community having access to delicous, healthy locally grown fruits and vegetables. Urban farms, community gardens, and edible school and child care gardens across Wake County already have a positive impact on our community, but there's more work to do.
If you're already gardening in community settings, join us to learn how to make a greater impact.
If you're considering how you can contribute to growing healthier communities, children and people in Wake County, joins us to learn what that looks like and what the possibilities are.
Whether you've got a green thumb or not, if you are committed to building community, join us at Dig In!

- Churches/faith-based organizations
- Municipal and county staff (planning, parks and recreation)
- Educators
(WCPSS teachers--earn 2 hours of CEUs.)
- Child care/preschool directors and staff
(2.5 contact hours pending approval by NC Division of Childhood Development & Early Education)
- Business leaders
- Nonprofit organizations
- Health and community advocates
- HOA leaders
- Parents

---
Dig In! is for adults and teens. Child care is not provided for Dig In! registrants. Children and families are welcome to visit the educational booths and the Sun Sprouts Garden, as well as all the usual fun at Marbles Kids Museum.
---
AGENDA
8:15-8:45 am
Check-in/Breakfast Refreshments
8:45-9:00 am
Welcome & Opening Remarks
9:00-9:25 am
Storytelling: Urban Farms/Gardens and Food Access in Wake County
We're borrowing the popular Pecha Kucha presentation style to share quick snapshots of amazing food access work in Wake County. Feast on this visual showcase of local urban agriculture and gardening. Featuring:
9:30-10:30 am
Concurrent Workshops (choose 1 to attend from the track of your choice)
10:30-11:15 am
Visit Educational Booths/Network
Community partners will host interactive, fun Educational Booths to extend the learning! See topics below.
11:15 am-11:45 am
Committing to Nourishing Community & Healthy Food Access
What inspired you today? How will you put your passion for community and healthy food access into action? Gather in small groups by interest area (school gardens, child care gardens, community gardens and urban ag) to discuss key questions, to consider what you will do differently as a result of Dig In!, and to commit to how you will feed and grow community through existing or new gardens/urban agriculture.

11:45 am-12:45 pm
Keynote Address and Lunch: Inspired to Serve Community—Making a Difference
As a third grader in Summerville, S.C., Katie Stagliano grew a 40-pound cabbage at home from a tiny seedling she received at school. She donated it to the local soup kitchen, which then invited her to help serve a meal to 275 people.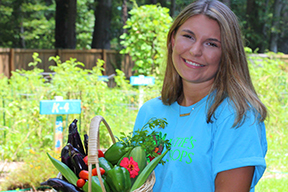 Inspired by how one plant could help so many, Katie has been on an 11-year journey that has taken her across the country. She founded Katie's Krops, a nonprofit organization that now has 100 gardens, managed by youth aged 9-16, in 32 states. All Katie's Krops gardens donate 100% of the produce to feed people in need in their communities. The mission is to start and maintain vegetable gardens of all sizes and donate the harvest to help feed people in need, as well as to assist and inspire others to do the same. A Youth Advisory Board comprised of growers across the country helps Katie, now a freshman in college, ensure that Katie's Krops continues to grow and flourish.
Katie has toured the country speaking about her work and her vision, and was the keynote speaker for Global Youth Service Day 2015 at the Clinton Presidential Library. In 2012, she became the youngest recipient to date of the Clinton Global Citizen Award for Leadership in Civil Society, was named in 2014 as one of America's top 10 youth volunteers by The Prudential Spirit of Community Awards, and in 2016 was named to The University of California's Inaugural Global Food Initiative 30 Under 30 Awards. Her outstanding achievements have landed Katie on the pages of People Magazine, USA Today, Better Homes and Gardens, Country Gardens, Time for Kids, Weekly Reader to name a few. Katie has also been a guest on CNN, NBC Nightly News and ABC.
Be inspired by this nationally recognized leader, and consider how you can make a difference in Wake County to increase access to healthy food and fight food insecurity.

12:45-1:00 pm
Closing Remarks
1:00-1:30 pm
Visit Educational Booths/Networking

---
DIG, LEARN, MAKE and PLAY!
EDUCATIONAL BOOTHS & SUN SPROUTS GARDEN FUN
Continue the learning by visiting educational booths with hands-on activities that you can replicate and plenty of resources to help you start or maintain an edible garden. Plus, join Team Marbles in Sun Sprouts to search for signs of spring and help wake up the garden for planting. You will see a variety of ideas to engage and teach young children.
---
SCHOLARSHIPS
Each person attending Dig In! must register. A limited number of scholarships is available to community members who are unable to pay for the registration. Please email info@advocatesforhealthinaction.org regarding a scholarship if needed.
---
SPONSORS
Many thanks to our generous sponsors! Their support is vital to the success of Dig In!
Presenting Sponsor:
Marbles Kids Museum
Thanks to Marbles for providing a wonderful meeting site and partnering to present the Dig In Courtyard with interactive educational booths and hands-on garden play!
Harvester
BBVA Compass
Dixon Hughes Goodman LLP
Greg Paul Builders
Logan's Trading Company

Grower
Alliance Medical Ministry
Center for Environmental Farming Systems
Fairview Garden Center
Oakwood Garden Club
OpenDoor
Wake County Cooperative Extension
Wyatt-Quarles Seed Company
Friends
Capital Grange
obs landscape architects
Inter-Faith Food Shuttle
Irregardless Cafe & Catering
Rain Water Solutions
Sweet Peas Urban Gardens
Wake County Farm Bureau

Additional Sponsors
Wake County Human Services
In-kind
Cultivator:
Whole Foods Market
Harvester:
Neuse River Printing & Graphics
Triangle Gardener

Grower:
CompostNow
Empire Eats
Green Planet Catering
Larry's Coffee

Friends:
Toward Zero Waste
Sponsorships are available at a variety of levels. Contact AHA at info@advocatesforhealthinaction.org with questions or to sponsor Dig In!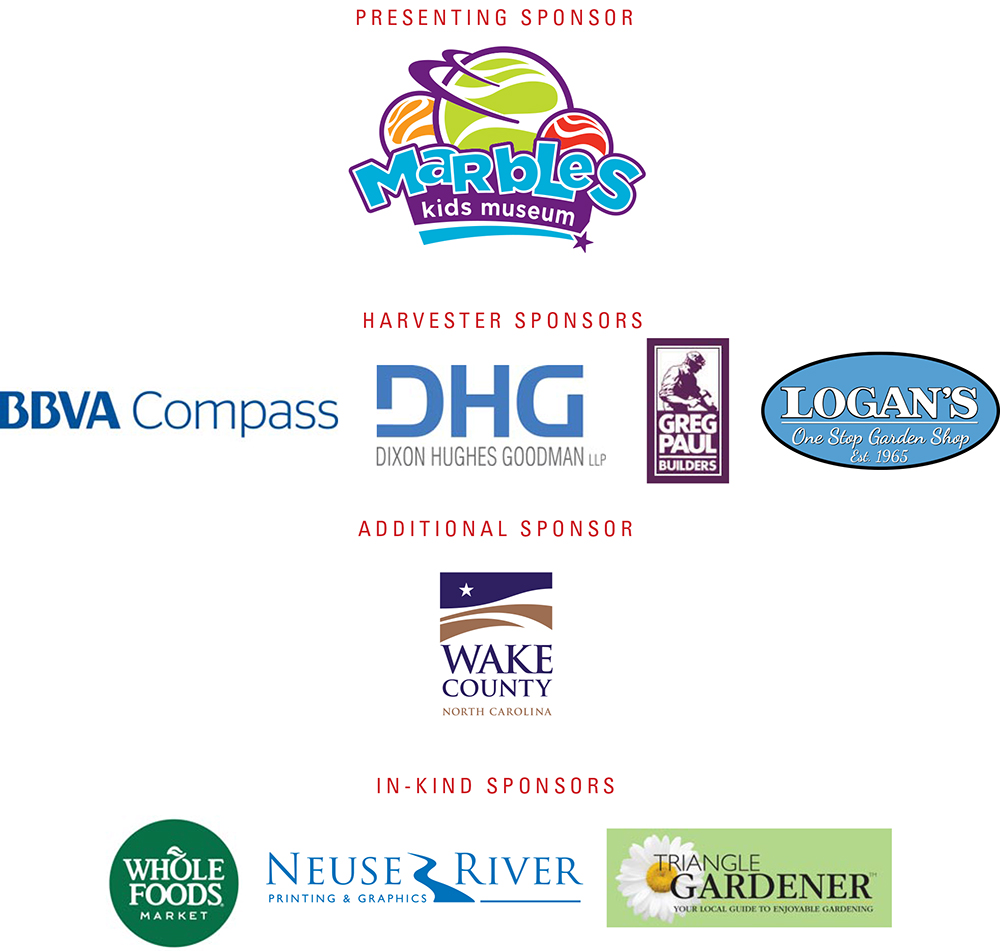 Organizer of 9th Annual Dig In!
Advocates for Health in Action (AHA) improves the health and well-being of Wake County residents by facilitating and supporting community initiatives. We accomplish this by convening partners that change policies, systems and environments focused on well-being, healthy eating and physical activity.