9th Annual Cook County Human Trafficking Task Force Conference

Wednesday, August 7, 2019 at 1:00 PM

-

Friday, August 9, 2019 at 4:30 PM (CDT)
Event Details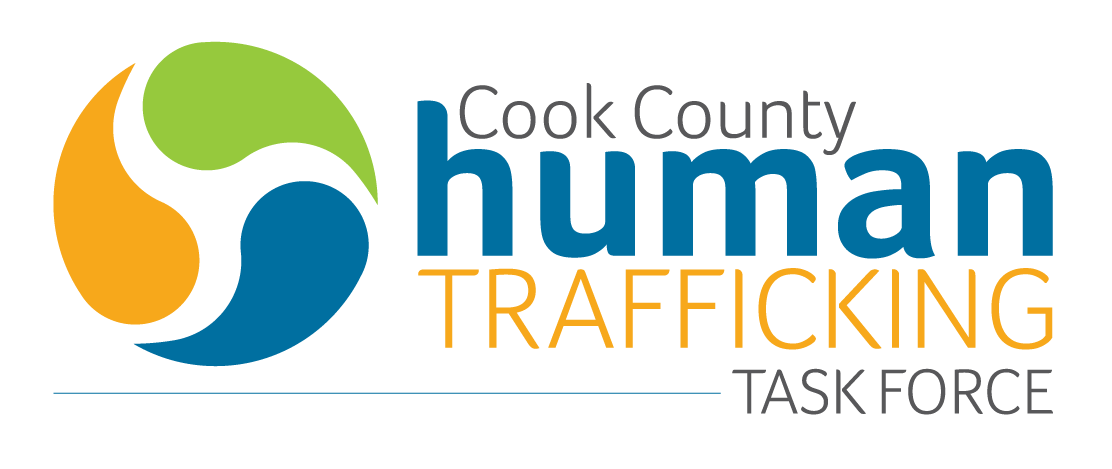 The Cook County Human Trafficking Task Force is pleased to host the 9th Annual Cook County Human Trafficking Task Force Conference on August 7th, 8th and 9th, 2019 in partnership with IIT Chicago-Kent College of Law.


*2019 CONFERENCE AGENDA*
Wednesday, August 7th, 2019




The first afternoon of this year's conference offers a foundational understanding of human trafficking to those who are looking to better understand the issue, become aware of the regional context, consider local responses, and brainstorm methods of professional and community engagement in addressing human trafficking. This first foundational afternoon can be attended as a standalone session for folks unable to attend the entire 2.5 days of the conference.  
REGISTRATION/CHECK IN
12:30 pm to 1:00 pm 
PLENARY 
1:15 pm to 2:30 pm
Laying the Groundwork on Human Trafficking and Trauma-Informed Care
Anna Maitland, Mary Anna Planey and Meggie Twible
​
This session will lay the groundwork by offering foundational definitions of human trafficking as dictated by federal and state law, by exploring the local and regional context and by setting the stage on the importance of trauma-informed care.
BREAK
2:30 pm to 2:45 pm
PLENARY WITH BREAKOUTS 
2:45 pm to 4:15 pm  
The Multidisciplinary Approach: Building Trauma-Informed Collaborative Responses to Human Trafficking
Hilary Chadwick, Elyse Dobney and Ashley Kizler
This session will walk through a variety of case studies to ground tangible application of trauma-informed work from a variety of perspectives, including social services, legal services and law enforcement efforts when working with survivors of human trafficking. 

Thursday, August 8th, 2019
REGISTRATION/CHECK IN
8:30 am to 9:00 am 
OPENING REMARKS 
9:00 am to 9:15 am
PLENARY 
9:15 am to 10:30 am
Building Survivor-Informed Practices with Law Enforcement and Direct Service Providers
Kate Keisel, Karen Countryman-Roswum and Cristal Mills 
Creating solutions that are informed by survivor leaders and individuals with lived experience is critical in every area of the anti-trafficking field. The seminar will not only prepare participants to navigate the complexities of successful survivor-informed engagement but will also provide a defined framework that, when applied, can result in the empowerment and elevation of survivors, reduction of re-traumatizing practices through meaningful trauma-informed approaches, integrate culturally relevant practices, and ensure the inclusion of ethical considerations within the elements of anti-trafficking work. This framework can result in the successful participation of survivors in law enforcement cases and alternative forms of justice for individuals impacted by trafficking. 
BREAK
10:30 am to 10:45 am
CONCURRENT SESSIONS
(choose one session from the concurrent sessions listed) 
10:45 am to 12:15 pm 
Building Trauma-Informed Responses in Court Settings
Zoe Root and Miriam Goodman

Survivors of human trafficking frequently encounter the criminal justice system when they themselves are arrested. Given the hidden and complex nature of human trafficking, it is critical for courts to incorporate trauma-responsiveness into their day-to-day practice to ensure survivors experience the least harm possible. In addition, incorporating trauma-responsiveness will increase the likelihood that a previously un-identified survivor will feel safe enough to disclose their status. Maximizing OVC's Survivor Assistance in Court Settings (MOSAICS) is an initiative of the Justice Programs Office providing training and technical assistance to help criminal court stakeholders to recognize and respond to human trafficking. This panel will explore best practices for incorporating trauma-informed care into existing human trafficking courts, and approaches to for non-trafficking courts to connect identified and potential trafficking survivors to the right services. Participants will also engage in hands-on facilitated strategic planning for participants to discuss the practical application of the content of the session to their unique home court environments.
Promising Practices in Preventing Re-Victimization: The Neurobiology of Trauma and Providing Trauma-Informed Care in Support Systems

Traci Kurtzer, Darci Flynn and Catherine Longkumer 
This seminar will addresses the proper response by health care providers, legal and social service agencies to trafficking survivors.  It will cover the basic neurobiology of trauma and explains why survivors may behave in ways that can be challenging for the various professionals trying to provide assistance. It is critical to prevent the secondary trauma to survivors caused by workers in the fields of healthcare, social services and legal assistance. The speakers will share promising practices and strategies employed in their settings in order to address trauma and resist re-victimization. The presentation will be accessible to all audience members, but will be most beneficial to individuals engaging directly with victims of trauma; as well as managers and other leaders who have the ability to influence policy and procedures in their respective organizations or agencies. 
Putting Our Best Foot Forward: Financially Disrupting Human Trafficking through Collaboration
Emily Bolliger Bejarano, Michael Fabos, Jane Khodarkovsky and Angel Swift
Viewing the human trafficking industry through the lens of a financial institution, this panel discusses the ways financial institutions are detecting, investigating and reporting activity that may be indicative of human trafficking. The panel will highlight the challenges and define solutions using the industry's most powerful tool ‐ collaboration. 
LUNCH
12:15 pm to 1:15 pm
PLENARY 
1:15 pm to 2:30 pm
Stop Selling Shock and Empower Survivors: Effective Media and Marketing Strategies for Raising Awareness that Don't Rely on Sensationalism
KD Roche 
Anti-Trafficking Advocates, Allies and Survivors who are committed to ending human trafficking still struggle to educate the public on the relevance of human trafficking to their own communities. Overwhelmed by public disbelief that it is not an American problem, advocates and anti-trafficking organizations often attempt to educate others, while simultaneously using imagery that promotes misinformation about what trafficking really is. Often unrealized, sensationalized imagery and the use of survivor stories to invoke pity do significant harm and very little good. How do we handle the pressure of fundraising and rallying support without relying on sensationalized imagery and news stories? Business Coach and Human Trafficking Field Expert K.D. Roche combines their business and marketing background with their experience in the anti-trafficking movement to provide insight and perspective on effective media and marketing for anti-trafficking professionals.
BREAK
2:30 pm to 2:45 pm
CONCURRENT SESSIONS 
(choose one session from the concurrent sessions listed) 
2:45 pm to 4:15 pm
Trauma-Informed Approaches to Housing Survivors of Human Trafficking
Avantika Shenoy, Amy Fleischauer and Darci Flynn
Survivors of trafficking can experience a need for housing at any point after exiting their trafficking situation. Having access to safe and stable housing is essential for survivors. Unfortunately, shelters and residential programs may have practices that can mirror trafficking experiences and heighten the risk of re-traumatization. This session will provide participants a foundation on implementing trauma-informed practices within residential programs. Participants will explore promising practices for emergency, transitional, and long-term residential programs that are centered on self-determination, survivor choice, and trauma-informed services. 
Data-Driven Strategies to Address Labor Trafficking

Erin Albright 
This session explores labor trafficking across different industries by using readily available data to come up with an assessment of potential labor trafficking threats within a community. Attendees will learn how to identify industries vulnerable to labor trafficking from the DOL, analyze obtained datasets, and use this as a starting point to consider outreach in their own local communities. 
Human Trafficking Identification, Response and Multidisciplinary Collaboration within the Medical System: Case Studies of Survivor A and B

Sam Baeten, Fatima Diabate and Kate Lawler





During this session, participants will have the opportunity to navigate the healthcare system from the survivor's point of view. Participants will engage in the healthcare system through the lens of survivors by being separated into two groups, Survivor 'A' or Survivor 'B'. Groups will be presented with a short narrative on the survivor and then be tasked with making choices and working through conflicts presented by the speakers. Participants will then be brought back as a whole group to engage in a discussion that will include a brief overview of the survivor's actual experience within the medical system. At this time, the presenters will be open for questions on the survivor scenarios and invite discussion around the medical system's process, its strengths, and areas of improvement.





Family-Controlled Trafficking




Hilary Chadwick, KD Roche and Lydia Sharp





In this training, panelists with expertise on labor and sex trafficking help others to understand the unique dynamics that often exist in inter-familial trafficking, including the role of the trafficker and the presence and role of an enabler. The grooming and trafficking process look  different for victims of family controlled trafficking. By understanding these differences in both the sex and labor trafficking context, we become better equipped to identify familial trafficking.  The trauma experienced by victims of familial trafficking and the trauma experienced by other types of trafficking often manifest differently in the lives of survivors. Through understanding the difference in experiences, we can better prepare to provide holistic services for all types of trafficking, tailoring treatment plans to meet the unique needs of the survivor.





Friday, August 9th, 2019





PLENARY

 


9:00 am to 10:15 am



Human Trafficking Recruitment through Exploitation of the Guestworker Program


Cecilia Cortina and Laura Revercomb 





In this session, a human trafficking specialist and a labor and employment attorney from the Worker Justice Center of New York (WJCNY) will focus on a brief overview of the history behind labor trafficking—as well as how to recognize labor trafficking in its current form today. With a focus on the exploitation of workers within the U.S. guest worker program (H2A, H2B, and other visa holders), WJCNY will discuss what to look for when interacting with potential victims. What does labor trafficking look like? How do I recognize it in the field? Woven throughout the session, WJCNY will discuss the importance of a client-centered approach to justice in the context of labor trafficking cases—given the significant emotional and psychological elements involved with survivors of labor trafficking. In addition, using recent case examples, WJCNY will discuss how their collaborative work with local, state and federal law enforcement is absolutely instrumental to the work they do, and has resulted in success for numerous clients as well as long-standing partnerships with law enforcement and a shared mission of accountability for traffickers in the United States.



CONCURRENT SESSIONS
(choose one session from the concurrent sessions listed):


10:15 am to 11:45 am



Understanding and Implementing Self-Care for Service Providers


Eligia Milan





Service providers in the human trafficking field regularly witness trauma, crime and violence.  Although, many of us work in programs and agencies that strive to be trauma-informed, we tend to lack on addressing and rectifying the issues vicarious trauma can have on the service provider.  In this session, identify when you and others need self-care including your co-workers.  Understand how vicarious trauma affects you physically and mentally.  Learn about what strategies you can use to help reduce your chances of burnout and secondary traumatic stress.  The session will involve activities to help you develop a self-care plan, and tips on how to implement the plan

.    

The Prison Pipeline: Recruitment from the Criminal Justice System


Jane Anderson and Nicole Bell





Persons involved in the criminal justice system can be particularly vulnerable toexploitation by offenders who are looking for low risk, high reward labor and sex trafficking schemes. Traffickers believe that by recruiting victims who are involved with the criminal justice system (often due to substance abuse disorders), they will be able to escape accountability because their victims will likely not report the exploitation and may not be believed if they do.This seminar will provide examples of trafficking that has occurred due to recruitment from local jails and prisons, as well as exploitation that has occurred through diversion and other court-ordered programs that were developed by the criminal justice system purportedly to provide treatment as an alternative to incarceration. The co-presenters will provide strategies for implementing a victim-centered approach to identifying, investigating and prosecuting trafficking where the victims may be involved with the criminal justice system and/or have substance abuse disorders. Key to this approach is providing victims with trauma-informed care that recognizes their myriad of needs including medical care, housing, and trauma counseling. 





Putting Out the Fire in Trauma-Informed Spaces


Melba Robinson, Keisha Head and Consuela Douglas

This workshop will provide insight into the real-life challenges survivors of trafficking face in crisis. The information shared will dispel the "Rescue" myth and offer concrete methods to strengthen the organizational response to crisis and transition. Participants will also learn how to enhance trauma-informed programming by empowering survivors through a healing centered engagement.
 
From Labor Exploitation to Trafficking: A Review of Victimization in the Healthcare Workforce


Traci Kurtzer, Mica Garrido and Christian Arizmendi





The presentation component of the panel will address the intersection of health care and human trafficking through a different lens than it is typically presented in the context of identification and response to survivors. Instead, we will address those who are working in the health care field who are at risk for labor exploitation and trafficking. We will review past cases of human trafficking in healthcare workers in the US, the distinction between labor exploitation and human trafficking will be covered, and learn to recognize how certain elements of the healthcare industry may create opportunities for unethical actors to exploit and traffick workers. We will consider multidisciplinary approaches in medical, social service and legal agencies to better identify and intervene in this often overlooked population. Proposed policies for regulation of labor in the health care industry as the means for system change will be presented.

             
BREAK


11:45 am to 12 pm


 
NETWORKING/LUNCH WORKSHOP 


12:00 pm to 1:15 pm



From Knowledge to Action - Your Role in Addressing Human Trafficking (Lunch Provided)

PLENARY 


1:15 pm to 2:30 pm





Prosecuting "Johns" Who Exploit Minors – A Case Study




Sarah Streiker, Michelle Peterson, Felice Weiler, Helen Dunn and Frank Jones 





In 2015, Congress amended Title 18, United States Code, Section 1591, to make it clear that the statute could be applied to the purchasers of commercial sex acts with minors. In addition, Congress added language to the statute providing that, where a defendant had a "reasonable opportunity to observe" the victim, the government need not prove that the defendant knew that the victim was under the age of 18. These statutory changes facilitated the federal prosecution of purchasers of commercial sex acts with minors. This presentation will focus on the investigation and prosecution of the first such case in the Northern District of Illinois. The defendant, a police officer, purchased commercial sex acts from at least four underage victims. He was sentenced to 25 years' imprisonment and ordered to pay more than $300,000 in fines and restitution. *Please note that neither this description nor any of the information provided during this presentation is meant to represent or convey the views or positions of the Department of Justice, U.S. Attorney's Office, or FBI. 





BREAK




2:30 pm to 2:45 pm



CONCURRENT SESSIONS
(choose one session from the concurrent sessions listed):


2:45 pm to 4:15 pm

 

Child Focused Clinical Interventions for Minor Human Trafficking Victims


Marisa Chumil, Kathleen Hoye, Cassandra Ma and Breeda McGrath





This session will explore the various clinical interventions for minor human trafficking victims. The healing path for trafficked children often involves gradually uncovering multiple layers of trauma, requiring different levels of care at different points. Speakers from Cherish House,a developmentally-sensitive program specialized to serve the needs of sexually exploited and trafficked youth and Garfield Park Hospital's Worthy Program, which focuses on addressing the immediate mental health needs of sexually exploited youth in a safe and secure environment, will address both the short and long term complex trauma needs of youth. 

Panelists with expertise in working with unaccompanied minors will also discuss the impact of clinical interventions with foreign national survivors of both sex and labor trafficking.

 
Bending Toward Justice: Perceptions of Justice Among Human Trafficking Survivors
Jeannette Husseman and Lisa Palumbo

Research indicates that challenges exist in the identification, investigation and prosecution of labor and sex trafficking cases across the United States. Prosecutors traditionally define success as having secured a conviction against traffickers. Yet, research on victims' needs suggests that not all victims may be best served by, nor desire, traditional criminal prosecutions. We lack recent, in-depth insight into survivors' perspectives on the legal system and how they feel justice can serve them. In response, this presentation focuses on findings from a National Institute of Justice-funded research study on human trafficking survivors' experiences with the justice system and their perceptions of whether and how justice was achieved in their cases. Findings from in-depth interviews with approximately 100 survivors of labor and sex trafficking as well as criminal justice and victim service provider stakeholders in 8 sites across the United States are discussed. 

Developing Engaged and Sustainable Interdisciplinary Teams: Collaborative Models for Getting and Keeping Strategic Partners at the Table

Lisa Sciolaro, Sandra Boudloche and Mica Garrido





This practitioners caucus is designed as a knowledge exchange for those interested in developing comprehensive human trafficking outreach and response frameworks with an emphasis on labor trafficking.  The session will focus on interdisciplinary, broad-based task force member recruitment, targeted campaigns and stakeholder engagement, and explore key components of internal and external organizing.  Participants are encouraged to share best practices and bring challenges to this interactive workshop. 



Following the Money: A Financial Institution's Approach to Combatting Human Trafficking
Steven Cobb

The session will examine the role financial institutions play in identifying potential human trafficking. The presentation highlights the red flags that financial institutions look for when monitoring customer transactions in order to identify if their products and services are being used in furtherance of human trafficking and it summarizes how financial institutions alert law enforcement to suspicious account behavior.
----



*** Agenda is subject to change. ***



Please note that we will have a working lunch (with lunch provided) on Friday of the conference. In addition, we will have governmental agencies and national expert technical assistance providers available at an information fair on Thursday August 8, 2019 at the lunch hour and from 4:15 pm - 5 pm. 
If you have any questions, please contact stop-it@usc.salvationarmy.org or contact Cook County Human Trafficking Task Force Coordinator Summar Ghias at 773-433-5735.
When & Where

Chicago Kent College of Law
565 West Adams Street
Chicago, IL 60661


Wednesday, August 7, 2019 at 1:00 PM

-

Friday, August 9, 2019 at 4:30 PM (CDT)
Add to my calendar
Organizer
The Cook County Human Trafficking Task Force is a multi-disciplinary task force that brings law enforcement, social service and legal service agencies together to work on human trafficking cases. Learn more about the Cook County Human Trafficking Task Force here.