9th Annual Continuing Education Training Institute — CETI
Description
Join the nation's top continuing education executives at the 9th Annual Continuing Education Training Institute, April 15-16, 2019 in Nashville, TN.
Welcome Reception on April 14 at 5 p.m. with a band – Conference held on April 15 -16, 2019, Nashville, TN.
The conference offers specialized training to enhance your educational needs. Sessions offer "real-time" applications from education and business leaders representing leadership from community colleges, state colleges, adult education, universities, and national training partners who serve more than 20,000 students a year; as well as some small colleges who have grown by 40%.
Continuing education executives from over 20 different states will be attending this high-powered training.
Please notify us of any special needs or dietary accommodations when registering.
CETI 2019 Sessions
Determine and Recruit Ideal Students for Programs
Professional Development and Personal Enrichment Programming for Au Pairs Living in the U.S.
Accelerated Career Development Using Your Personal Brand
Successful Adjunct Instructor Orientations
Noncredit CTE Programs Prepare Students for Success
Community-Based Partnerships to Combat Skilled Labor Shortage
This year's host is Nashville State Community College.
Download the CETI 2019 Brochure.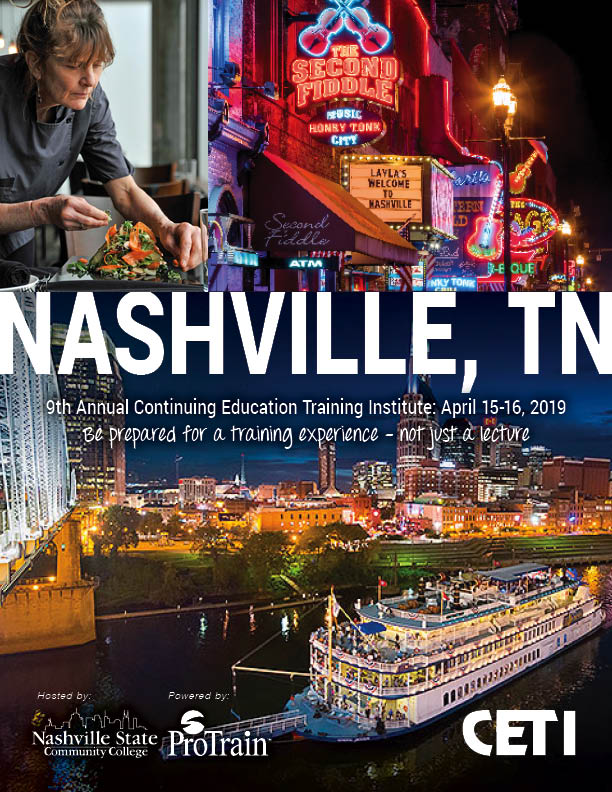 Download the CETI 2019 Exhibitor Brochure.