9th Annual Chicago Fashion Show

Sunday, December 9, 2018 from 5:00 PM to 9:00 PM (CST)
Event Details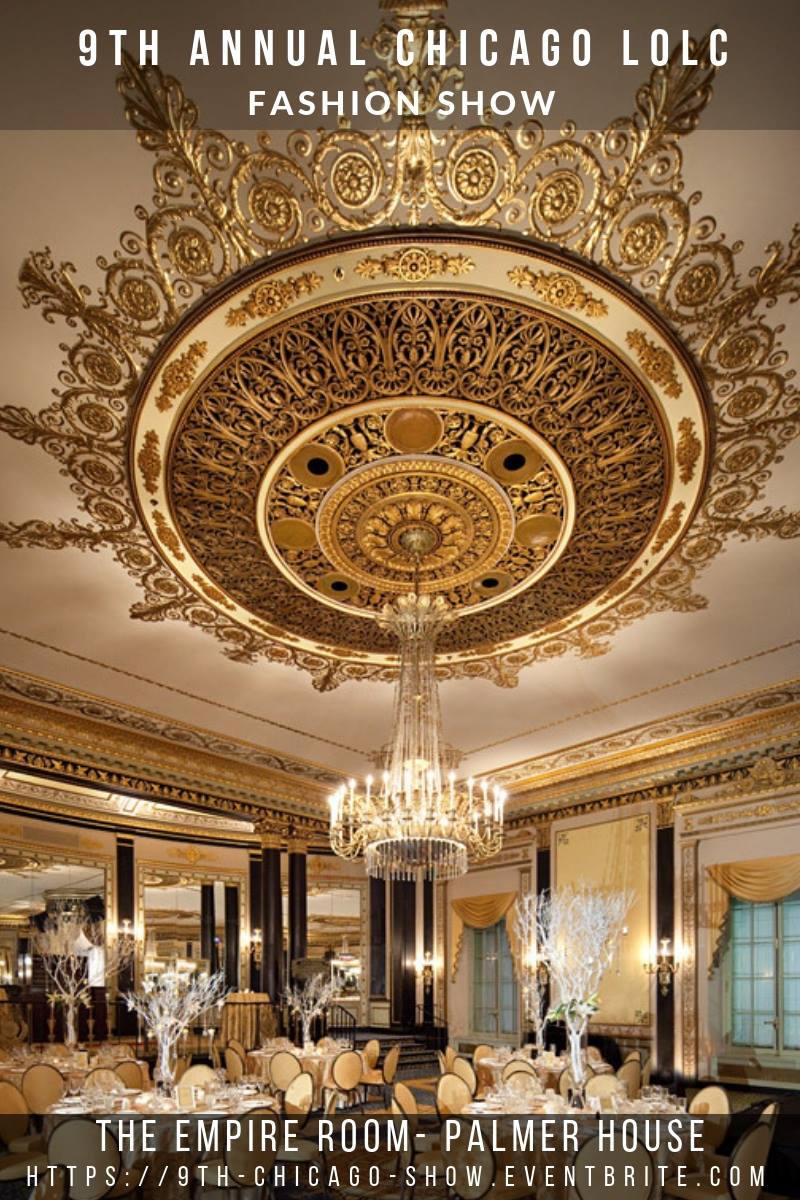 Celebrating 9 years of suicide prevention with Live Out Loud Charity a non profit organization focused on suicide prevention, anti bullying, and core character development.  Our 9th Annual Chicago fashion show will kick off the year to celebrate life through fashion, fun, and a very informative suicide prevention seminar to be held Sunday December 9th, 2018 in downtown Chicago at the Palmer House. This is a night everyone will remember. Are you ready for the fashion show of your lifetime? Help us raise funds while attending this fun yet informative event.  Models and titleholders from nationwide are taking a stance by parading down our runway, to stop the most preventable cause of death, suicide. We have top performers, fabulous designers, and incredible media coverage. We give a suicide prevention seminar during the show so everyone can walk away with the knowledge to save a life. To learn more about Live Out Loud Charity you may visit  www.liveoutloudcharity.org  Purchase tickets on the GREEN ticket button.  All net proceeds will be given to Live Out Loud Charity. To be involved in our charity show as a volunteer, media outlet, phtoographer, model, or titleholder, email info@liveoutloudcharity.org

EVENT DETAILS
Sunday, December 9th, 2018
9th Annual Chicago Fashion Show
Palmer House (Hilton Hotel)
Empire Room- Main Floor
17 E. Monroe St. Chicago, IL 60603
There is valet parking in front, there is also a paid parking lot across the stress, or use an app called spothero for affordable parking downtown. 
Enjoy couture fashion designers, inspirational speakers, an award ceremony, LIVE music, and more!
5pm-5:30pm Guests arrive, red carpet interviews, raffles, cash bar, photo ops on the red carpet
5:30pm- 8:30pm  Fashion Show (dress code is dressy)
Ticket Link: THIS PAGE. PURCHASE ABOVE. (Green button that says tickets).
Must pre-purchase tickets online. 

CHECK US OUT IN THE NEWS
NBC5 CHICAGO NEWS
WAVE 3 LOUISVILLE NEWS
AWARD WINNING PUBLICIST FASHION BLOG
I LIVE IN A MAGAZINE FASHION ARTICLE
DAILY 24 MAIL (BANGLADESH, ASIA)
View our suicide prevention video CLICK HERE
Recommended Hotel(s) in no particular order (use hotels.com for discount rate):
1. Palmer House Hilton- 17 E. Monroe St. Chicago, IL 60603 USA. 312-726-7500
Find other hotels on hotels.com or expedia.com
DISCOUNT RATE: we are in the process of securing a room block at the Palmer House for $150 for Saturday night and $150 for Sunday night. 
Ticket Information
We do not mail tickets or hand out actual physical tickets. You can however print out your ticket once you purchase it here online. Your name will be placed on our ticket list. You will check in with your name at the door. Your name will be listed as it appears when you pay online. Bring a receipt of your ticket just in case. Refunds are not given for any reason. If you can not make it to our event after purchasing a ticket we will hold your seat for the next show. 
Doors close directly at the time the show starts. No one let in after the show has begun until intermission.
Meet the Founder & President of Live Out Loud Charity 
During the show Sherrie Gearheart will present a QPR suicide prevention & LOLC seminar. To learn more about Sherrie Gearheart please visit www.sherriegearheart.com
There will be other speakers from the Live Out Loud Charity Leadership Academy. To learn more about our Leadership Academy and Live Out Loud Charity go to www.liveoutloudcharity.org


Things guests should know:
-Everyone is to arrive at the time doors open to check in at the door and find their seat. Doors will stay closed at the start of show time and guests will not be allowed in late and must wait until intermission. There are no refunds. Tickets were not handed our prior to our event but if you bought a ticket online your name is on our ticket list. Please print out your ticket confirmation (print receipt from online) when purchasing online just in case.
-Dress code for all guests is dressy NOT business casual. We prefer fancy dresses, suits, dressy pants outfits, etc. This event theme is fashion forward so think fun fashion or dressy.  No gym shoes, hats, jeans, or casual clothing allowed. All coats must be checked in upon arrival along with purses. Otherwise purses should be stowed under the chair. If you need to keep items with you during the show they must be stowed under your seat during the fashion show at all times until intermission or after the show. Do not have your purse or coat showing on our seat or it will ruin the asthetic of the photos taken during the event. Thing glamorous and have fun dressing up for this majestic event.
-If requesting handicap or have other special needs seating please email info@liveoutloudcharity.org We care about our attendees and will do our absolute best to accommodate those with special needs. Please inform us and state what is needed.
-Dress code colors: anything dressy. All colors allowed. Have fun! Keep in mind the colors of the charity are blue, yellow, green. Bright blue (turquoise shades) are our absolute favorite. These colors are not mandatory.
-Guests may purchase raffles tickets, DVDs, silent auctions. There will be various vendors with clothing, jewelry, etc.
-If you know anyone that would like to donate or volunteer please have them contact us directly editor@tiaramag.net or they may email info@liveoutloudcharity.org
There are no ticket refunds for any reason. 
When & Where

Palmer House Hilton
17 E Monroe St.
Empire Room- Main Floor
Chicago, IL 60603


Sunday, December 9, 2018 from 5:00 PM to 9:00 PM (CST)
Add to my calendar
Organizer
Fashion Show Producer- produced over 100 events since 2015, Founder of Live Out Loud Charity & the Worldwide Leadership Academy, Mrs. Illinois Royalty International 2019 and the former Miss United Nations 2015, Editor of Tiara Magazine and writer. Professional Model having graced New York Fashion Week, LA Fashion Week, Paris Fashion Week, Chicago Fashion Week, China World Supermodel Tour, Tennessee Bridal Shows, Indian Bridal Shows, and more.