Description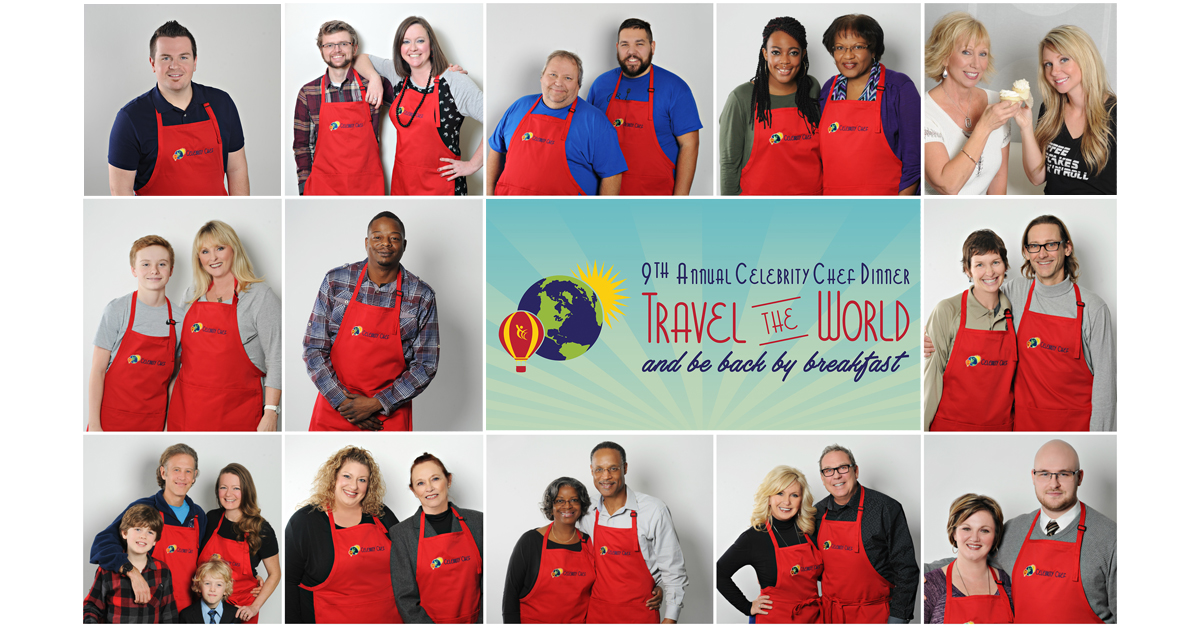 The Counseling Center, Inc. is proud to announce The 9th Annual Celebrity Chef Dinner and Silent Auction, will be Tuesday, March 14th, 2017 at 6:00 p.m. at the SOMC Friend's Community Center, with all proceeds to benefit The
Counseling Center's prevention program and the Summer Outreach Club. The Summer Outreach Club is a 9-week summer day camp that is free to children age 5-12.
The Celebrity Chef Dinner always promises a fun time, and this year will continue the tradition with a theme that will take you around the world, Travel the World and be Back by Breakfast. Your taste buds will take an exciting and fun tasting journey of international cuisine. The buffet style dinner will feature a delicious menu of multi-cultural breakfast inspired dishes including: lasagna, quiche, taco boats and fried rice, as well as scrambled tofu, Spanish-style hash brown potatoes, an assorted fresh fruit bar and artisan breads. Dessert will feature unique breakfast cupcakes by 83 Sweets, with a side of Whit's Frozen Custard flavors from around the world in Crème Brulee, French Vanilla, Espresso and Lemon Raspberry.
The main attractions of the evening are the celebrity chefs who are stars in our community, donating their time and talent to support youth drug prevention, like the Summer Outreach Club. Our Celebrity Chefs are currently working on their travel itinerary to exotic destinations that will be showcased in a sampling of their favorite intercontinental appetizer recipes they are making for our guests to enjoy. This year, our audience will travel around the globe with the culinary stylings of eleven talented, philanthropic, star chef teams. We are excited to announce our 2017 Celebrity Chefs: Dr. Charles and Kristi Greiner, Podiatrist and owner of Portsmouth Foot Care; Wirty and Sean Penix, owners of Two Guys Cook; Pat and Ryanne Parker, of Pleasant Green Baptist Church; Dr. Samantha Cook and Dr. TJ Stidham, of SOMC Pediatric Associates; Dawn Scott and her son Sean Little, of Ralph F. Scott Funeral Home, David and Tanya Malone, Pastor of Kingdom Builders Evangelistic Ministries; Eric and Krista Putnam, Eric is the head coach of the Shawnee State University Cross Country and Track teams and Krista is Healthcare Data Coordinator at Zebu Compliance Solutions, Inc.; Pegi Wilkes and Trisha Schmidt, Co-Directors of Cirque d' Art Theatre; Jenny Richards and Scott Claypool, Jenny is a Naturalist for Ohio Department of Natural Resources and Shawnee State Parks and Scott is the owner of Sunshine Catering; and Jamie Herrmann and Josh Childers of KDMC Ohio.
The silent auction is always a crowd favorite with many exciting trips, packages, gift baskets and unique items for all likes and interests. Whether you enjoy sporting events or a relaxing get-away, there's sure to be something to wet your wanderlust. The Poverty String band, back by popular demand, will once again entertain the crowd with Americana favorites, to transport attendees around the world and bring them right back home to our Appalachian roots.
Tickets are on sale now for $50.00, which includes admission, dinner and live entertainment, with all proceeds benefitting the Summer Outreach Club Program.