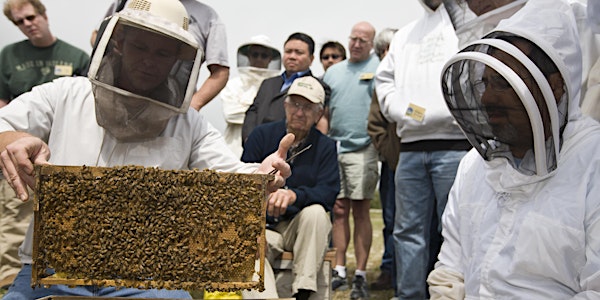 9th Annual Beekeeping in the Panhandle Conference & Trade Show
Location
1424 Jackson Ave
1424 Jackson Avenue
Chipley, FL 32428
Refund policy
Contact the organizer to request a refund.
Eventbrite's fee is nonrefundable.
9th Annual Beekeeping in the Panhandle Conference on Friday May 6th & Saturday May 7th 2022
About this event
The University of Florida IFAS Extension and the Beekeeping in the Panhandle Working Group has once again teamed up to offer the 9th Annual Beekeeping in the Panhandle Conference on Friday May 6th and Saturday May 7th 2022 at the Washington County Ag Center Auditorium.
This year's event will feature: Hands-on open hive experiences, presentations on the latest in research-based beekeeping management practices, interaction with expert beekeepers, vendors with beekeeping equipment, and hive products. Door prizes will be available as well!
The registration fee for the event will be $30 for one day or $50 for both days per person over 12, and $10 per day for kids 12 and under.
Location: 1424 Jackson Avenue, Chipley, FL 32428. The activities will take place from 8:00 am – 5:00 pm Central each day and will include catered lunch.
For more information. please contact the Washington County Extension Office at (850) 638-6180.
This Year's Event Features:
• Hands-On Open Hive Experiences
• Presentations on the Latest in Research-Based Beekeeping Management Practices
• Beginner and Intermediate & Interaction with Expert Beekeepers
• Honey Tasting Contest
• Hive Products, Door Prizes and More
Dates:
Friday & Saturday, May 6th and 7th 2021
Place:
UF/IFAS Extension Washington County Office,
1424 Jackson Avenue, Chipley, FL 32428
850-638-6180
Time:
9:00 am – 5:00 pm each day
Registration: Includes Lunch, Refreshments, Publications, Door Prize Tickets, & Educational Sessions
• $35 for One Day or $55 for Both Days per Person
• $15 for each day, children age 12 and under
To register:
• https://www.eventbrite.com/e/9th-annual-beekeeping-in-the-panhandle-conference-trade-show-tickets-269199873067
Click Here To View Detailed Agenda
HONEY TASTING CONTEST
HONEY TASTING CONTEST – By the Central Panhandle Beekeepers Association
MISSION
The Mission of the Honey Tasting Contest is threefold. First, to introduce Honey as a Quality Marketable Product. Second, to expose the different varieties of Honey in our surrounding areas. Third, to demonstrate each variety has a unique flavor. Most of all, it is to pique Beekeepers' interest in becoming involved with and participating in future Honey Shows.
RULES OF ENTRY
Registration is between 7:30 am to 9:00 am on Friday, 6 May 2022. Once registration is closed, further registration will not be allowed. NO EXCEPTIONS!
Participants can submit up to six entries.
Entries must be in a one-pound clear, plastic squeeze bottle with a squeeze top spout. No identifying markings or labels are allowed.
AT THE TIME OF REGISTRATION
Participants will complete registration in the UF/IFAS Extension Small Classroom with a Contest Helper.
Participants will be charged (Cash Only) dependent upon the amount of Honey Entries submitted:
• $5 for up to three entries
• $10 for four to six entries
Participants must fill out an Entry Form for each of their Entries. The Entry Form (provided onsite) will consist of:
• Participant's Name
• Variety of Honey
• The area where Honey was collected
• Participant's Address
• Participant's Phone Number
• Participant's Email
The Participant will repeat this procedure for each of their Honey Entries.
The Contest Helper will place the Entry Form and the Honey Entry into a Brown Bag.
JUDGING RULES
Conference attendees will be your Judges. Honey Entries will be JUDGED ON FLAVOR ALONE!
Registered conference attendees will receive a Honey Tasting Voting Ticket. YOU MUST HAVE A HONEY TASTING VOTING TICKET TO VOTE AND ONLY ONE VOTE PER PERSON. All vendors and volunteers wishing to vote must register as a Conference Attendee to receive a Honey Tasting Voting Ticket.
Judging will START at 9:30 am on Friday, 6 May 2022, and will END at 3:10 on Saturday, 7 May 2022.
All Entries will be LOCKED in the Small Classroom when judging ends on Friday, 6 May 2022, until judging starts on Saturday, 7 May 2022.
If you choose NOT to vote or lose your ticket, you forfeit your vote.
First, Second, and Third place winners are determined by the number of votes each Honey Entry receives. Winners will be announced before the Q&A Session.
After the winners are announced all Honey Entries, with the Participant's Entry Form, will be displayed in the Small Classroom.
The Participants may pick up their Ribbons and remaining Honey at 5:00 pm Saturday, 7 May 2022.
VOTING RULES
To sample a Honey Entry, tell the Contest Helper the number you wish to taste. The Contest Helper will then squeeze Honey onto a spoon for tasting. ONLY THE CONTEST HELPERS MAY TOUCH THE BROWN BAGS!
You may taste the Honey Entries as many times as needed throughout the two days of the Conference to determine your vote. You may vote at any time during the Judging Hours.
Write the number of the Honey you prefer on your Voting Ticket. Fold the Voting Ticket in half and place it into the Voting Container. Once your voting ticket is in the Voting Container, your vote is FINAL.
NO LATE VOTES WILL BE ADMITTED!
For further questions contact Sunshine at (509) 548-9289.