9th Annual Ay Caramba! Fiesta Latina
About this Event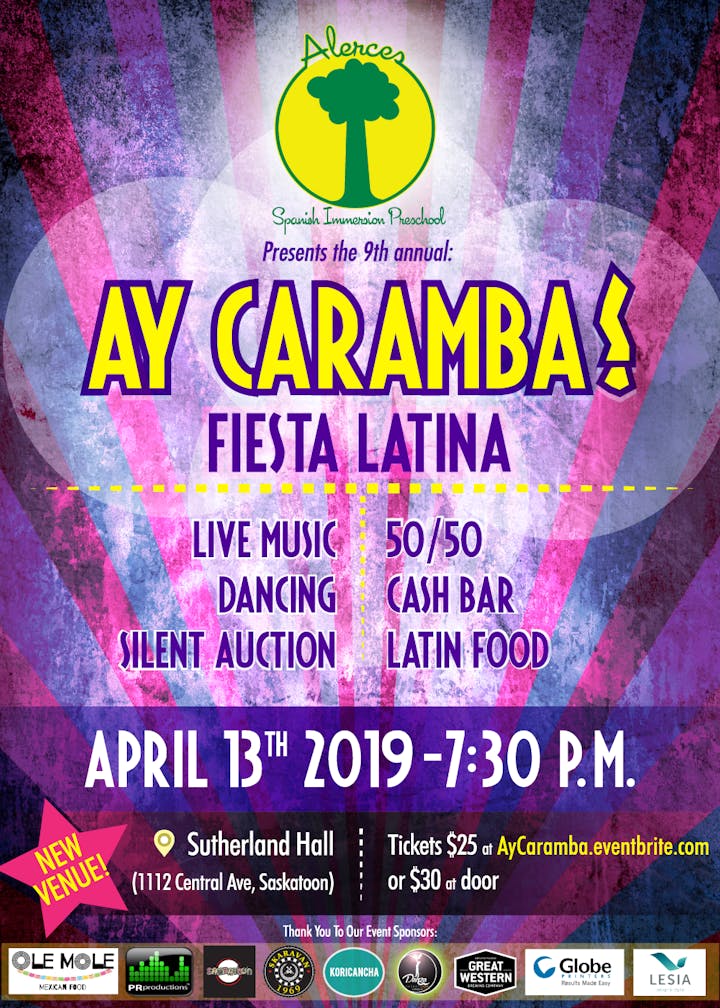 This event will be an evening you'll never forget! Live latino music, salsa dancing, 50/50, silent auction, and cash bar.
We have a NEW venue this year so please take notice: The Sutherland Hall located on 1112 Central Ave in Saskatoon.
Last year was an amazing event with a great SOLD OUT turnout. Everyone had so much fun and we anticipate a sell-out again this year!
As you may know, fundraising is an ongoing challenge for a school like Alerces so this annual fundraiser is a huge help. Last year, we managed to raise more than $11,000 to support the wonderful programs available to our kids at Alerces! There are a number of items that the school needs, and fundraising events like this assist our teachers in providing the great care and education that our children enjoy so much.
Speaking of which, we are seeking donations from local businesses for our silent auction. All funds raised will be used for the operation of Alerces to benefit the preschool and kindergarten children.
HOW TO DONATE TO THE SILENT AUCTION
If you are able to assist with a donation, please contact our fundraising committee at AlercesFiesta@gmail.com or forward silent auction prizes to:
Alerces Fiesta Latina Committee
2617 Clarence Ave S
Saskatoon, SK, S7J 1M5
Please submit your donation no later than April 5, 2019. Thank you in advance for your generosity!
THANK YOU TO OUR EVENT SPONSORS:
LEARN MORE ABOUT ALERCES:
Alerces Spanish Preschool and Kindergarten Inc. is the only Spanish immersion school in Saskatoon. We are committed to providing a learning environment that enables children to be creative and innovative in both English and Spanish.
Alerces students grow in their awareness of their part in the community and their environment in many ways including art projects, creative play and field trips to local events and spaces including the Saskatoon Children's Festival, the Western Development Museum, the Meewasin Valley Authority and more.
We appreciate your consideration and your support of our students and our school.
Learn more about Alerces at: http://www.alerces.ca