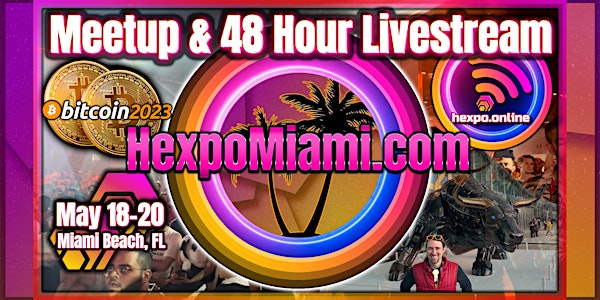 $99 Hexpo.Miami 2023 | Fundraising by Mati Allin
Hexpo.Miami Fundraising: online event to qualify for airdropped tickets to the 2nd Mass Hex Meetup by Mati Allin
By Mati Allin Hexpo.Miami
Date and time
Tuesday, February 21 · 5:30 - 6:30pm PST
About this event
Hosted by GameTheoryGang, volunteers & Mati Allin LLC. This online fundraising and awareness event will occur online every week before the in-person Hexpo.Miami Meetup. Meetup tickets will only be airdropped to people who buy the fundraising ticket (meetup is in Miami Beach, FL on May 18-20, 2023). THIS DOES NOT INCLUDE THE (optional) TICKET TO THE B.TC/CONFERENCE EVENT, WHICH STARTS AT $650. Hexpo.Miami meetup schedule and certain details are evolving and shown at the blog HexpoMiami.com.
Tickets are required to see the secret locations of certain meetups and participate. On the Eventbrite purchase confirmation screen you get to join a private Telegram so please use your real handle in checkout. Handles that join without completing Eventbrite confirmation could be permanently removed from the channel.
Last year people got legendary merch (hat, shirt, etc). Everyone attending the event was required to have a ticket that they got from donating to raise funds and the event was a success.
Paying with crypto? Complete the checkout instructions here on Eventbrite for Pay by Invoice. For more privacy, it's OK to use a nickname for first and last name in Eventbrite order form *only if paying with crypto*, but make sure your Telegram handle is accurate. Send $99/ticket of ETH, HEX or USDC on ETH to mati.eth (0x9E9FB1019b1e8D627083E9E99813680ad2552CAF).
Absolutely no refunds, please consider this strict policy before you contribute to the fundraising. Transfer policy is not guaranteed, but MIGHT be considered on a case-by-case basis.
Final meetup schedule is still evolving, but please read more details carefully that are on the blog https://HexpoMiami.com and on the required Telegram https://t.me/HexpoMiami.
Hex Meetups are legendary and I'm really looking forward to hosting this event for you.
Warm regards,
Mati
About the organizer
Mati is a crypto psychology YouTuber and expert in HEX, PLS, PLSX and more. He hosted the 1st HEX and Pulse Conferences. He has has live-streamed on YouTube every Tuesday & Thursday for 114 weeks. Learn more at https://AllMyLinks.com/Allin