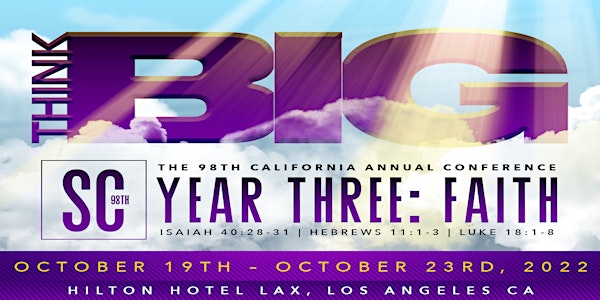 98th Southern California Annual Conference
98th Southern California Annual Conference
About this event
Welcome to the 98th Session of the Southern California Annual Conference,
On behalf of Bishop Clement W. Fugh, Supervisor Alexia Fugh, Host Presiding Elder Allen Williams, Co-Host Presiding Elder Roosevelt Lindsey and the host pastor Rev. Darryl Walker, you are cordially invited to participate in person at the Hilton LAX Hotel Los Angeles, California October 19th, 2022 - October 23rd, 2022 or virtually on zoom.
The Southern California Conference Women's Missionary Society (WMS) and the Southern California Conference Women In Ministry (WIM) will meet on October 19th, 2022. Please contact Sis Mary Barnett at mbarnett844@gmail.com for the WMS registration and attendance policy. Please contact Rev. Kathy Harrison at khsccwim18@gmail.com for the WIM registration and attendance policy.
Registration is mandated for all participants.
To Book Your Hotel Stay HERE