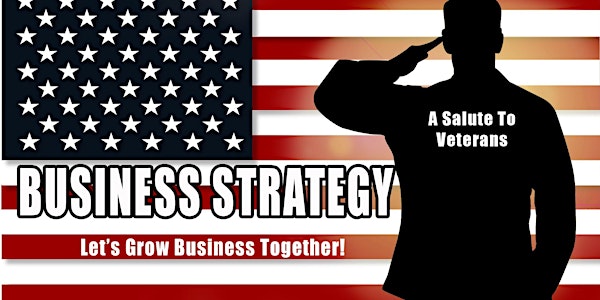 $97 Veteran Event & Celebrity Charity Gala
When and where
Location
Crown Plaza International LAX 5985 W Century Blvd Los Angeles, CA 90045
Description
Join the Entrepreneurs and Businesses helping over 100 Veterans with the transition from Service Life to Working Civilian Life:
Your Tickets are for a full Day of Amazing Speakers, a MasterMind Lunch & a Fun Evening Gala
Saturday, October 12th, 2019 from 8:30 AM - 10:30 PM
"Business Strategy a Salute to Veterans"
From ARMED SERVICE to CIVILIAN is a great way to introduce Veterans to people we know on LinkedIn. Our purpose is to support Veterans getting into new career or starting a business.
LinkedIn has 500,000,000 members & 500,000 Veterans. Search Veteran, Air Force, Army, Coast Guard, Marines or Navy. Ask you're LinkedIn friends who you can introduce them to.
The producer of this event, Debra Faris, is passionate about helping Veterans. Her father was a Navy Man who became a very successful Entrepreneur, her uncle was a Vietnam Lifer and her son was Air Force who transitioned to a civilian position on base, later to join the reserves.
What To Expect
Mastermind with Experts on New Opportunities

Companies looking to Employ Veterans

Resources for starting your Own Business

Strategies, Solutions & Valuable Insights for Life

Networking & Connecting with Influencers

Get your FREE "LinkedIn for Veterans" Book
Mark your calendar!
Saturday, October 12th, 2019
Schedule:
Speakers 9am-11:30
MasterMind Lunch w/ Experts 11:30-1:00pm
Speakers 1:00pm to 5:30pm
Meet & Greet Employers & Network 5:30-7:00pm (cash bar)
Celebrity Red Carpet Gala 7:00pm (Hors d' oeuvres & Pasta Bar)
Charity Auction 8:00pm - 10:00pm
Our Charities
Gary Sinise, Veterans National Foundation, VeteranStrong, RidgeView Recovery & Veterans Independence Day Celebration.
Meet these Celebrities at the Charity Gala
MC Celebrity Gala is Highness Dr Prince Mario Max Schaumburg-Lippe known as a Royal Hollywood ICON CBS, ABC, FOX, VH1, BRAVO etc
Lynn Rose
Actress/Motivational Speaker
Lisa Lockwood
Host of West Coast Weekly
Brenda Cooper
Emmy Winning Actress
Shae Vaughn
Co-Founder/CEO, WBTVN
Kory Minor
NFL/ Former Carolina Panther
Lauren Powers
Celebrity Fitness & Music
Riadh Handi
Instagram Celebrity
Saturday, October 12th, 2019
Join us for a day & evening of valuable information and business connections. Your benefits will be far beyond networking. The benefits of mastermind roundtable is you get an Expert and share your ideas with successful business people, make new connections and create relationship currency. You'll get to engage directly with them in a friendly and comfortable social setting.
Create new valuable business contacts. This is about building long-term relationships in a like-minded community of generous business people and entrepreneurs.
The Gala is for everyone. Following the day event, there is a Meet & Greet, plus Networking. VIP has a private preview of Auction Items & Red Carpet from 5:15-7pm.
All Guest are invited to Evening Celebrity Gala & Free Veteran Tickets
Why buy a VIP Tickets for $250? VIPs keep their table through the entire event, day & evening with a private Network, Red Carpet & Viewing Auction Items 5:15-7pm. Room reopens to General at 7pm.
Just want to attend the Celebrity Charity Gala, just use non-civilian ticket $97 …. Why not come early and Meet the Employers who Hire Veterans
The First 100 Veterans Are Free for all of the Conference & Gala
It includes: Saturday's Mastermind Lunch with the Speakers & Experts and Saturday Evening's Celebrity Charity Gala & Silent Auction Fundraiser
This will also be a great opportunity to get up close and personal with the speakers and experts and become crystal clear with your new direction. It's a great chance to gain some new strategies, network with the experts and make profitable contacts.
Wishing you a Successful 2019
Questions & Sponsorship Text 949-233-1424
WEBSITE: https://linkedintoveterans.com/