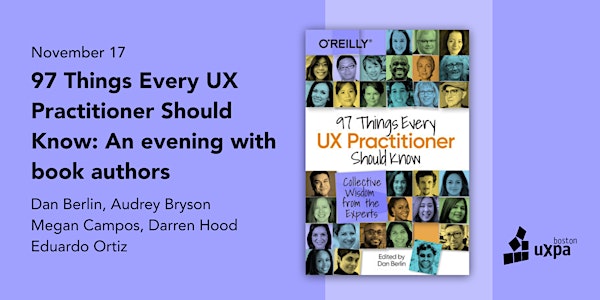 97 Things Every UX Practitioner Should Know: An evening with book authors
Join us for UXPA Boston's November Meeting where we'll have the opportunity to hear from book's editor and some of the authors
Refund Policy
Contact the organizer to request a refund.
Eventbrite's fee is nonrefundable.
About this event
"97 Things Every UX Practitioner Should Know"
Tap into the wisdom of experts to learn what every UX practitioner needs to know. With 97 short and extremely useful articles, you'll discover new approaches to old problems, pick up road-tested best practices, and hone your skills through sound advice.
Working in UX involves much more than just creating user interfaces. UX teams struggle with understanding what's important, which practices they should know deeply, and what approaches aren't helpful at all. With these 97 concise articles, editor Dan Berlin presents a wealth of advice and knowledge from experts who have practiced UX throughout their careers.
At the end of the session we will be giving away 5 eBooks thanks to O'Reilly Media!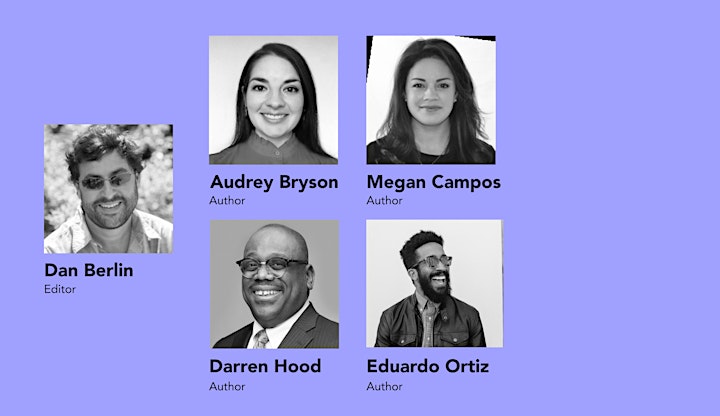 Dan Berlin
Dan Berlin discovered the world of user experience when he sat as a participant in a usability study. That's when he quit his job and went full-time to Bentley University to earn an MBA and an MS in Human Factors in Information Design. He recently started Watch City Research, a UX research consultancy outside Boston, where he focuses on usability research in different product domains. Dan is the editor of "97 Things Every UX Practitioner Should Know" and will introduce the book.
Audrey Bryson
As a recovering industrial designer, Audrey Bryson is able to blur the lines between ergonomics and interaction design. She currently works for an audiovisual electronics company with the ambitious goal of making AV environments less intimidating. Audrey will be presenting her chapter, "Your First Idea Is Sometimes Your Worst Idea."
Megan Campos
Megan Campos is the experience research director at Mad*Pow in Boston, Massachusetts, where she works across verticals including finance, healthcare, and education to deliver user insights and provide strategic recommendations for her clients. Megan will be presenting her chapter, "Diverse Participant Recruiting Is Critical to Authentic User Research."
Darren Hood
Darren Hood is extremely passionate about all things UX, holding 20+ years of experience in human-computer interaction and interaction design, and for the last 16+ years working full-time in the world of UX, CX, and LX. Darren is also the host of "The World of UX" podcast. Darren will be presenting his chapter, "Know the Difference Between Experience Mapping and Journey Mapping."
Eduardo Ortiz
Eduardo Ortiz is chief executive officer, partner, and cofounder of Coforma. He most recently was executive creative director of the US Digital Service. He has over 19 years of experience as a software engineer, UX designer, and information architect. Eduardo will be presenting his chapter, "Implement Service Design in Your Practice."
How to attend remotely
Anybody registered for the event will receive an email with a link with details on how to join the online meeting. Only individuals registered for the event will be able to join the meeting. You are highly encouraged to register with the email associated with your Eventbrite account; doing so will make your access to the event link easier. When the presenter begins, the meeting will be locked to any new attendees to prevent disruption.
All attendees are encouraged to remain on "mute" during the event, except when called on to ask a question or during open discussion/networking time.
Code of conduct
By registering and attending any UXPA Boston event, you agree to follow our Code of Conduct. If you have any questions, please contact a Board Member.