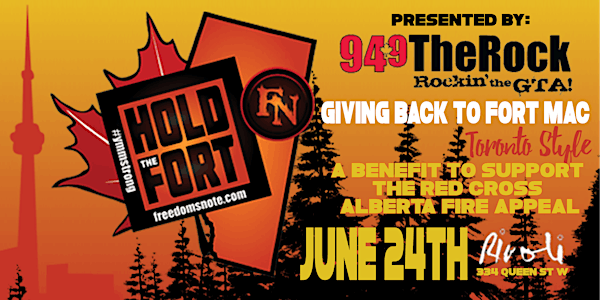 94.9 The Rock Presents: Hold The Fort - Giving Back To Fort Mac
When and where
Location
Rivoli Pool Hall 334 Queen Street West Toronto, ON M5V 2A2 Canada
Description
On Friday June 24th, Toronto will come together to help those displaced by the fires in Fort McMurray, AB and surrounding areas. Spearheaded by Fort McMurray band, Freedom's Note, independent bands from around the city will join them at The Rivoli for an evening of live musical performances.
Last Bullet: 12:45am www.lastbullet.com
Headline band LAST BULLET are completely unique to the Toronto Rock scene. Having shared the stage with Teenage Head, Bleeker Ridge, Die Mannequin, John Corabi of Motley Crue, and Uli Roth of The Scorpions, they have also found success on FM radio with their very first single, "Girls Gone Wild" garnering massive attention and steady radio play among some of the biggest FM stations in Canada and the US.
Freedom's Note: 11:45pm www.freedomsnote.com
Originally from Newfoundland, and currently based in Fort McMurray, Freedom's Note have opened for Kim Mitchell, Finger Eleven, Trooper, Simple Plan, Mötley Crüe's Vince Neil, and Scott Weiland of Stone Temple Pilots and Velvet Revolver fame. With 2 singles at rock radio nationwide, Freedom's Note will debut their new song, 'THE FIGHT' on CP24, Friday, June 24th. Dedicated to firefighters and emergency responders, all proceeds from the sale of 'THE FIGHT' will be donated to The Red Cross Alberta's Fire Appeal.
Bridgeway: 10:45pm www.bridgewayband.com
Montreal's BRIDGEWAY have a Top 6 spot for their single "So Far Away" on 96.9 FM Montreal as well as 80 QC stations, and the Stingray Hit List Channel. Having opened for Hedley, their newly launched CD, "Whatcha Want From Me," was produced by Hedley's Tommy Mac.
Johnny Mega: 9:40pm www.johnmega.ca
Originally from Alberta, JOHNNY MEGA raised eyebrows with his high energy self-penned submission "We The North" for the CBC Song for The 6ix competition. Winning a respectable 3rd place, "We The North" is the official anthem for the 2016 TDot Festival in September.
The Owns: 9pm www.facebook.com/theowns/
THE OWNS is what rock is all about. Performing in various Toronto hot spots, this trio will take the stage this summer at The Mountain Man Music Festival opening for The Paul Deslauriers Band and Big Wreck.
with a few songs from
Julian Taylor (solo)
and sets all night from Garrick the DJ www.garrickthedj.ca
GARRICK THE DJ knows how to keep party energy at capacity. Touted as a "sound chameleon" Garrick has built a reputation on his ability to ignite the human spirit. Happy audiences include Nuit Blanche Street Party, Pride Toronto's main stage and corporate events for Roots Canada Ltd., Microsoft and TD Canada Trust to list a few.
100% of all funds raised go directly to The Red Cross Alberta Fire Appeal.
Sponsored by:
94.9 The Rock, Long & McQuade, The Rivoli, Steamwhistle, Dockery Devil, iSee & Associates, Music Solutions, Jensen Works, Mirror Image & King West Productions.
-------------------------------------------------------------------------------------------
Responding to the devastation from wildfires that have swept through Fort McMurray, the community of Brooks, AB hosted a fundraising event on May 14th at their Centennial Regional Arena. With overwhelming support from the community, Fort McMurray's rock band Freedom's Note, along with other local bands, helped raise over $100,000 in funds and necessity supplies which required three flatbed trucks to transport the donated items to the Canadian Red Cross and distributed to evacuees. Homeless and unsure of what they would return to, Freedom's Note continue to "work it" in any capacity possible – performing, keeping spirits up, and handing out food items in areas where many evacuated to.
"We're more fortunate than most," said Donny Synard, lead singer of Freedom's Note by phone. "We were able to evacuate with our families before the only highway Fort McMurray has, shut down. We left everything – all our possessions, and in our case, all of our gear. Throughout this over one month process, we have been supported by many in the music industry throughout Canada. Due to that momentum and 94.9 The Rock as presenting sponsor, we are grateful to the musicians in Toronto and Montreal in having us continue to raise additional funds for The Red Cross Alberta's Fire Appeal through "Hold The Fort – Givin' Back To Fort Mac, Toronto Style on Friday, June 24th. We look forward to meeting and thanking everyone personally at The Rivoli."
Freedom's Note have returned home and to their homes in Fort McMurray on Thursday, June 2nd.
All funds raised by 94.9 The Rock Presents: HOLD THE FORT, Giving Back To Fort Mac, Toronto Style will be donated to the Canadian Red Cross Alberta Fires Appeal, supporting families and individuals impacted by the wildfires in Alberta.