Description
TALK OUTLINE
If you have ever wondered what UX designers actually do all day then this talk is for you. Carl is a very practical minded UX designer and enjoys getting his hands dirty so we can see some real deliverables.
There is a lot of talk about UX design and now it is time to show you how Carl has used his tried and tested process with companies including Adobe, Thomson Reuters and recently Expedia.
The talk will show the work flow for a 6 stage process you can implement on your own projects:
Business Intelligence - is what we want to do needed, who else is doing it and how can we do it better?

Analysis - user research and how to implement our findings into the actual design
Structure - how we can create meaningful hierarchy and use of language
Interaction - using some amazing tools to create interactive wireframes / prototypes
User Testing - the workflow we use to test apps and websites with real users and data
Within the talk you will be getting over 20 amazing tools you can use for your own research, testing, wireframing and reporting.
Let's stop talking about UX and get it done!
----------------------
ABOUT THE SPEAKER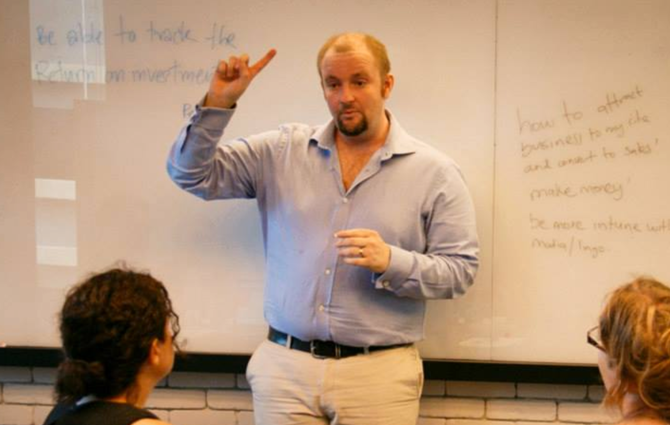 Carl Daniel Heaton is the founder of Web Courses Bangkok and a Web Consultant for the United Nations here in Bangkok. He has been a web designer 18 years and a teacher for 15; so you could say it is in his blood to help others learn grow their start-up and entrepreneurial ideas. He has taught everyone from Thai royalty to entrepreneurs with new ideas and big dreams. He recently won the Entrepreneur of the Year Award here in Thailand and successfully created a training and consultancy center that attracts people from all over the globe.
He is a keen and well known public speaker and has spoken at the top Universities in Bangkok as well as for the United Nations around South East Asia. He is best known for his wealth of experience in the field of User eXperience Design. Through his UX consultancy he has been lucky enough to work with companies ranging from Adobe and Thomson Reuters to first time entrepreneurs and startups.
Favourite quote "If you can't explain it simply, you don't understand it well enough." - Albert Einstein
------------------------
AGENDA:
7:00 pm - Networking
7:20 pm - Talk starts
8:00 pm - Q&A
8:30 pm - Final Words & Networking
-----------------------------
WHERE?
Launchpad Co-working Space (Sethiwan Tower)
139 Pan Road, Sethiwan Tower,
Silom, Bangrak, Bangkok 10500, Thailand
https://goo.gl/maps/agSnbCLpfEJ2
------------------------------
LOOKING FOR THE NEXT SPEAKERS
PS: We are always looking for new speakers.
If you are interested, please send us an email at jeremie@morphos.is
------------------------------
JOIN US ON FACEBOOK
Join our Facebook Group: https://www.facebook.com/groups/bkkweb/
-----
Your Event Organizers,
http://morphos.is
http://firecreekweb.com