Event Information
Refund Policy
Contact the organizer to request a refund.
Eventbrite's fee is nonrefundable.
About this Event
People everywhere are desperate for change. We live in very challenging times and the personal struggles are many. We know the key to real and enduring change is to first change ourselves by bringing forth our hidden potentials and stepping into our own authentic genius. Become an agent of change for yourself and a source of inspiration for others with the 12 Essentials of Life Mastery.
If you really want to change your life, start immediately. Osho
The 12 Essentials of Life Mastery is a complete program for radical self-healing and revolutionary life change. Created by Certified Master Integral Consciousness Coach, Jyoti Ma, this breakthrough system has been used by hundreds of people to dramatically improve their lives. 
Weekly meetings every Wednesday - February 12 to April 29, 2020- 7:00 - 8:30 PM Mountain Time
The program starts February 12 and meets once a week by online video meetings for 12 weeks through April 29, 2020. Each week you will explore one of the 12 Essentials of Life Mastery - and get access to highly-effective, rare and unique, integral consciousness tools that help you apply these timeless principles to permanently transform yourself and your life. You will learn how to:
Integrate your higher awareness into every encounter
Master relationships
Let go of old patterns and behaviors
Go deeply into self-analysis and increase self-awareness
Get in touch with your Inner Genius
Transform fear into power
Act from your core values
Master your time
Bring forth the powers of integral consciousness
Seek deeper meaning
Build conscious community
Use powerful methods for self-healing
Discover your true purpose in life
Adopt a healthy, holistic lifestyle
Live in faith, certainty and trust
Integral consciousness is a way of perceiving yourself and the world that frees you from unconscious limitations. These principles are found in all of the great consciousness traditions for human spiritual awakening. You can go beyond the 3-dimensional mind and get in touch with a source of awareness that is limitless!
Over the next twelve weeks, you will learn these 12 core principles and practices that bring about extraordinary life change. The 12 Essentials of Life Mastery is a complete system for personal development that puts the power of transformation in your own hands in practical and engaging ways.
Join this exclusive program and get the all of the rewards and benefits you deserve! Sign up now and invite your friends to join you on this adventure into higher consciousness and meaningful life change!
Here's what people are saying about their experiences with the 12 Essentials of Life Mastery:
"The program has helped me release a lot of blocks in my life to help me move forward to live a more productive, prosperous life, full of joy and abundance. It has helped me be at peace with my life experiences and given me deeper spiritual experiences with the divine." JD
"The 12 Essentials of Life Mastery changed my life. They brought me to a higher level of awareness and consciousness. I have a higher level of inner power and stability to live my life intentionally, powerfully and purposefully. I have been able to release the things that were holding me back." DB
"The way I think and view the world has changed so much for the good since I began working with the 12 Essentials." DM
"One of the biggest realizations I've had is to see how I identify myself. Being able to let of identifying with my personal issues was huge." TW
"I'm closer to my values and what I really want. I'm coming closer to my real self." MS
"This journey has expanded my consciousness through the experiences it has given me. I feel unlimited now that I am in better touch with my inner self." JN
"Working with Jyoti Ma has truly been the catalyst for change in my life and for that I am truly grateful. I've experienced unbounded love, compassion and skillful guidance." MJ
"This path of healing has provided me with the perfect combination of experiential learning with the amazing tools and techniques, and wisdom gained through the training sessions and one-on-one mentoring sessions. I have been empowered to gain true freedom from all of the limitations that we so blindly place upon ourselves." RD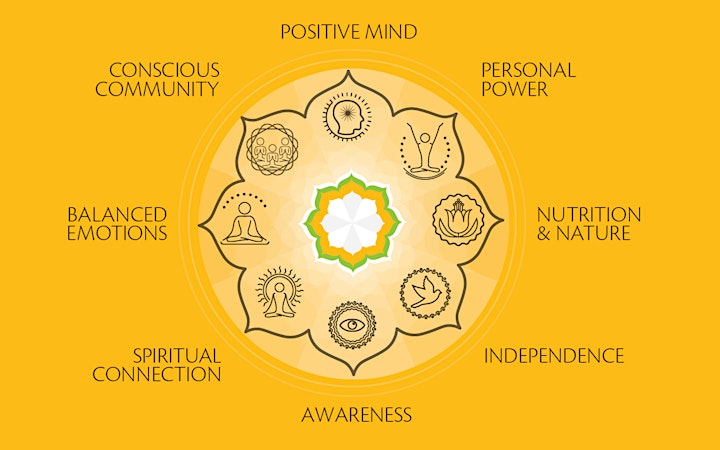 Refund Policy
Contact the organizer to request a refund.
Eventbrite's fee is nonrefundable.