Description
PROTOS FESTIVAL 2017 / Protos Edu Fundraiser
With special guests LOEFAH [UK] & WHEEZ-IE [DET]
___________________________________
Protos Media Arts is proud to present special guest dj sets by electronic pioneer Loefah [UK] & the head of Southern Belle recordings/RBMA grad Wheez-ie [DET] on September 28th for a Protos Edu fundraiser in Austin, Texas. More info at
protosfestival.com/events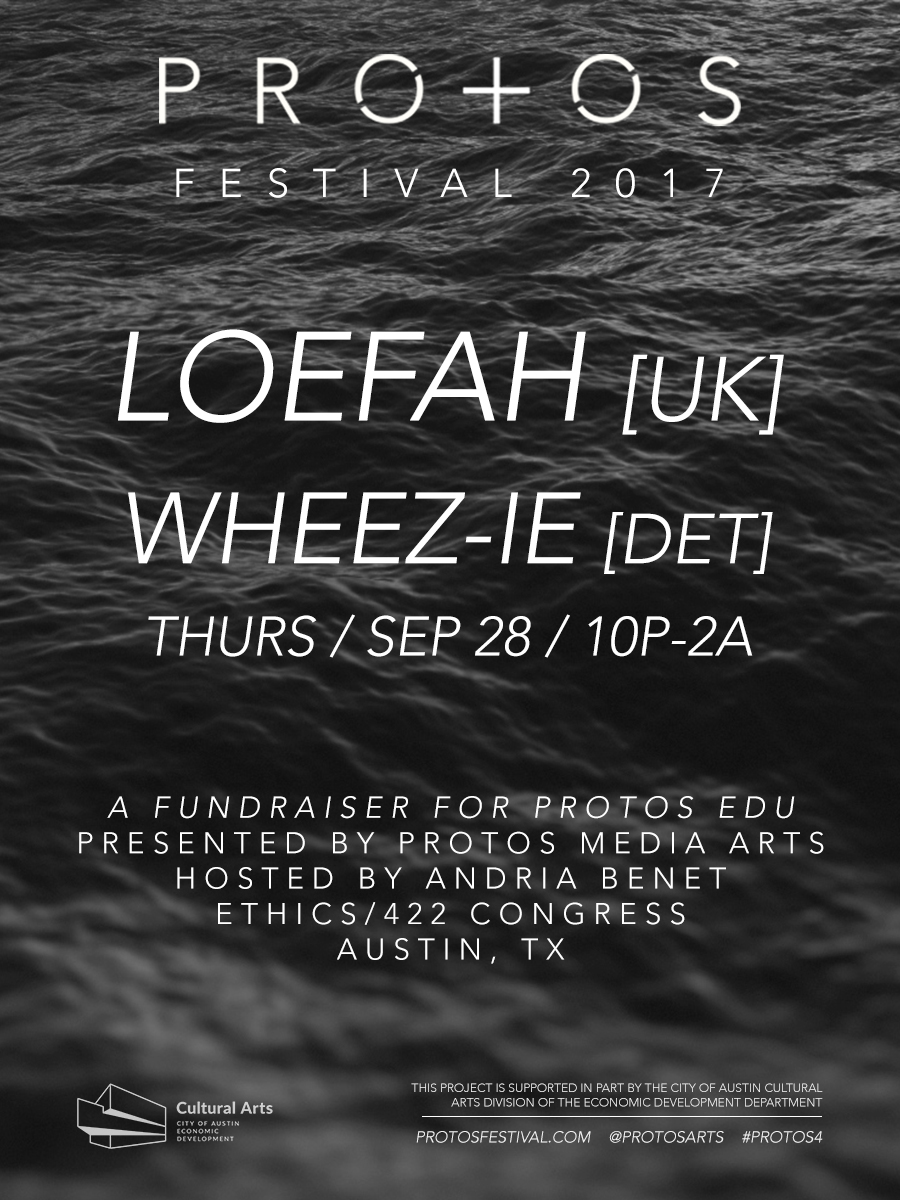 __________________________________
LOEFAH [UK / Swamp81]
Loefah is one of the pioneering founders of dubstep, releasing on one of the labels involved in the genre's genesis DMZ. Loefah started off collaborating with the Digital Mystikz on the DMZ nights run in Brixton and was part of Mary Anne Hobbs' Dubstep Warz radio show that contributed to breaking the genre to the mainstream. He was known for having a dark and minimal style that used powerful basslines and menacing vocal samples... Around 2007 he moved onto UK Bass music and founded the record label Swamp 81 that has released records such as Addison Groove's Footcrab. His label holds a regular show on Rinse FM -- via Wiki / On the web:
facebook.com/loefahofficial
WHEEZ-IE [DET / Southern Belle]
Hailing from Detroit, Michigan, Wheez-ie is 27-year old asthmatic DJ and Producer Matt Mauldin. While being known as "Your favorite Dj's favorite Dj," Wheez-ie
always explores uncharted territory. With releases on Fools Gold, Trouble & Bass, Well Rounded, Embassy, Freshmore, Frite Nite, and Basshead Music, he is constantly in demand. Wheez-ie has been featured on websites and in magazines such as Xlr8r, Resident Advisor, Dj Mag, Dj Mag Korea, Thump, Do Androids Dance, Fact Mag and Mixmag. While annihilating dance floors is his favorite pastime, Wheez-ie really enjoys long slow walks on the beach and the faint scent of lilacs in the distance. In 2014 Wheez-ie's label Southern Belle Recordings premiered with Dj Rashad's "We On 1." Rashad's release was featured on Pitchfork, The Fader, The Wire, Resident Advisor, Mixmag, and many others facebook.com/djwheezie
THE FUNDRAISER
This is a fundraiser benefiting the organization Protos Media Arts and its causes, specifically the Protos Edu pilot project bringing electronic music and arts education to underserved Austin youth in partnership with local artists, fellow nonprofits and businesses. Learn more/donate here:
protosfestival.com/support
THE FESTIVALPROTOS FESTIVAL presented by PROTOS MEDIA ARTS
Protos means "first,". It is derived from the ancient Greek πρῶτος. Protos is the first electronic music and digital arts nonprofit festival in Austin. Protos has been showcasing art and technology in Austin since 2013. Protos Festival 2017 spans August to September and features two women's events with innovative, pioneering women working across art, tech and social impact; and will feature two more events focused on electronic music innovators and pioneers in September. Protos Media Arts is the nonprofit organization producing Protos Festival and its live event series including exhibitions, performances and more; Protos TV, the web series about innovators at the forefront of their fields in art, tech and music; Protos Edu, community-based educational projects online and in the field; Protos Radio - including live event mixes, interviews and shows; Protos Art + Tech Labs - demos paired with short format workshops, panels and/or presentations; and Austin Art + Tech aka ATXAT, a social/civic startup and meetup series / Protos on the web: @protosarts
---
Doors @ 9P. Performances @ 10P. Schedule subject to change. Check email/web
Tickets on sale Sep 4. Very limited earlybird on sale until gone
Venue, schedule and lineup subject to change. Check email/web
---
VOLUNTEER
---
All press and media must be pre-approved. No exceptions and no unathorized media will be allowed.
To cover the event, please email andria [at] protosfestival.com
____________________________________________
This project is supported in part by the City of Austin Cultural Arts Division of the Economic Development Department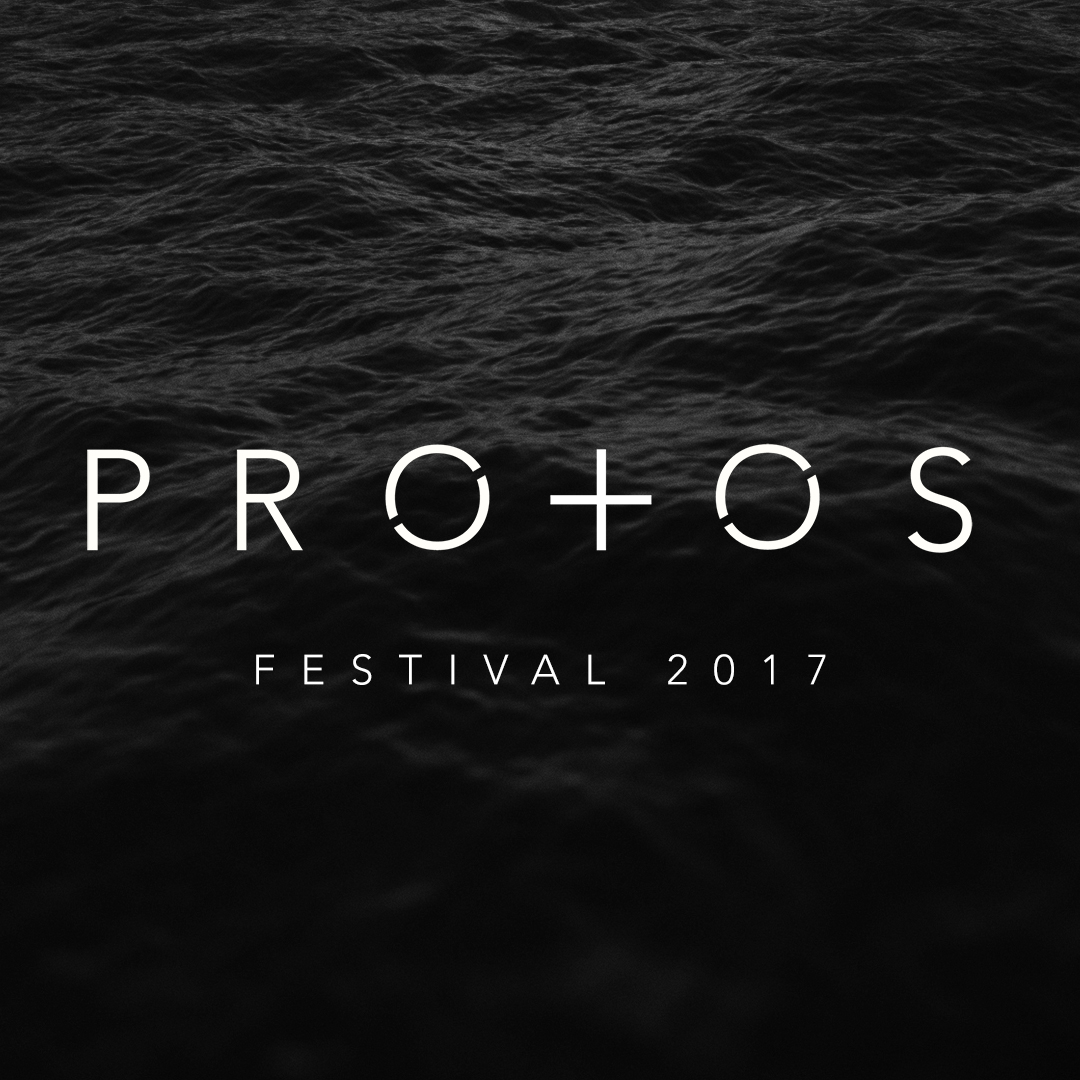 Protos Festival runs from August to September of 2017 this year. Ode on Sep 28th is the finale exhibition event and fundraiser for the festival. We may have a few more one-off panels, demos, performances or other events later in 2017 and begin our pilot electronic music education project this year. Otherwise we resume activities in 2018!
---
THE ARTISTS + HOST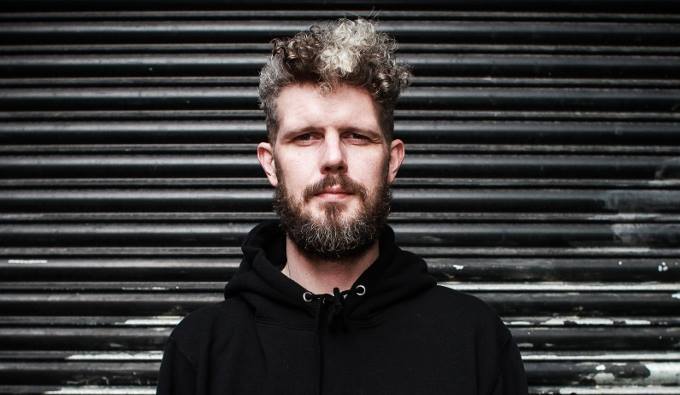 Loefah aka Peter Livingston. Photographer: Unknown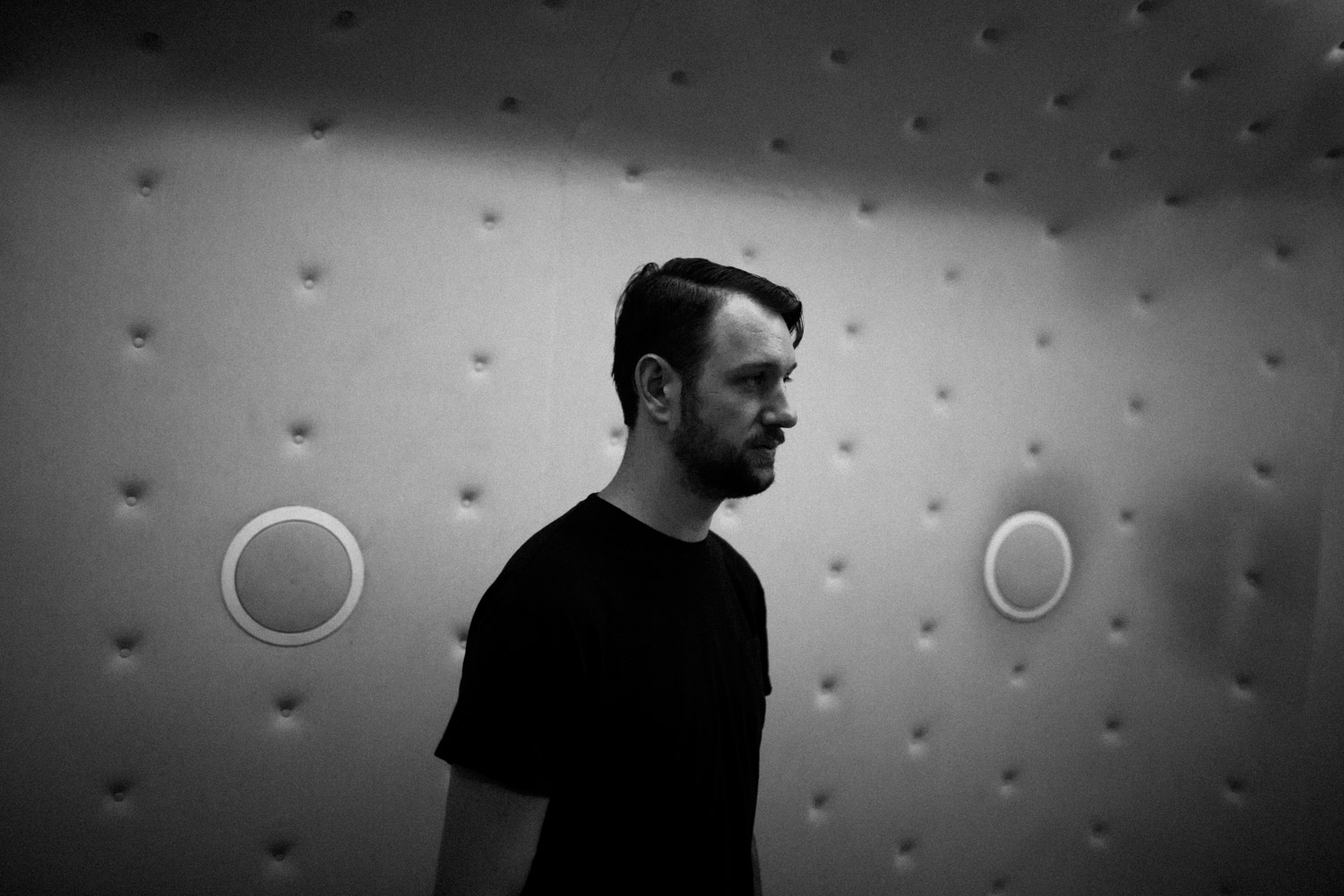 Wheez-ie aka Matt Mauldin. Photographer: Dan Wilton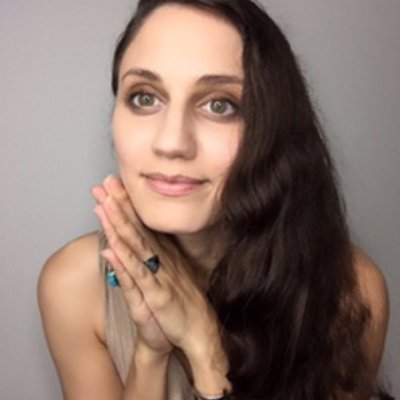 Andria Benet. Self portrait