Description
---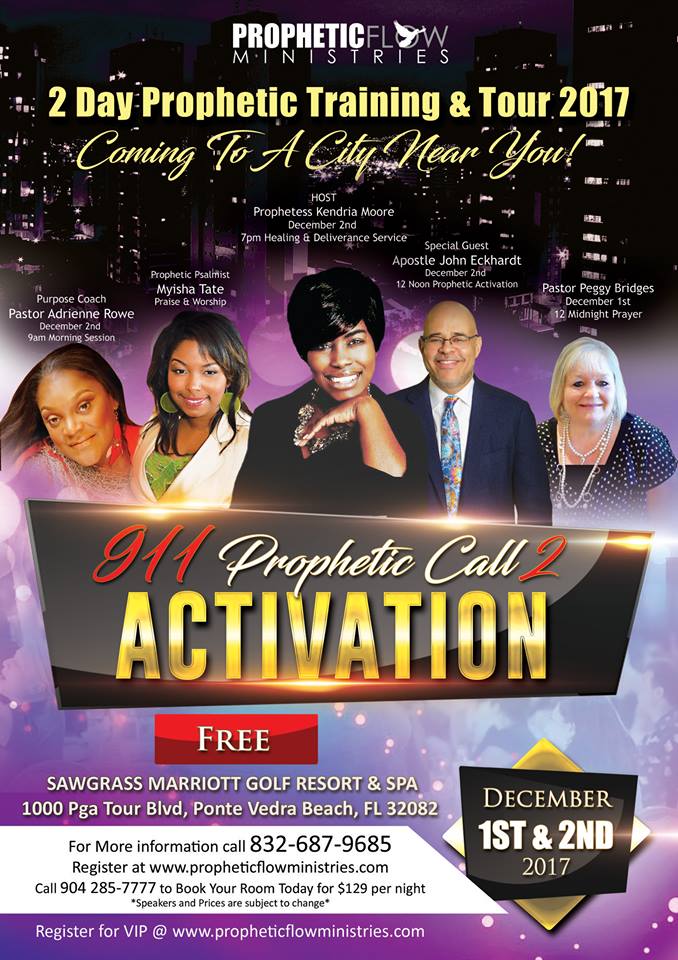 WHEN IS THE REVIVAL?
The Revival will take place on December 1st - 2nd, 2017.
WHERE IS THE REVIVAL?
Sawgrass Marriott Golf Resort & Spa, 1000 Pga Tour Blvd, Ponte Vedra Beach, FL 32082. For room reservations please contact The Sawgrass Marriott Golf & Resort at 904-285-7777. For questions about the Revival, please contact Prophetic Flow Ministries Staff at 832-687-9685.
CAN REGISTRANTS PICK UP THEIR BADGES EARLY?
Yes. Registrants are encouraged to pick up their badges on Friday, December 1st, from 10pm to 12 Midnight (during will call hours) or Saturday Morning, December 2nd @ 9am. If not, they can pick them up at 12 Midnight when the doors open.
WHAT SHOULD I WEAR TO THE REVIVAL?
The dress code for the registrants is casual. Registrants are encouraged to dress comfortably and wear shoes that allow for extended standing, kneeling or walking. This is a weekend where you will be allowed to be you!
HOW MUCH DOES IT COST TO PARK AT THE REVIVAL?
Discounted Parking is $10 (per day included or this fee may be included in the room rate)
HOW DO I GET THERE?
To map directions to Sawgrass Marriott Golf Resort & Spa, please visit www.sawgrassmarriott.com or click on the map to the right.
WHAT TIME SHOULD I ARRIVE TO THE REVIVAL?
Doors will open approximately 45mins to 1hr before each service/training. All registrants are encouraged to arrive at least 1 hour before all services; however, all seats are on a first-come basis and will fill up quickly.
WHAT IF MY BADGE IS LOST OR STOLEN?
Badges will not be replaced. All registrants will sign for badges. It is very important that registrants keep up with their badges.
WHAT IF I AM LATE?
We strongly encourage registrants to arrive early to the event, seating is on a first-come basis. There will be people traveling from all over the world, so please be as early as possible! If you are late, we will gladly point you in the right direction upon your arrival.
WILL I BE ABLE TO COME BACK INTO THE REVIVAL ONCE I'VE LEFT?
Yes. Registrants will be able to exit and re-enter. For security purposes, all registrants will be required to wear badges at all times during entry and exit unless they are sitting the general sections.
ARE CAMERAS ALLOWED?
Cameras are permitted; however, no camcorders or tripods of any kind will be permitted at the revival. We will be screening bags upon entry, and camcorders and recording devices will not be allowed under any circumstance. Please avoid having these items in your possession upon entering the facility.
ARE CELL PHONES ALLOWED?
Yes. However, we ask that you please turn them to vibrate or silent so that it does not interfere with the revival. We also ask that you do not use your cell phones as video recording devices. All services will be recorded and allowed for purchase after each service. We request that there be limited walking while the speaker is up, unless there is an emergency.
WILL THE EVENT HAVE WHEELCHAIR ACCESS?
Yes. We will have wheelchair access. If you are in need of these services, please let our team know.
CAN I BRING MY BABY/CHILD OR WILL THERE BE CHILDCARE?
Anyone who will be sitting in a seat must register. However, we will be at the hotel the entire weekend and if parents want to bring their children and allow them to stay in the hotel room for the duration of the event, that is totally up to the individual parents! Either way, PFM will not be responsible for any injuries of attended and unattended children nor will Sawgrass Marriott Hotel Restort & Spa be responsible.
WHAT IF I SHOUT OR FALL UNDER THE POWER OF THE LORD AND GET INJURED?
Prophetic Flow Ministries nor Sawgrass Marriott Hotel Restort & Spa will be responsible for any injuries while falling under the power of God. If you decide to go in line/alter and get prayed for, it is at your OWN RISK. We cannot guarantee that you will not fall, nor will we take responsibility if you are injured. We pray that this will not be the case, but in the event it does and you try to sue PFM or Houston Marriott North, we will not be responsible, however, you will be responsible for all legal charges and medical bills.
ARE THERE GIFT BAGS?
Registrants will receive a gift from Prophetic Flow Ministries and a Program with a section to take notes.
WILL FOOD BE AVAILABLE?
There will be sweets and treats and healthy snack packs that you can purchase for a small fee. All attendees will be able to purchase breakfast, lunch and dinner downstairs in the main lobby at the hotel restaurant. For more information about the menu options please visit www.sawgrassmarriott.com.
WHAT OTHER ACTIVITIES CAN I PARTICIPATE IN?
You will be able to visit the speakers/vendors tables to purchase merchandise and or products.
CAN I MEET OR GET AUTOGRAPHS FROM THE PFM GUEST SPEAKER?
Time will be alloted for autographs and photos opportunities.
CAN I BRING A CARD/GIFT FOR THE HOST OR GUEST SPEAKER?
Yes, gift cards will be accepted ONLY. Though it is NOT REQUIRED. Thank you for your kindness, thoughts and considerations, in advance.
I'M TRAVELING TO PONTE VEDRA BEACH, FLORIDA FOR THIS 2 DAY TOUR, WHERE CAN I STAY?
Sawgrass Marriott Hotel Restort & Spa 1000 Pga Tour Blvd, Ponte Vedra Beach, FL 32082. For special rates please contact Sawgrass Marriott Hotel Resort & Spa at 904-285-7777 and mention Prophetic Flow Ministries. Friday Night and Saturday Night rates are $129 per night, not including taxes and hotel fees. There will be a small incidental fee charged to each room. Please have a credit card or cash available for this charge or you will have the option to block all incidentals.
WILL THERE BE A PFM EVENT IN OTHER CITIES?
Currently, we are planning a Nationwide Tour, we will update you on the outlook for upcoming flyers.
WHEN CAN I PURCHASE TICKETS FOR THE REVIVAL?
NOW! REGISTER FOR VIP (GUARANTEED SEATING) HERE! HOWEVER, GENERAL ADMISSION IS FREE!
HOW MUCH DO TICKETS COST AND WHAT DO THEY INCLUDE?
VIP ADMISSION: $39 – Includes Midnight Prayer, Trainings with the 3 Speakers. All seating will be on a first come basis. The speaker's may move around the room because the sessions are intimate. Please note that the sessions will be geared to take you to the next level. You don't want to miss out! HOWEVER THE SERVICE ARE FREE, VIP IS ONLY FOR GUARANTEED SEATING!!!!
HOW MANY PEOPLE CAN I REGISTER AT A TIME?
There is NO LIMIT. However, group registration is available with 25 people or more. Please contact Prophetic Flow Ministries for discount rates.
IF WE DON'T REGISTER TOGETHER, CAN WE STILL SIT TOGETHER?
Services/Trainings are on a first-come basis. Since they fill up quickly, registrants are encouraged to arrive at the same time so that they may sit together.
IS THERE A MINIMUM AGE FOR ATTENDING THE REVIVAL?
No. Any age can attend. However, we recommend that if the child is not able to sit in the lap of the parent, the child must register at the regular price(s) if they sit in the VIP Section otherwise the tour is free.
CAN MEN ATTEND?
Anyone can attend!
CAN I CANCEL MY REGISTRATION IF I HAVE ALREADY PAID?
All ticket purchases and payments are non- refundable and non-transferable. Some transfers may be granted only with the permission of the Host due to the individual circustances however, this option is not guaranteed.
CAN I PURCHASE TICKETS ON-SITE?
Due to high demand for the trainings, tickets typically sell out prior to the date. We encourage those interested in attending to purchase their tickets as soon as possible. In the rare event that tickets are still available, they will be offered for sale at the hotel facility.
HOW LONG IS EACH SERVICE?
Friday Night Service with Pastor Peggy Bridges will start at 12 Midnight - 3am; Saturday, The Purpose Coach - Pastor Adrienne Rowe'sTraining will start at 9am to 11:00am; Lunch from 11am to 12noon; Apostle John Eckhardt's Prophetic Activation will start at 12 noon to 3 pm and the Healing & Deliverance Service with Prophetess Kendria Moore will be from 6pm til 11pm. Due to the leading of the Holy Spirit, we cannot guarantee that the services will end at the said time. This is only an estimate of what we anticipate, however, we do have a midnight cut off in the room both nights.
ARE THERE ASSIGNED SEATS IN THE SERVICES/SEMINAR?
All seating is on a first-come basis. There will be no assigned seats, unless those assigned by the Host.
IS SEMINAR INTERACTIVE?
The seminar may involve audience interaction; however, the level of interactivity will depend on the speaker and the leading of the Holy Spirit.

AM I ALLOWED TO LAY HANDS ON PEOPLE AND PRAY FOR THEM DURING THE SERVICES?
No. We ask that the Speaker will be the only one to lay hands on the people, unless instructed by the Host or the Speaker. Please refrain from releasing prophetic words, laying hands or anything that may cause confusion or a misunderstanding. If you have something that the Lord has put on your heart to release, we welcome you to contact the Host Representatives and if appropriate, we will follow whatever protocol is in place at that time. Our commitment is in doing things in decent and in order.
CAN I LAY ON THE ALTER DURING WORSHIP OR PRAYER?
Yes, we encourage you to worship freely. If you need to lay on the alter, please do so, we will not hinder the move of God!
****BREAKING NEWS****
WE HAVE A CHARTER BUS TRAVELING FROM HOUSTON TO JACKSONVILLE. FOR MORE INFORMATION CALL OUR OFFICE BELOW.

*ONSITE, PLEASE MAKE SURE TO CLEAN UP AFTER YOURSELF IN ALL OF THE RESTROOMS & TRAINING AREAS. THANK YOU ALL FOR YOUR COMMITMENT TO MAKING THE TRAININGS A SUCCESS!!!!!!!
***Due to the recent unforseen storm in Florida, we have decided to relaunch the tour with new dates. Please note that all fees would be transfered to this new date and there will be no refunds***

-PFM STAFF-
832-687-9685