Description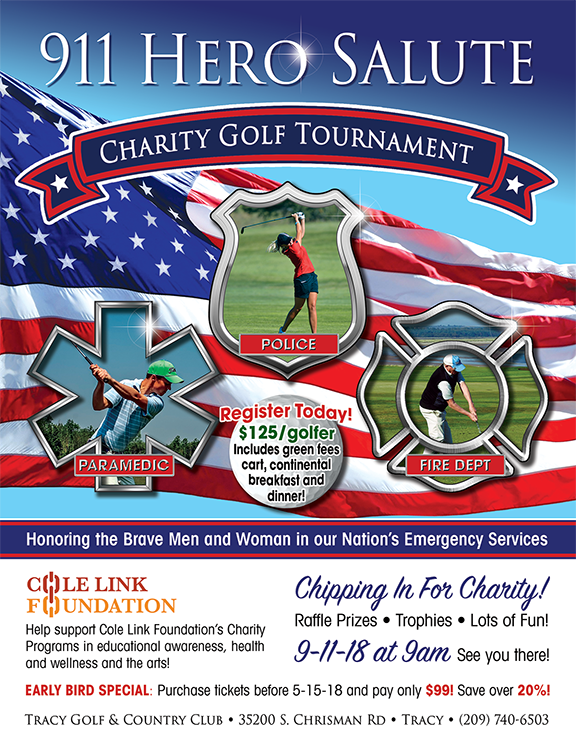 ---
On September 11, 2018, you're invited to join us at the 911 Hero Salute Charity Golf Tournament in Tracy, California, presented by Cole Link Foundation. Our spectacular golf event will be filled with food, raffle prizes, trophies and lots of fun to keep everyone "Chipping In for Charity!

$125 per golfer includes green fees, golf cart, continental breakfast and dinner!
EARLY BIRD SPECIAL: Purchase tickets before 5-15-18 and pay only $99! Save over 20%!

Cole Link Foundation Charity Programs
• Educational Awareness
• Health & Wellness
• The Arts

If you can't attend the event, you can support us ... MAKE A DONATION TODAY.
We look forward to your participation and truly hope to see you there!

---
HELP US HELP OTHERS
Proceeds From the Event Go Toward Worthy Charity Programs

The Golden Linkettes Dancers
Everyone loves dance … especially the children in our youth outreach dance programs! Through the power of music and dance, we bring high quality arts education and
performance opportunities directly to the children of this community, thereby enhancing their sense of self-worth, achievement and quality of life.

Car Seats for Kids
No child should die or get injured because they were not protected by a car seat. We want to ensure that every infant, toddler and child has adequate car seat options to keep them safe. Your donation will go towards the purchase of needed car seats or booster seats for Pueblo Indian children in New Mexico so Indian families can travel safely.

House to Home
Cole Link Foundation's House to Home program repairs and renovates houses, assuring that low-income homeowners live in safe, healthy homes. In addition, our House to Home Apprenticeship program is a long-term investment in people, designed to provide certified skill training to move people from unemployment to work.