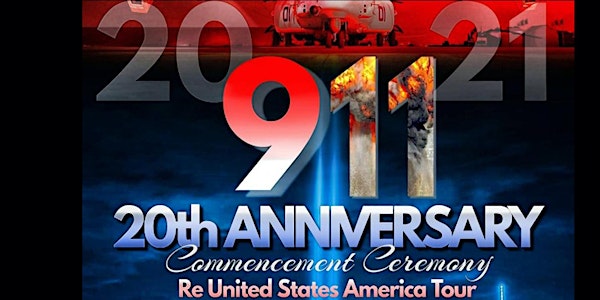 9/11 20th Anniversary Remembrance Event [FAMILY-FRIENDLY!]
9/11 20th Anniversary Remembrance Event & Launch of The Re - United States of America Tour [FAMILY-FRIENDLY!]
When and where
Location
The Hangar 1011-1165 Arlington Drive Costa Mesa, CA 92626
About this event
Power of One Foundation & Patriot's Voice present The Re - United States of America Tour. This year marks the 20th Anniversary of a day that shook America and saw the best of our Military, First Responders, Health Care Workers, and everyday citizens.
This historic event will take place at The Hanger at Orange County Fairgrounds in front of a small audience. It will be live-streamed. What better way to recognize those who sacrificed their lives or served on this sad day in American history? It is a day of Patriotism. A true reflection of the fabric of 9/11 America coming together to re-count the events of 9-11 and pay respect to the precious lives lost that day 20 years ago.As Americans we are as diverse in our individual beliefs and cultures as we are in our choice of music and entertainment. There will be special celebrity guest speakers from heroic military members and first responders to Patriotic celebrities to Representatives from the House and the Senate, as well as musicians from all genres (classical to contemporary).With hosts Jack Scalia & Andre Lafelle, special celebrity support from Al Jardine, Gary Sinise, Joe Montagna, & Melba Moore, live performances by Melanie Andrews, Elliot McKenzie, Meangirl, and Andre Lafelle. Home Depot will have a kid's craft clinic, the Foundation of Orange is providing a remembrance area to honor those lost, and lots more!
Re-Uniting the United States is the theme for this day and every day.
Remembrance for those who gave their all on 9-11-2001.
Respect for Military, First Responders and everyday citizens who answer the call, run into danger to protect lives and freedom).
Resilience of the American Spirit.
We invite you to join us on this special day.