9/11 (2012) Take ACTION.... Counter CAIR/HAMAS in Fla Schools All Star line-up Local & National Speakers!!!

Tuesday, September 11, 2012 from 1:00 PM to 9:00 PM (EDT)
Event Details

State wide Rally/Press Conf @ Tampa School Board on 9/11 
To demand Policy to BAN CAIR from the Classroom!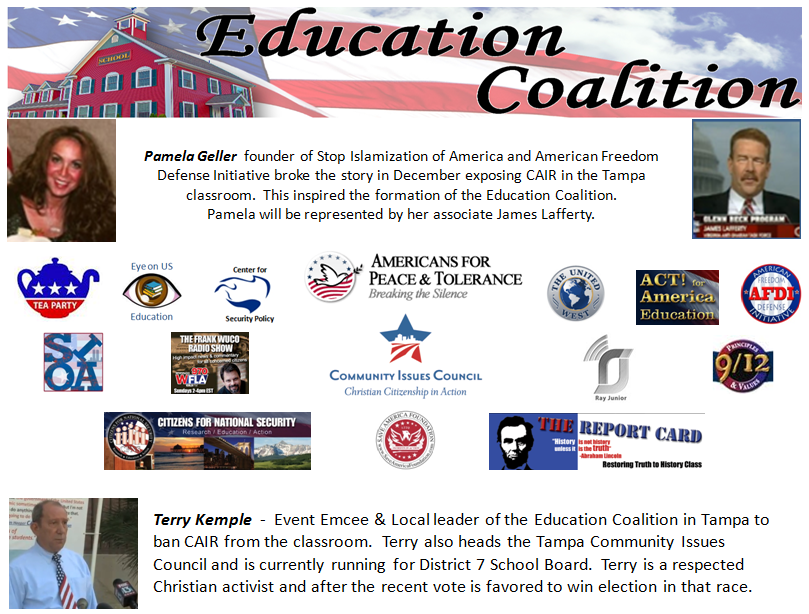 The Education Coalition is proud to host the following special guest speakers in our effort to ban CAIR from the classroom: 
At two events….Afternoon Rally & Press Conference followed by an Evening 9/11 Remembrance & Screening of film "Losing our Sons"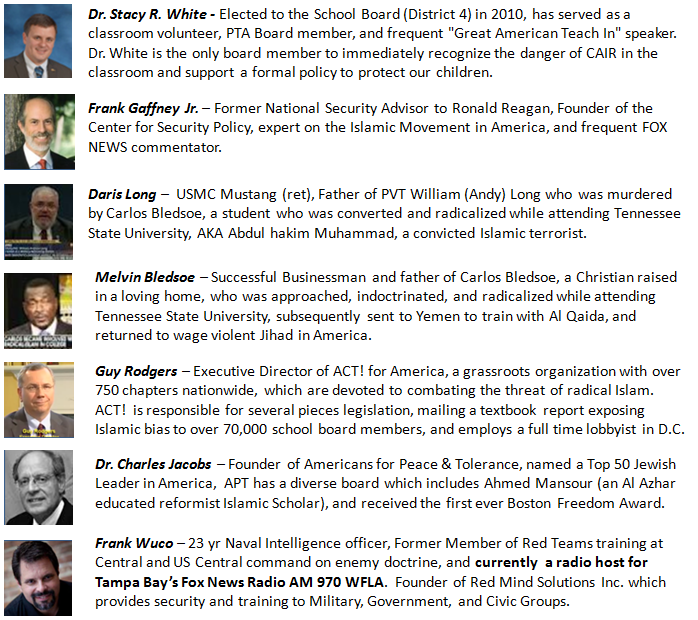 Attend one or both…. 1:00 PM Rally & Press Conference @ School Board
OR  
6:00 PM 9/11 Remembrance Event @ River Church

RSVP & BUS Tickets  http://911rallytampa2bancair.eventbrite.com/ 
ITINERARY     (NOTE:  Buses for travel can be arranged from select cities) 
11:30 am:  (Optional) attend the annual 9/11 Prayer Vigil with Jesten Peters @ Joe Chillura Park across the street from the Hillsborough County Center, 601 E. Kennedy Blvd., Tampa Florida.  
1:00 pm:  Meet & Assemble @ Joe Chillura Park, march (2 blocks) to the School Board for Rally & Press Conference @ Hillsborough County School Board, 901 E. Kennedy Blvd., Tampa Florida.  Rally open to all who oppose CAIR in the Classroom.  Respectfully request that you join us & share this information with all like minded PATRIOTS in your sphere of influence… this is a statewide request. 
2:00 pm:  Press Conference in front of Hillsborough County School Board.  Contact Terry Kemple tkemple@integrity.com or Randy McDaniels actjacksonville@gmail.com if your organization would like to participate in the press conference. 
3:00 pm:  Comments for formal policy to ban CAIR in front of board members.  In event our item is removed from the agenda, comments will be at 5:00 pm by select representatives of the Education Coalition.  All others can break for dinner and travel to church at this time for briefing and screening of "Losing our Sons" @ The River Church.
5:45 pm:  Doors open @ River Church for briefing Nationally Recognized Speakers listed above and others to be named later.  The River Church is located at 3738 River International Drive, Tampa Florida, 33610. 
6:30 – 9:00 pm:  9/11 ceremony, Security Briefing and screening of "Losing our Sons". 

FOR EIGHT (8) MONTHS THE FIGHT HAS BEEN WAGING….see select articles/videos (click links below):
 Expert Endoresed By CIA & DIA sends letter to Tampa School board
Video 1st of Press Conference requesting CAIR/HAMAS out of School
Who is Hassan Shibly of CAIR....and why is he a danger?
Atlas Shrugs:  Article Father of Terrorist Pleads with School Board
Video and Full Article.... with All Speakers and details.... a MUST READ

Join the following groups in TAMPA on September 11th, 2012 and BE A CITIZEN HERO!
 Education Coalition, Tampa TEA Party, Tampa 912, Eye on US Education, Stop Islamization of America, ACT! for America, Citizens for National Security, thereportcard.org, The River Church, The United West, Florida Assessment Committee on Education, American Freedom Defense Initiative, Community Issues Council, Center for Security Policy, and others…    WE CAN'T DO IT WITH OUT YOU!    HELP US MAKE THIS THE BIGGEST 9/11 RALLY IN THE HISTORY OF FLORIDA… AND MAKE THIS ISSUE SO LARGE IT CAN'T BE IGNORED!!!!!
 BE A HERO… Add your Group to the LIST Above !
SPECIAL Thanks:  Sharon Calvert – Tampa TEA Party, Tim Curtis & Kimberly Kelly – Tampa 912, Pastor Rodney – River Church, Larissa Scott – Pinellas Patriots, Randy McDaniels – ACT! for America, Jacksonville who initiated the formation of the Education Coalition and this event, Brian Rubright - Web Designer for www.secure-our-schools.com , Bill Korach – thereportcard.org, Sid Van Landingham – United Conservative groups, Sheri Krass & Alison Rampersad – EUSE, Diane Kepus & Karen Schoen – F.A.C.E and all others who have worked to make the Education Coalition a force for good.
When & Where
901 E. Kennedy Blvd
Tampa, 33610


Tuesday, September 11, 2012 from 1:00 PM to 9:00 PM (EDT)
Add to my calendar
Organizer
ACT! for America - Jacksonville Chapter
America's most powerful grassroots citizen action network, commtted to informed and coordinated civic action that is leading way in promoting public policies that promote America's National Security and the defense of American Democratic Values agains the assault of Radical Islam.
9/11 (2012) Take ACTION.... Counter CAIR/HAMAS in Fla Schools All Star line-up Local & National Speakers!!!