About this Event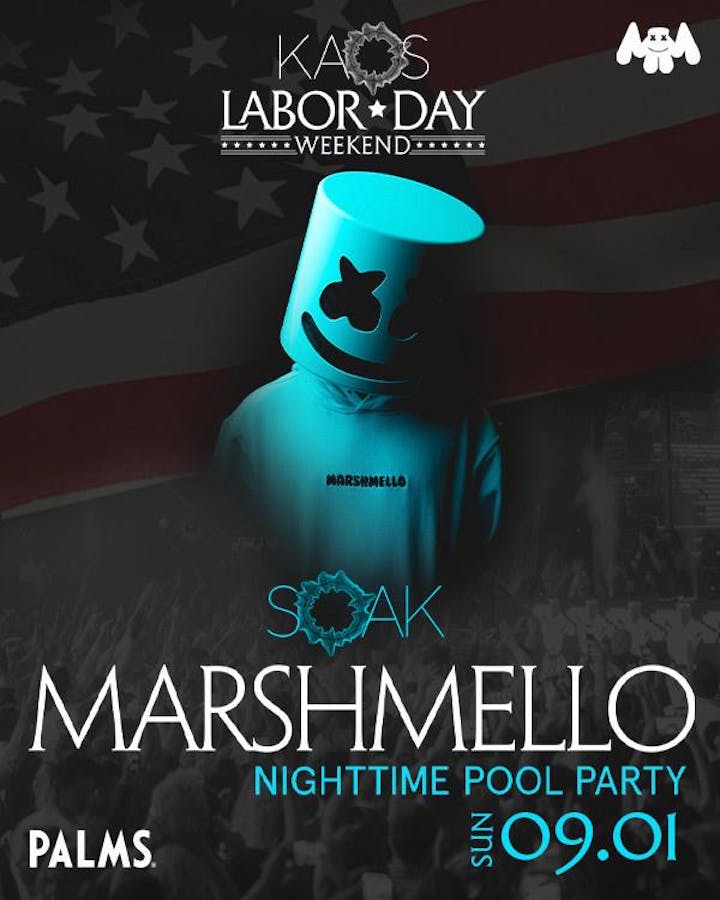 9.1 Marshmello SOAK Sunday Nightswim Labor Day Weekend Party @ KAOS in Las Vegas on September 1st, Sunday Night.
IMPORTANT INFO - YOUR EVENTBRITE TICKET IS NOT A TICKET!!!
THIS IS A FREE GUEST LIST TICKET, NOT PREPURCHASED — PLEASE ASK FOR GUEST LIST CHECK IN LINE UPON ARRIVAL
GUEST LIST DETAILS WILL BE SENT THE WEEK OF THE EVENT.
YOU WILL RECEIVE A CONFIRMATION TEXT AND A WEB LINK (FOR QR CODE) A FEW DAYS BEFORE YOUR EVENT. YOUR NAME WILL BE ON THE GUESTLIST. HAVE AT LEAST 1 OF THESE 2 THINGS WHEN CHECKING IN:
1. Your guestlist confirmation text
2. Your QR code from the link you received
AGAIN, THESE WILL BE SENT TO YOU SHORTLY BEFORE YOUR EVENT!
Management reserves all rights.
Please note that groups with ALL MALES cannot get on the guest list. Groups must be an even ratio (at least as many girls to guys) or more girls to use the guest list.
DRESSCODE
Dress Code (Nightclub) Upscale fashionable attire required, collared shirts recommended for men. NO hats, mens shorts, flip flops, mens tank tops, athletic sneakers, athletic wear, jerseys, branded apparel, ripped clothing, oversized clothing or saggy jeans, steel toe work boots, slippers, sunglasses
Dress Code (Dayclub) Fashionable day club attire required. NO vulgar, offensive, transparent, torn clothing, jeans, long pants. No oversized or baggy clothing. No exposed undergarments. Footwear required to enter and exit the venue.
Overview
The BRAND NEW MEGA CLUB, KAOS, is a 100,000-square-foot, multi-level dayclub and nightclub with a massive glass wall-operable door dividing indoor and outdoor spaces, a DJ booth that rotates 360 degrees, a supplemental dome cover that will make it a year-round destination and a 65-foot bronze sculpture of a headless demon. KAOS takes over spaces previously occupied by the Palms pool and the Rain nightclub. KAOS will be the first Vegas megaclub to be built as a year-round venue. Its nightclub space, "takes inspiration from a modern playhouse, with art and architecture working hand in hand to create a surreal, ever-shifting experience."
KAOS Dayclub includes private cabanas—39 of them across multiple levels—with sparkling glass pools jutting out over and around the crowd, people dancing and splashing inside them. This could happen at KAOS' "luxe Greek-inspired oasis" dayclub, as most of its cabanas will feature cantilevered glass pools. Besides the rotating DJ booth that sits at the center of the indoor and outdoor areas, the pool club portion also features an additional stage and live entertainment performance space and "the city's largest LED wall" on the eastern side of the hotel's Ivory Tower, streaming live shots of the club for Vegas visitors outside the resort to enjoy.