Get ready for an entire night of the best '90s rock delivered by three of the best cover/tribute bands on the scene today.
About this event
at BrauerHouse Lombard [bar stage]
21+
7PM DOORS
The Buzz Worthys transport you back to the 1990s - a decade when genuine rock stars still roamed the earth and MTV still played music videos. Their name derives from the Music Television Network's legendary "Buzz Bin" - which introduced many of us to up and coming artists such as: Alice in Chains, Pearl Jam, Nirvana, Soundgarden, Stone Temple Pilots, Better Than Ezra, Green Day, Gin Blossoms, Eve 6, Bush, Sponge, Toadies, Everclear, Fuel, Silverchair, and many more that can still be heard on classic rock and alternative radio today.
Rhythm Giants are Chicago's best new Alternative Rock Tribute. With the powerful vocals of Zac Johnson, skillful lead guitar playing of Matt Engler, and the super tight rhythm section of Brian Schmidt and Andrew Kolb, this band is a must see.
Grunge Puppets pay tribute to one of the greatest bands of all time, NIRVANA. Not only do The Grunge Puppets capture the music and sound, but also the energy, power, and spirit of one of the most legendary bands of all time. A Grunge Puppets show is the closest thing to an actual Nirvana concert you can experience today.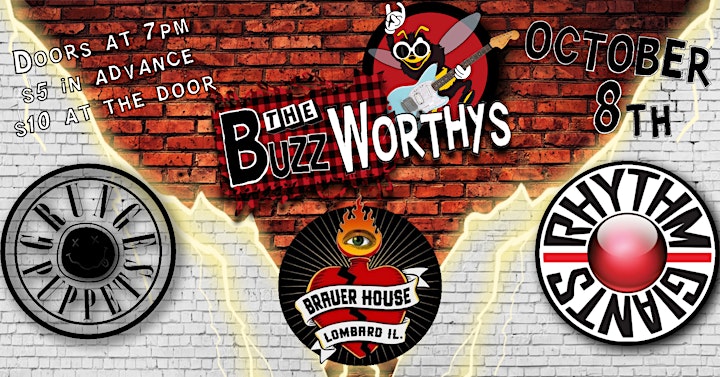 Performers
Date and time
Location
Refund policy
Organizer of '90s Rock Night w/ The Buzz Worthys, Rhythm Giants, and Grunge Puppets