Description
Detroit Center for Design + Technology and curatorial partner, Embrace Creatives presents, Lawrence Technological University student, Jo Caputo's personal journey through hell and back.
Upon the Artist's 9,095th day of life, he will have become older than his older brother. 9095 Days is a photographic representation of pivotal people, places and moments in Artist Jo Caputo's life following the loss of his brother to the opioid epidemic. It ultimately seeks to further the dialogue for those left in the destructive wake of this epidemic and to help one another navigate through the healing process. Please join us for this important and introspective exhibit and be open to discussing the impact this devastating addiction is having on our country.
This is art as a catalyst to recovery.
Caputo's series strives to leave viewers with a feeling of solace, knowing that no one is entirely alone in experiencing a loss of this magnitude. As the annual opioid death toll continues to rise, the artist and viewers are forced to make sense of what remains and how to proceed. Caputo, a student at Lawrence Technological University, seeks to celebrate all those who have helped him on this journey, those who are gone and those who are still here.
---
Jo is grateful to receive resource assistance from Passenger , a support system based in Detroit who's ambition is to make free resources more accessible to those navigating the daily anxieties that accompany traveling in recovery. Meet Passenger at the opening reception.
9095 DAYS presented by: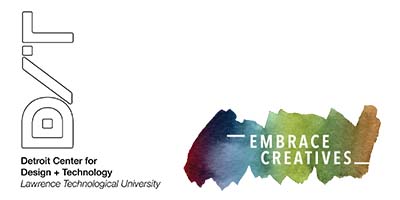 About DCDT

:
The Detroit Center for Design + Technology is the public presence of LTU College of Architecture and Design's transdisciplinary programs on the Woodward Corridor. The DCDT acts as an inclusive platform for the advancement of Detroit's educational, economic and engagement efforts with regard to design, technology and social innovation. The DCDT aligns with local initiatives, programs and organizations that foster and expand the role that design and technology play within our community, growing industry and education.
About Embrace Creatives

:
EC is igniting an empowerment movement for artists through education, connections and opportunities. Like a LinkedIn for Artists, their confidence building, online network connects artists to one another and to commercial art buyers while guiding creative business owners to healthy and strong relationships in a safe space. Free for artists, makers, designers, galleries, retailers, sales reps, architects and anyone who's building a creative enterprise in a mindful way.
About Passenger:
Passenger
was started in response to a lack of recovery options for touring musicians and travelers on the road. Schedules change every day, transportation can be unreliable, and meetings are often unavailable and/or unreachable. What begins as an attempt to relieve anxiety can sometimes create more stress, and for some people, it can be an overwhelming vision. Passenger is a free service that's here to help.