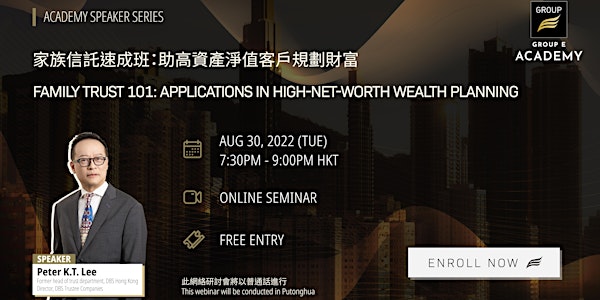 【額滿】免费90分钟家族信托速成班:助高资产净值客户规划财富(普通话)
了解家族信托的重要元素 由高知学院荣誉顾问及首席讲师 李国泰先生主講 (超过 35 年的信托经验;为前星展银行香港信托主管及其信托公司董事局成员)
About this event
(请见以下英文及繁體版本;Please find below the English/ Traditional Chinese version)
由高知学院(Group E Academy)主办 -(免费) 90分钟家族信托速成班:助高资产净值客户规划财富(普通话)
认识家族信托,开发客户的潜在需求
欢迎从事金融/财富管理/保险/税务/合规等领域的朋友参加!
学习目标: 学员将对家族信托和高净值客户的财富规划有更全面及深入的了解,从而能够及时发现未开发的需求并提供相关服务和产品,提升服务专业度。
议程:
日常生活中使用家族信托的例子
金融服务专业人员应该认识信托的理由
信托在当今财富管理服务中的作用,尤其針对高净值客户
信托的定义和目的
简单的家庭信托结构
家庭信托的关键要素
讲者:高知学院荣誉顾问及首席讲师 李国泰先生 (拥有超过 35 年的信托经验;为前星展银行香港信托部门主管及其信托公司董事局成员)
形式:线上研讨会
语言:普通话
关于高知学院:
高知学院(Group E Academy)是行业领先的金融培训机构,为新进财富规划师和从业员提供与时并进的实用信息,提升专业水平。高知学院是高知集团有限公司(Group E Company Limited)旗下的全资附属机构,集团在财富规划的丰富知识及广泛网络,为机构奠下成功的基石。团队拥有丰富的高净值客户财富规划经验 ,分别来自税务、银行、信托和保险等专业界别。
高知学院为业界提供获认可的培训及课程,包括行政文凭课程、短期和持续专业发展课程、研讨会及工作坊等,透过知识、技术及技能转移,协助业界提升竞争力。我们的课程被公认为极具前瞻性和实用性,这源于我们重视理论与实践相结合,务求让金融从业员能够学以致用,为客户提供最适切和全面的建议。
欲了解更多,請訪問 http://groupe.academy/zh-hans
________________________________________________________________
由Group E Academy主辦 -(免費) 90分鐘家族信託速成班:助高資產淨值客戶規劃財富(普通話)
認識家族信託,開發客戶的潛在需求
歡迎從事金融/財富管理/保險/稅務/合規等領域的朋友參加!
學習目標: 學員將對家族信託和高淨值客戶的財富規劃有更全面及深入的了解,從而能夠及時發現未開發的需求並提供相關服務和產品,提升服務專業度。
議程:
日常生活中使用家族信託的例子
金融服務專業人員應該認識信託的理由
信託在當今財富管理服務中的作用,尤其針對高淨值客戶
信託的定義和目的
簡單的家庭信託結構
家庭信託的關鍵要素
講者:Group E Academy榮譽顧問及首席講師 李國泰先生 (擁有超過 35 年的信託經驗;為前星展銀行香港信託部門主管及其信託公司董事局成員)
形式:網上研討會
語言:普通話
關於Group E Academy :
Group E Academy 是行業領先的金融培訓機構,為新進財富規劃師和從業員提供與時並進的實用信息,提升專業水平。高知學院是高知集團有限公司(Group E Company Limited)旗下的全資附屬機構,集團在財富規劃的豐富知識及廣泛網絡,為機構奠下成功的基石。團隊擁有豐富的高淨值客戶財富規劃經驗 ,分別來自稅務、銀行、信託和保險等專業界別。
高知學院為業界提供獲認可的培訓及課程,包括行政文憑課程、短期和持續專業發展課程、研討會及工作坊等,透過知識、技術及技能轉移,協助業界提升競爭力。我們的課程被公認為極具前瞻性和實用性,這源於我們重視理論與實踐相結合,務求讓金融從業員能夠學以致用,為客戶提供最適切和全面的建議。
欲了解更多,請瀏覽網站 http://groupe.academy/
______________________________________________________________________
( Free 90-min Webinar) Family Trusts 101: Applications in High-Net-Worth Wealth Planning - Organised By Group E Academy
Acquire Knowledge in Family Trusts and Discover the Untapped Client Needs.
Friends in finance/wealth management/insurance/ tax/ compliance and other fields are welcome to attend!
Learning Objectives: Participants will develop a thorough understanding on family trusts and wealth planning considerations of High-net-worth clients, thus be able to identify untapped needs and provide relevant services and products in a timely manner.
Agenda:
Daily Life Examples of the Use of Family Trusts
Reasions Why Finanical Service Professionals Should Learn About Trusts
The Role of Trusts in Today's Wealth Management Services Especially for High-net-worth Clients
Definition and Purpose of Trust
Introduction of A Simple Family Trust Structure
Key Elements in Family Trust
Speaker: Peter K.T. Lee, Honorary Advisor and Lecturer of Group E Academy (With 35+ years of experience in trust; Former head of trust department at DBS Hong Kong and sat on the Board of Directors of DBS trustee companies)
Format: Online Seminar
Language: Putonghua
About Group E Academy:
Group E Academy, our industry-leading training institute for up-and-coming wealth planners and practitioners, is a wholly owned subsidiary under Group E Company Limited. The Academy has been built on a foundation of Group E's extensive wealth planning expertise and background.
To achieve our mission, Group E Academy provides the following high quality professional training for those working in insurance, wealth planning and financial services to raise the industry standards, enabling companies and individuals to enhance their competitiveness and meet the increasingly complex wealth planning needs of the industry.
For more, please visit our website http://groupe.academy/