Location
New Canaan High School
11 Farm Road
New Canaan, CT 06840
Join us for our final show of the season, based on the 1980 hit movie! Show contains adult humor and situations.
About this event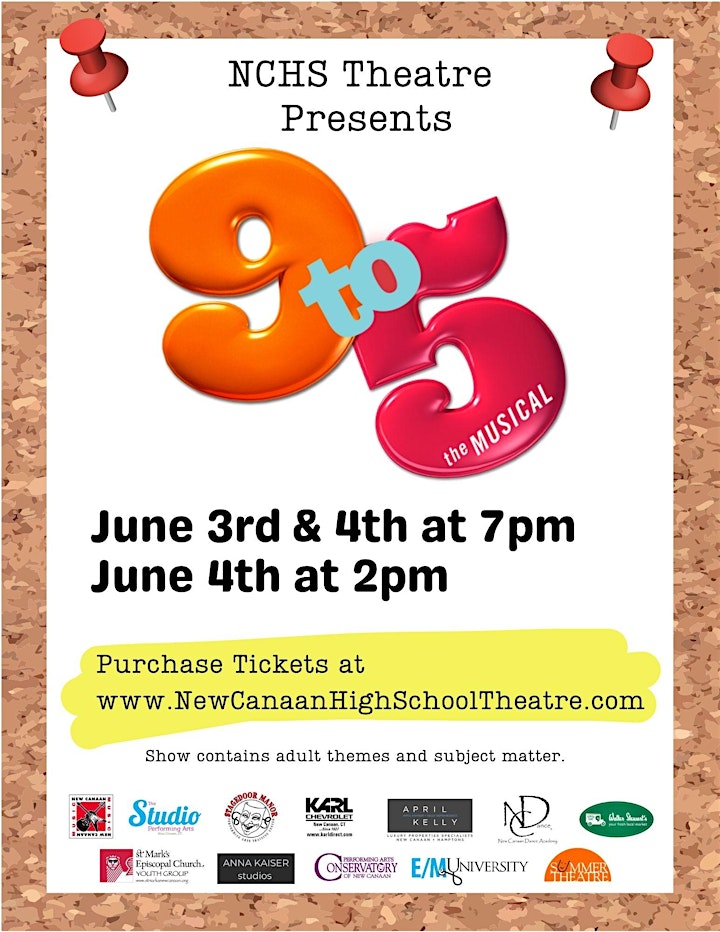 9 to 5 The Musical, with music and lyrics by Dolly Parton and book by Patricia Resnick, is based on the seminal 1980 hit movie. Set in 1979, this hilarious story of friendship and revenge in the Rolodex era is outrageous, thought-provoking, and even a little romantic. Pushed to the boiling point, three female coworkers, Doralee, Violet, & Judy, concoct a plan to get even with the sexist, egotistical, lying, hypocritical bigot they call their boss, Franklin Hart. Come watch as these three women take control and take charge! You're sure to laugh out loud, tap your toes, and maybe even sing along! 3 performances only! Friday Jun 3 at 7:00pm and Saturday June 4 at 2:00pm and 7:00pm. Show contains adult humor and situations.
Cast
Avery Russey Violet Newstead
Erica Angilletta Doralee Rhodes
Charlotte Jensen Judy Bernly
Andy Dooley Franklin Hart, Jr
Chloe Smith Roz Keith
Richard Hernandez Joe
Alex Hsu Dwayne
Nick Mohamad Josh
Caitlyn Gelchie Missy
Tahela Denu Maria Delgado
William Stallings Dick
Evie Bradley Kathy
Lulu Boothe Margaret
Drew Bench Bob Enright
Charlie Besgen Tinsworthy
Peyton Zaletsky Detective
Julia Dunn Candy Striper
Emma Cody Doctor
Annabelle Murphy New Employee
Nicole Talamo Dance Captain
Sebastian Frank Dance Captain
Ava Zinzcenko Featured Dancer
Georgia Turner Featured Dancer
Kole Bavoso Featured Dancer
Production Staff
Chris Myers Director
Amanda Aalto Assistant Director
Rachel Cohen Music Director
Sarah Gleason Associate Music Director
Henry Tate Assistant Music Director
Rachel MacIsaac Myers Choreographer
Maylis Pabon Stage Manager
Ike Morales Assistant Stage Manager
Claire Parelli Assistant Stage Manager
Kevin Gleason Set Designer
Kevin Gleason Lighting Designer
Djuan Grant Sound Designer
Kevin Gleason Technical Director
Lauren Sherwood Costume Designer
Jess Dooley Hair & Makeup Design
Christopher Myers Theater Coordinator
Nicole Talamo Dance Captain
Sebastian Frank Dance Captain
Crew
Caragh Dougherty Lighting Department Head
Amanda Alto Spot Op.
Jaelin Companik Spot Op.
Malkam Sabloff Sound Department Head
Greg Lamereaux Sound Department Head
Harry Lee Sound Assistant
Matthew Kim Scene Shop Department Head
Ike Morales Run Crew
Claire Parelli Run Crew
Lily Bradley Run Crew
Chelsea Britz Run Crew
Katherine Scripps Run Crew
Avery Russey Hair & Makeup Department Head
Clara Bloom Costumes Department Head
Ava Zinczenko Costumes Department Head