9 Steps to Relationship Mastery: The Ladder to Professional Success

Weekly Event - Every Thursday: 7:00 PM to 9:00 PM (EDT)
Event Details
The Coach Powell Super Summer Tele-Seminar Series is here for you NOW!
I know that many of you have spent quite a bit of time this summer enjoying conferences seminars and workshops.  Some are looking to make a new career move and others are using word of mouth strategies to market your product or services.  How's it going?  Are you really getting where you need to be?
Here's how you can tell that you are winning.  If the super stars of your industry or association are busy sharing your story with those that can make a meaningful difference in your future, you're winning.  If your phones or email accounts are blowing up with so many tremendous offers that you can barely breathe, you're winning!  
AND
If you have to keep saying NO to phenomenal opportunities that just seem to keep coming your way, because you don't have the band width to handle them, YOU'RE REALLY WINNING!  You are doing everything right….CONGRATULATIONS!
If any of this seems to be a challenge for you, keep reading because your life is about to change.
Starting July 28th, Coach Powell Training & Development will be offering a nine week teleconference series that will help you turn professional associates into super advocates.  If you've ever wondered how to really build reliable networking alliances that thrive in the hustle and bustle of today's busy global economic marketplace, we are going to give you all of the latest and greatest techniques, tips and strategies. 
Let us show you the:
9 Steps of Relationship Mastery: The Ladder to Professional Success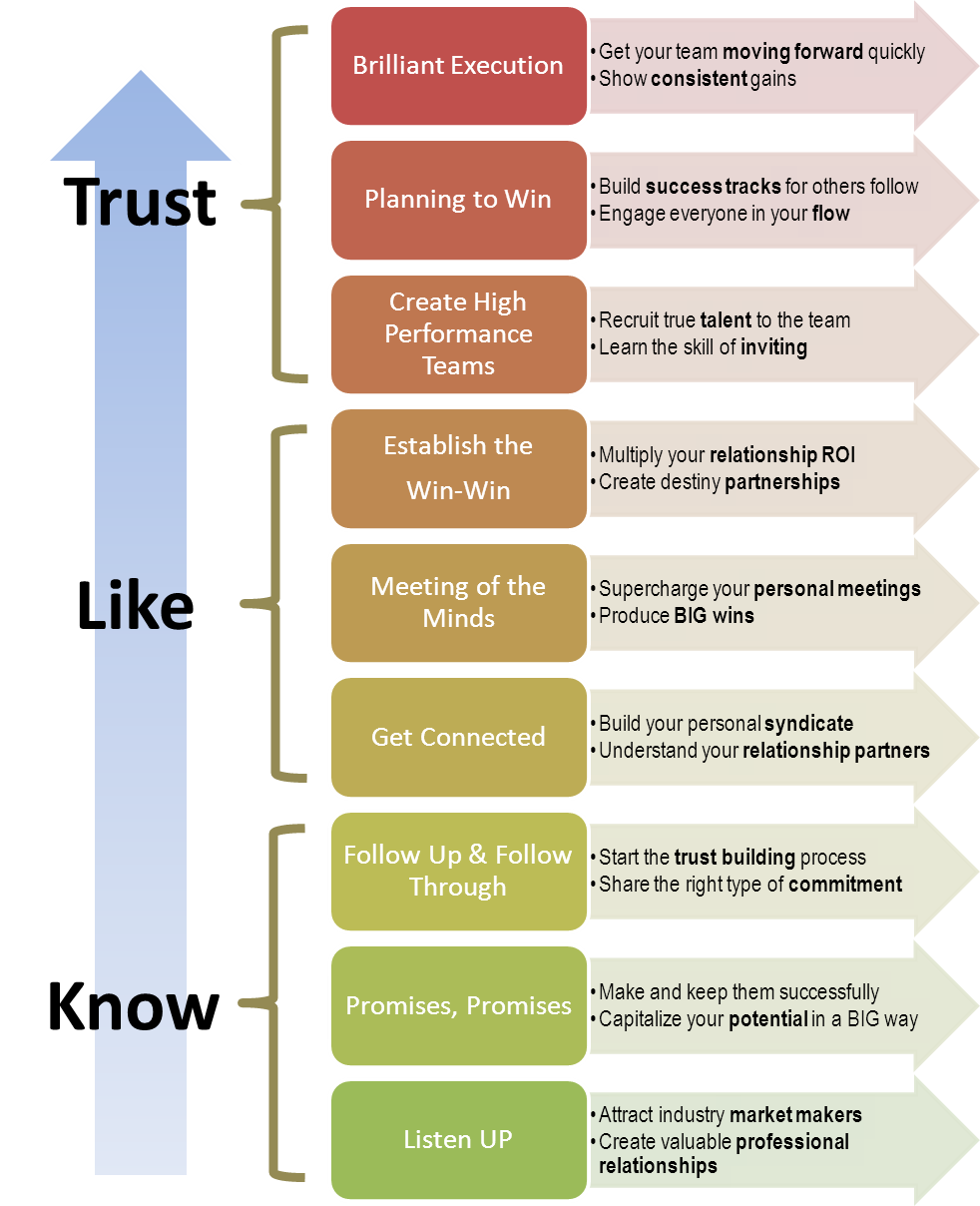 Here's the schedule!
July 28th – Listen UP!
This powerful program is designed to teach you everything that you need to listen your way into phenomenal success with big time movers and shakers right away.  Begin the process of creating enormously rewarding professional relationships now.
August 4th – Promises, Promises
Finding it difficult to get the right people on your side?  Making commitments and keeping them is the key to winning in any business relationship but are the right people committing to you and your success?  Let us show you the masterful techniques that will have even the most influential begging to work with you.
August 11th – Follow Up & Follow Through
The best and most appropriate follow up techniques win the attention of prospects, referral sources and employers.  Don't you want to know some of the latest techniques and strategies that will keep them coming back?
August 18th – Get Connected
Building a high powered syndicate of your own doesn't take time.  It takes proven strategy.  Stop waiting for opportunities to fall from the sky and let us show you how to make meaningful connections that last.
August 25th – Meeting of the Minds
If you are NOT having brilliant personal meetings that produce big wins consistently with your clients, employers or referral partners, you are wasting too much time and money.  What are you waiting for?  Register for this one right now.
September 1st - Establish Win-Win Relationships
Are you really helping those that should also be helping you?  Prove it!  This program will teach you how to start getting back what you put into your professional relationships.  We've got some established techniques that make sure that givers really do gain.
September 8th- Create High Performance Teams
Do you have the right people on your team?  Here's a tip.  If you are not experiencing tremendous growth, you are working with the wrong people!  Let's get together and learn how to cut the zeros and find the heroes that you should be with on a regular basis.
September 15th – Planning to Win
Success doesn't happen by accident.  In fact, the most successful people are so accomplished because they are always prepared.  What does your well written brilliantly articulated plan say that you should be doing to energize your professional relationships?  You may be headed for an extremely costly separation.
September 22nd – Brilliant Execution
Well, school is officially back in and it time to go to work!  By now, you've got some great plans but do you have what it takes to implement them.  Let us show you what the best of the best do every day to keep closing in on success.  The teams that are focused on winning consistently do it easily.
Each 7PM EST teleconference will include:
·         an easy to read participant guide full of brilliant colorful illustrations, quotes, big ideas and personal exercises
·         a full 2 hour teleconference that will give each participant a chance to ask questions and facilitate discussion
·         AND full access to the recorded call for download and later use for a limited time
At CPT&D we are very sensitive to todays economic crisis and we believe in bring real value to all of our participants.  It's NOT uncommon to pay up to $95 a session for this kind of training.  In fact our closest national training competitor would charge more than $150 persession.  The total 18 hour series would usually cost more than $2800 but we are delivering this rock bottom opportuntiy to you for a steal.  Our costs are low and you should benefit from that.
We've got several prices and offers that you can see on the event site here but our absolute best deal is our full conference early bird (FCEBS) special that gets you everything for a full 50% off.  You can save tremendously for the entire package.  In fact, if you register for the FCEBS deal right now, We'll give you access to a special pre-recorded 1 hour conference The Five Elements of Super Engaging Presentations along with an attached whitepaper, presentation workbook and resource page.  This presentation is the perfect pre-requisite for those of you that need to sharpen those elevator speech skills and make the magic happen.
If you have questions about this deal or any of our products call us at 703-201-4267
Organizer
Coach Powell Training & Development
Marvin Powell an award-winning author, lecturer, business coach and financial professional for more than twenty years Powell has created value for the best and brightest of Northern Virginia. Marvin is dedicated to providing business owners with the professional attention necessary to help them achieve their business goals, offering continued service as their needs change.

As Founder and CEO of Coach Powell Training and Development, Powell offers a unique variety of powerful products and services for personal and business development. Discover the magic of VisionQuest90™, Coffee, Tea You and Me or our new e-book "The Power Play Book" at our website www.ninetydaypowerplay.com.
At Coach Powell we cherish the opportunity to work with entrepreneurs on executive consulting , business succession and execution planning with some of our favorite business and professional associations:
­

  

Retired Military Officers Association

­

  

BNI Northern Virginia

­

  

Fairfax

County

Small Business Commission

­

  

INOVA Gift and Estate Planning Council
It seems as if Mr. Powell's personal motto "a good life is spent in the service of others" is actualized any his many charitable contributions and councils. Formally he has been affiliated with:
­

  

Antioch

Baptist Church

Entrepreneurs Council- Chairman

­

  

Phi Beta Sigma Bigger and Better Business- Chairman

­

  

Compton Village Home Owners Association- Director

­

  

Emerging Business Forum- Director
Today's organizations include:
­

  

Centreville Community Foundation- Chairman

­

  

Fairfax

County

Small Business Commission- Chairman

­

  

Fairfax

County Computer Learning Center

Partnership- Regional Partner

­

  

Fairfax

County

Consolidated Community Funding Pool- Selection Advisory Committee
Mr. Powell, a devoted husband of Kimberly Teresa and father to daughter Kaihla Janais, has dedicated himself and his personal and professional life to helping others understand the wisdom that is revealed in his favorite scripture, Matthew 25:14-30. Powell has a deep and abiding belief that we are all accountable to use our talents wisely and hopes to help others live their lives and maintain their businesses with passion and purpose.
The most recent honors and awards for Coach Powell include:
­

  

Daughters of The American Revolution Award for Community Service - 2008

­

  

Fairfax County Lord Fairfax Community service award – 2006

­

  

Herndon

Dulles

Chamber of Commerce - Community Leader of the Year 2004
Coach Powell has also had the privilege to speak at the following programs
­

  

National Association of Performing Arts Presenters-Conference

­

  

Omega Psi Phi Economic Empowerment-Conference

­

  

Black Engineer of The Year-Conference

­

  

Retired Military Officers Association-Regional Training Program

­

  

American Association of University Women

­

  

National Conference of Negro Women (NCNW)

­

  

Centreville-Long & Foster Office Annual Training

­

  

American Foundation Group

­

  

Loudoun

County Small Business Development Center

­

  

Fairfax

County

Events 101-Development Training