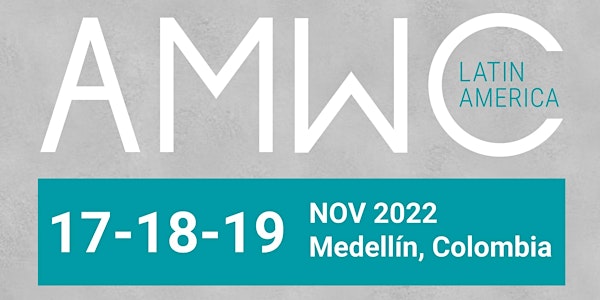 9° Congreso de Medicina Estética y Antienvejecimiento Latin America
Este año será la 9° versión de AMWC, el mayor Congreso de Estética de América Latina. Una oportunidad perfecta para la creación de negocios
When and where
Location
Centro de Convenciones Plaza Mayor # 41-81 Carrera 57 Medellín, Antioquia 050015 Colombia
About this event
ESP: Nos complace darle la bienvenida a esta próxima versión en la que ofreceremos una experiencia inmersiva teniendo disponible de manera simultánea dos plataformas, una donde realizaremos de manera presencial el evento con diversos formatos y otra virtual con la proyección del programa académico de manera parcial. Con lo anterior, el evento seguirá ofreciendo la posibilidad de seguir conociendo y fidelizando públicos en este amplio entorno y transmitiendo nuestro programa en todo el mundo, proporcionando un congreso único e innovador para toda la comunidad médica.
Asimismo, es importante resaltar que el soporte económico que da la industria farmacéutica y de equipos y dispositivos médicos para la organización de los eventos es fundamental y necesario, por lo cual, queremos bazar nuestro relacionamiento con ustedes en la mutua confianza y la reciprocidad; queremos que sean nuestros aliados estratégicos; en ese sentido, queremos seguir fomentando el contacto de los participantes con la industria durante el evento.
Para adquirir su entrada por favor visite nuestra página oficial: https://amwc-la.com/es/principal/
Esperamos contar con su participación y darle de nuevo la bienvenida.
ENG: We are pleased to welcome you to this next version in which we will offer an immersive experience with two platforms available simultaneously, one where we will carry out the event in person with different formats and the other virtual with a partial projection of the academic program. With the above, the event will continue to offer the possibility of continuing to meet and retain audiences in this wide environment and transmitting our program throughout the world, providing a unique and innovative congress for the entire medical community.
Likewise, it is important to highlight that the financial support provided by the pharmaceutical and medical equipment and devices industry for the organization of events is fundamental and necessary, therefore, we want to base our relationship with you on mutual trust and reciprocity; we want you to be our strategic allies beyond simply being clients or sponsors; In this sense, we want to continue promoting the contact of the participants with the industry during the event.
To buy your ticket visit our official website: https://amwc-la.com/en/home-page/#inscripciones
We look forward to your participation and welcome you again.