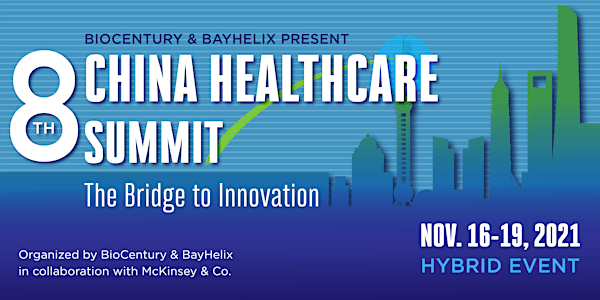 8th China Healthcare Summit
China Summit sets the bar with a deep dive into the future of Biopharma innovation
About this event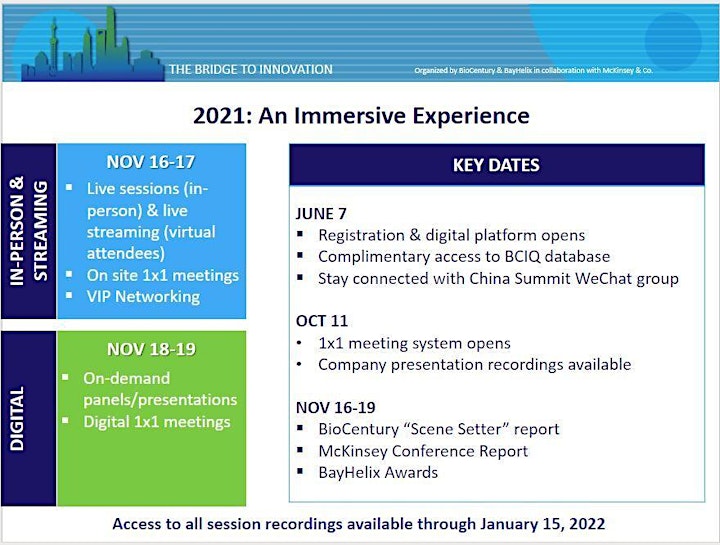 8th BioCentury-BayHelix China Healthcare Summit
The 8th BioCentury-BayHelix China Healthcare Summit gathered top thinkers from industry, academia and finance to identify who will lead China's biopharma innovation ecosystem, how innovation will be funded, and the business strategies required to transform both domestic and multinational biopharma companies as China advances its innovation agenda. This global, VIP event is organized in collaboration with McKinsey & Co.
Attendee benefits include access to the China Summit digital platform, which includes on-demand recordings of 20+ Strategic panels; Road Show presentations from 60+ China and global biopharmas; and BioCentury business intelligence and analysis on China biotechs.
You will receive notifications via email when new content is available. You may also join the China Summit WeChat group for additional insights.
Your registration includes access to the following:
(1) China Summit Digital Platform Benefits (available thru January 15, 2022):
On-demand recordings of 26 Strategic panels
Company presentations from 60+ China and global Biopharmas (available on-demand)
20 Year BayHelix Retrospective Fireside Chats
Access to BioCentury business intelligence and analysis on China biotech selected by the BioCentury editorial team
McKinsey's China Summit Executive Reports on the Biopharma and MedTech ecosystems
BioCentury China Summit "Scene Setter" report on China biotech innovation
Korea Spotlight Collection (Sponsored by KoreaBio)
Real World Evidence collection (Sponsored by Happy Life Tech)
For more information, please visit the China Summit website.