8th Canadian EdTech Leadership Summit - Presented by MindShare Learning
Actions and Detail Panel
8th Canadian EdTech Leadership Summit - Presented by MindShare Learning
Mon, November 6, 2017, 8:00 AM – 5:00 PM EST
Description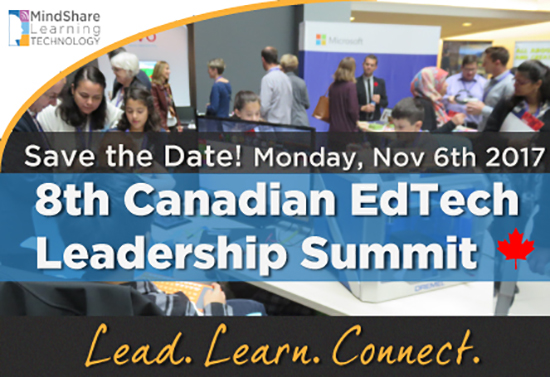 Join fellow education and edtech partner for this one-day Summit opportunity to learn, connect and gain valuable knowledge from leading global educational technology experts.
MindShare Learning is pleased to host the 8th Annual Canadian EdTech Leadership Summit in support of our mission to push the 21st Century learning envelope in Canada and strengthen the connection between education and business.
This one-day summit will focus on current hot topics in the K-12 and post-secondary education technology space, aiming to further engage stakeholders in shaping today's direction of a vital sector.
This year's theme is...
TBA